Latest

21:01


US Equities Close Positively
DOW: +1.14%
S&P: +1.28%
NASDAQ: +1.25%
Today

20:43


WEX Inc

Payment systems provider WEX Inc (NYSE: WEX) said on Tuesday that it has completed its previously announced agreements to acquire eNett and Optal, causing its stock to rally 9% to highs of $202 per share.

Full Story: WEX STOCK RALLIES 8% AFTER ENETT AND OPTAL ACQUISITIONS
Today

20:05


Loop Shares Plummet

Shares of Loop Industries have plummeted over 22% to $7.20 after Hindenberg Research released an update on the company following the independent review of its technology.

Hindenburg said "We remain short $LOOP with a price target of $0 and continue to believe that Loop's claimed technological advancements do not exist."

Here are Hindenburg's tweets on Loop
Today

17:25


Oncocyte Shares Surge

Biotechnology company Oncocyte Corporation (NYSE AMERICAN: OXC) shares are rallying premarket on Tuesday after it was announced that the company has entered into an exclusive licensing agreement with China-based Burning Rock Biotech (NASDAQ: BNR).

Full Story: ONCOCYTE STOCK SOARS ON NEWS OF EXCLUSIVE LICENSING AGREEMENT WITH BURNING ROCK BIOTECH
Today

16:35


European Equities Close
FTSE 100: -0.25%
DAX: +1.05%
STOXX 50: +0.49%
IBEX 35: +0.13%
CAC 40: +0.05%
Today

16:29


Esports Entertainment

Esports Entertainment Group (NASDAQ: GMBL) shares are trading 9.80% higher at $5.86 after the company announced a multi-year partnership with the Philadelphia Eagles which will see it become the first esports provider of an NFL club.

The company earlier announced that it is set to complete its acquisition of Esports Gaming League in January 2021.
Today

15:12


Anavex Shares Surge

Shares of Anavex Life Sciences Corp (NASDAQ: AVXL) surged 87.4% after reporting positive results from a U.S Phase II trial of its ANAVEX®2-73 (blarcamesine) in adult female patients with Rett syndrome.

Full Story: ANAVEX SHARES SURGE 87.4% ON PHASE II TRIAL RESULTS OF ITS RETT SYNDROME DRUG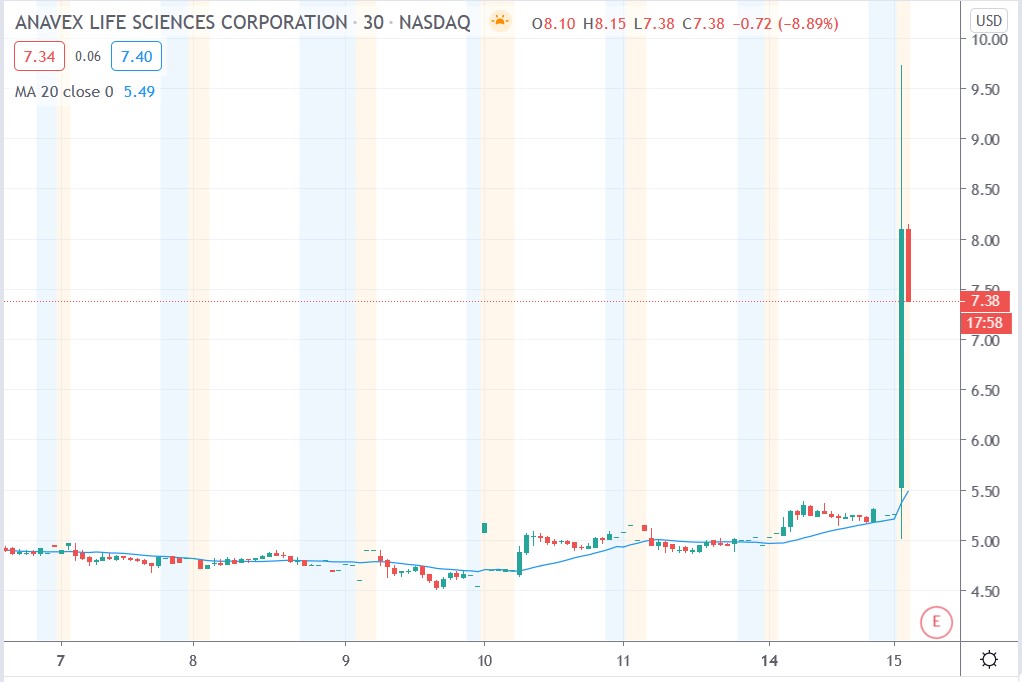 Today

14:39


US Equities Positive
DOW          +0.55%
S&P            +0.77%
NASDAQ  +0.78%
Today

14:01


TC Energy Corp To Acquire TC Pipelines

TC Energy Corp announced on Tuesday that it has entered into a definitive agreement with TC Pipelines to acquire the company in a deal worth approximately $1.68 billion. 

Pursuant to the agreement, TCP common unitholders would receive 0.70 common shares of TC Energy for each issued and outstanding publicly-held TCP common unit. This represents a 19.5 per cent premium to the TCP closing price before the original offer as of October 2, 2020.

TC Pipelines Shares are up 77.24% premarket at $54.52.
Today

10:45


UK Stock Gainers
Anglo African Agriculture plc +27.61%: AAA provides a positive update on its proposed acquisition of Comarco Group
Purplebricks +17.72%: PURPLEBRICKS SHARES SURGE 13.8% ON UPBEAT HALF-YEAR PROFITS
Tungsten Corp +11.93%
Fusion Antibodies +11.58%
Circassia Group +11.35%
Chemring Group +11.07%: Chemring delivers results for the year ending October 31 2020. Its 2020 performance was ahead of expectations, with progress in securing new business in the UK, the US and Australia for the supply of global countermeasures, including the receipt by Chemring Australia of a definitised contract of $107m in support of the F-35
European Metals +10.87%: EUROPEAN METALS (EMH) SHARES SURGE AFTER NASDAQ ACCEPTANCE
FTSE 100 +0.07%
Today

09:03


Purplebricks Shares Surge

Shares of Purplebricks Group PLC (LON: PURP) surged 13.8% today after the company announced that it expects half-year profits to beat analysts' full-year expectations driven by a surge in customer numbers.

Full Story: PURPLEBRICKS SHARES SURGE 13.8% ON UPBEAT HALF-YEAR PROFITS

Purplebricks was one of our stock picks at the beginning of November when shares were priced at 56.2p. They are currently trading at 85.9p, after a 22.83% move higher in the last month.
Today

08:05


European Equities
FTSE 100: -0.30%
DAX: +0.06%
STOXX 50: +0.03%
IBEX 35: -0.16%
CAC 40: +0.08%
Stock News:
Tesla To See $1.1B In 'Deferred Software Revenue' In 2021, Munster Estimates
Facebook, YouTube, Twitter Face Multi-Billion Fines In the UK Under Online Safety Legislation
Uber fined $59 million in California
JD Sports buys Shoe Palace for $325 million