Latest

21:05


US Stocks Finish The Day Positive

DOW         +62%
S&P           +1.08%
NASDAQ +1.28%
Today

21:01


Auris Medical Stock Skyrockets 480%

Shares of Auris Medical (NASDAQ: EARS) exploded over 480% higher today, closing the day at $5.20,  +368.47% after the company reported positive efficacy data for its AM-301 nasal spray in protecting against COVID-19 infections.

"Daily treatment with AM-301, beginning right before inoculation, showed effective protection against viral infection. 48 hours post-infection, average virus titers were 90.0% lower than those observed in controls (p<0.05). 72 hours and 96 hours post-infection, average virus titers were 99.2 and 99.4% lower, respectively."
Today

19:33


Minerva Neurosciences Stock Slides

Biopharmaceutical company, Minerve Neurosciences (NASDAQ: NERV) shares are down over 23% on Tuesday after the company announced the outcome of its Type C meeting with the US Food and Drug Administration (FDA).

MINERVA NEUROSCIENCES STOCK PLUNGES AS DRUG DEVELOPMENT FALTERS AFTER FDA MEETING
Today

17:13


Virgin Galactic Shares Climb

Shares of Virgin Galactic (NYSE: SPCE) are up 5.37% on Tuesday at $28.04 after NASA said it has selected the company to provide flight and integration services for payloads chosen by the agency's Flight Opportunities Program. 

VIRGIN GALACTIC (SPCE) STOCK RALLIES AFTER WINNING NASA CONTRACT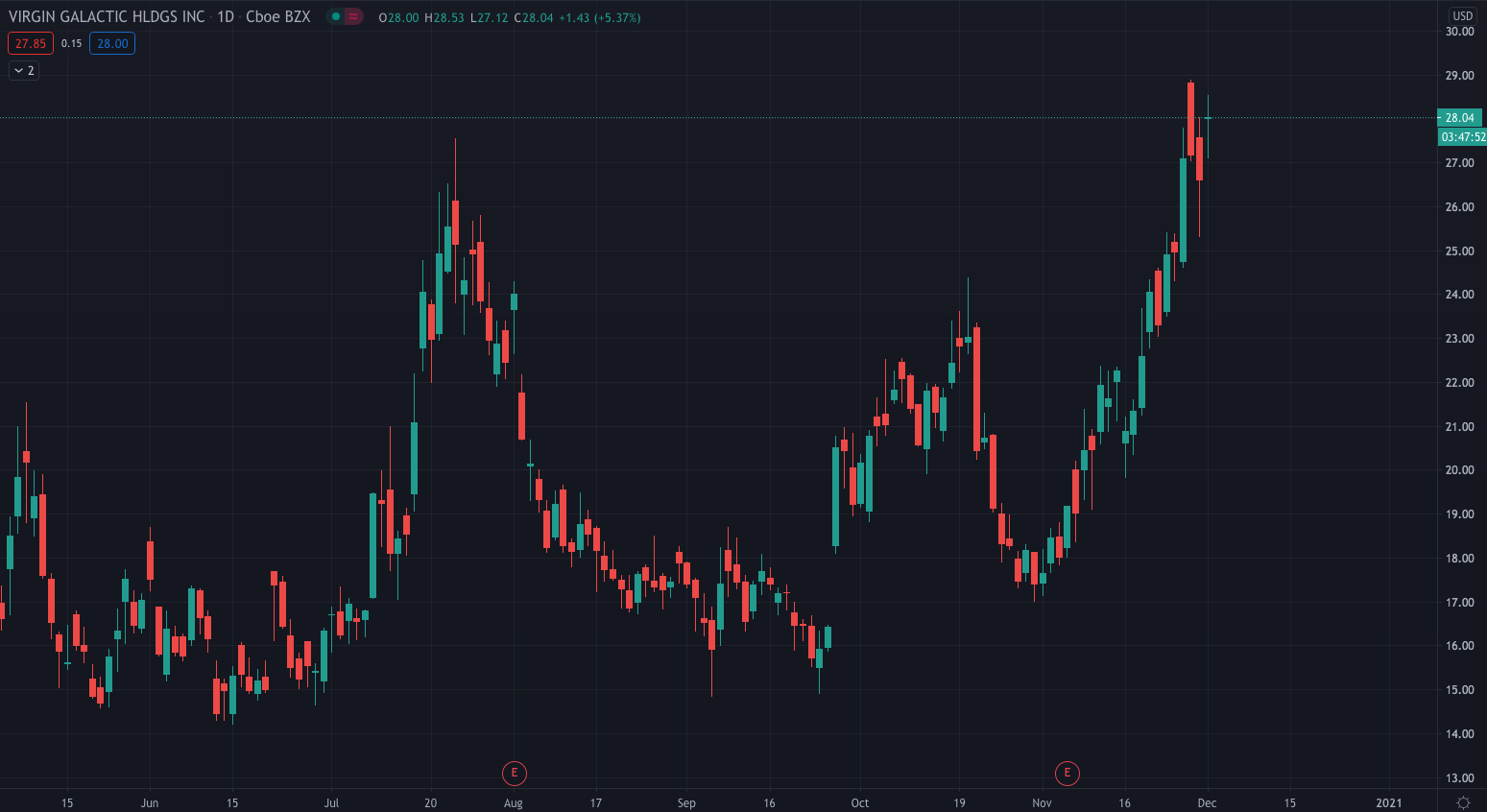 Today

16:41


The FTSE Closes The Day Strongly

FTSE 100    +1.91%
DAX             +0.73%
STOXX 50  +0.97%
IBEX 35      +0.76%
CAC 40        +1.14%
Today

15:02


NIO November Deliveries

NIO revealed that it delivered 5,291 vehicles in November, a rise of 109.3% year over year and a new monthly record for the company, beating its previous record from last month which was 5,055 vehicles delivered in October.

NIO STOCK RALLIES AS VEHICLE DELIVERIES RISE 109%

Despite the headline, NIO shares have fallen since the open and are now down 2% at $49.52.
Today

14:51


BlackBerry and Amazon Team Up

BlackBerry and Amazon have teamed up and developed a cloud-based software platform designed to help automakers and suppliers standardise vehicle data in speed up the deployment of revenue-generating features and services,

BlackBerry (BB) +32%

Amazon (AMZN) +0.40%
Today

14:42


US Equities Rally

DOW         +1.10%
S&P           +1.09%
NASDAQ  +0.83%
Today

13:27


Tiziana Life Sciences Shares Move Higher

Shares of Tiziana Life Sciences PLC (LON: TILS) surged 10.7% today after the company announced that its CEO would host an investor update call on Wednesday 2, December. Investors seem to be expecting a positive report tomorrow given today's rally.

TIZIANA SHARES SURGE 10.7% AHEAD OF WEDNESDAY'S TRADING UPDATE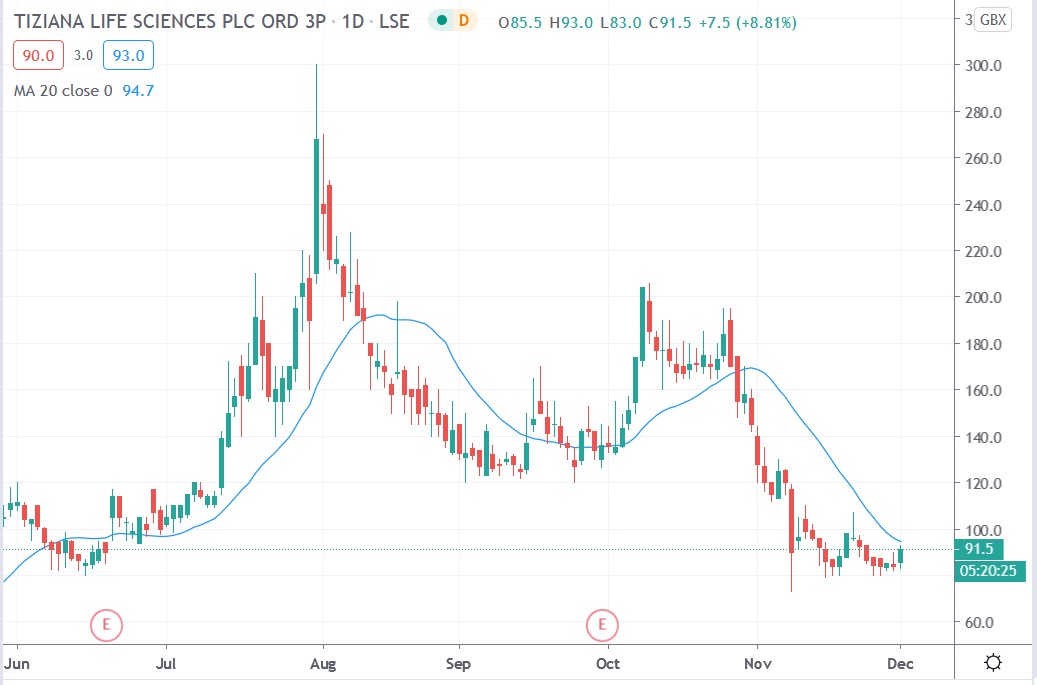 Today

13:09


F-Star Therapeutics Shares Rally

F-Star Therapeutics shares are up 28.31% premarket at $9.02 after GlaxoSmithKline reported an 8.9% passive stake in the company.
Today

11:01


Hyve Shares Surge

Shares of exhibition and conference organiser Hyve Group (LON: HYVE) are up over 18% on Tuesday after the company released its results for the fiscal year ending September 30th.

HYVE SHARES RALLY OVER 18% DESPITE UNCERTAIN OUTLOOK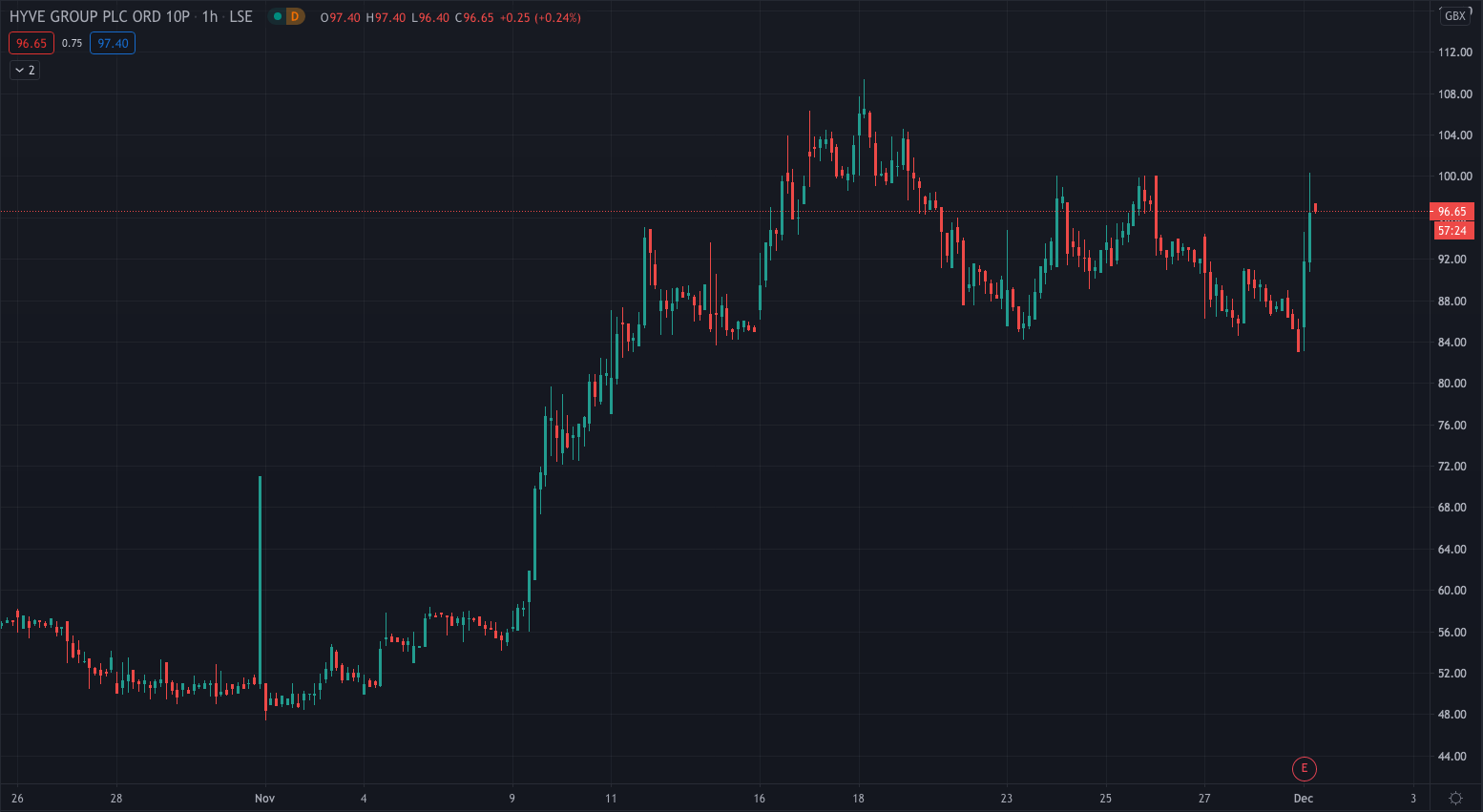 Today

08:03


European Equities Open Positive

FTSE 100    +0.49%
DAX             +0.63%
STOXX 50  +0.57%
IBEX 35      +0.55%
CAC 40       +0.56%
Today

07:38


Recap

Good morning…

Equities
Following the move lower on Wall Street yesterday, indices in the APAC region were mostly positive with the Nikkei closing 1.34% higher and the ASX up 1.08%.
US and European futures are also trading positively.

Brexit
The Irish Prime Minister said he is hopeful a Brexit free-trade deal can be made this week after warnings that time is running out.

Stocks
Tesla's shares will be added to the S&P 500 in one go on December 21st.
Moderna said its application for EUA in the US has been submitted.
Zoom reported its earnings showing sales rose over 350%, but its shares fell after-hours as there was a steady decline in gross margin.
Facebook has agreed on a deal to acquire CRM start-up, Kustomer in a $1 bn deal.
Salesforce, HP, Trip.com, Scotiabank and At Home are all set to report earnings today.

Economic Calendar
On the calendar today we have Eurozone PMI's and inflation data, Canada's GDP, and US ISM Manufacturing data. There are also speakers from the Bundesbank, ECB and Fed.