Latest

21:05


US Markets Close

DOW         -0.48%

S&P 500   -0.95%

NASDAQ  -2.22%
20:30


Airbnb IPO

Airbnb is targeting a December IPO where it aims to raise about $3 billion: Via Reuters
20:24


US Stock Movers

Here are some of the top US stock movers today…
Gainers:
Westwater Resources (WWR) +72%
American Renal Assocs (ARA) +67%
Nano-x Imaging (NNOX) +49%
Losers:
Benitec Biopharma (BNTC) -36%
Processa Pharmaceuticals (PCSA) -35%
PDL Biopharma (PDLI) -17%
17:18


Airline Stocks Spinking

Airline stocks have jumped in the last hour after US House Speaker, Nancy Pelosi urged airlines to delay furloughs as an agreement is "imminent" on government assistance.

According to @PriapusIQ on Twitter, this refers to targeted help for airlines and not the stimulus bill.

Delta Airlines +3.54%

American Airlines +4.29%

United Airlines +3.67%

Southwest Airlines +3.11%
16:43


European Markets Closing Prices

FTSE 100    +0.39%  5,902

DAX             -0.33%   12,688

STOXX 50  -0.11%     3,190

IBEX  35     +0.38%   6,756

CAC 40        +0.02%   4,824
16:28


IDT Share Price Up 46%

$IDT +46%  $10.07

IDT shares are up 46% after a big earnings beat by the telecom company.

It reported best margins & EBITDA in over a decade.
15:10


American Renal Associates Stock Up 68%

$ARA +68% $11.68

American Renal Associates stock is up 68% at $11.68 after the company announced that it has entered into a definitive agreement to be acquired by Innovative Renal Care, LLC, a middle-market private equity firm, in an all-cash transaction that values the Company at an aggregate enterprise value of approximately $853 million excluding non-controlling interest. Under the terms of the agreement, ARA shareholders will receive $11.50 per share in cash.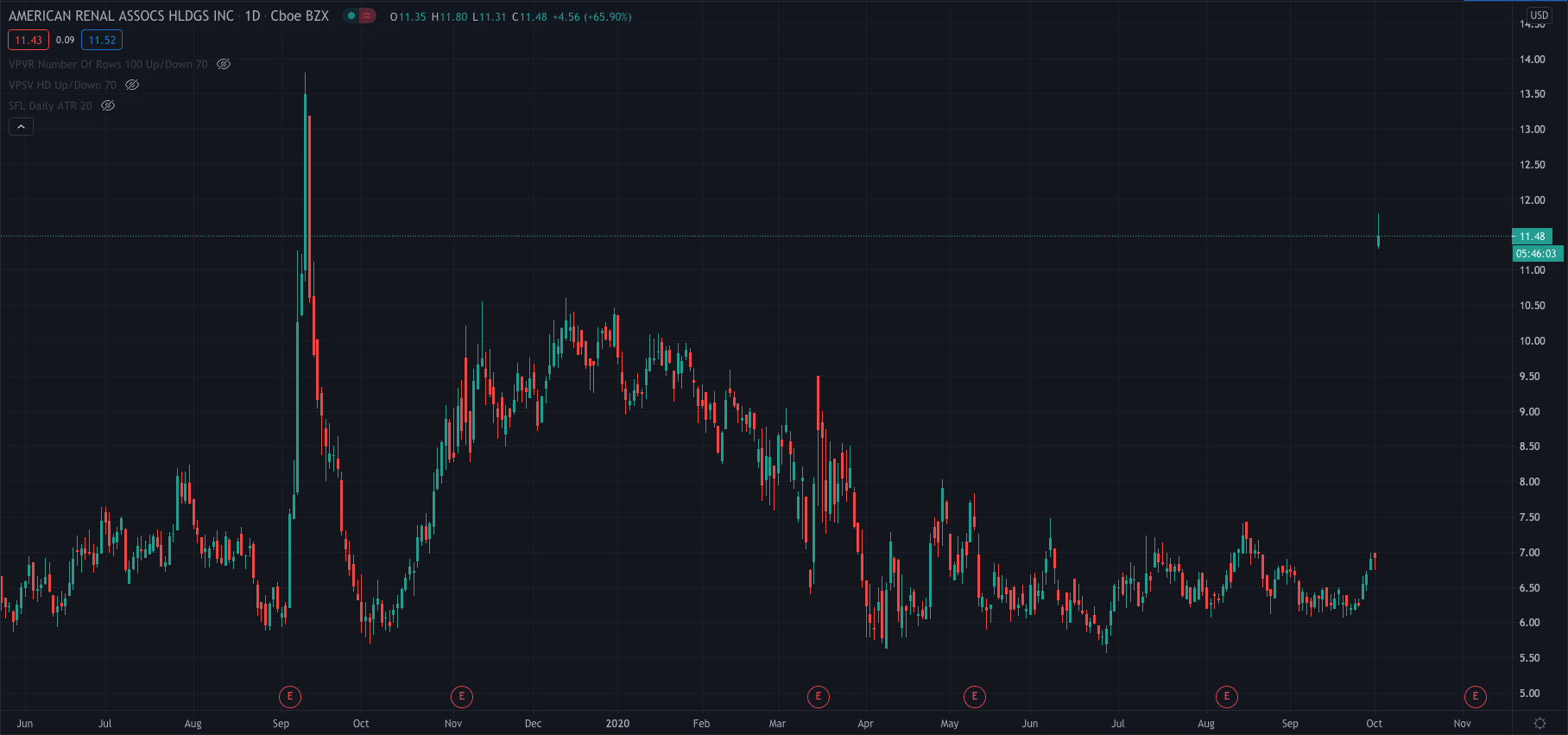 14:55


US Equities Lower

US stocks open lower after Trump's positive COVID test…

DOW          -0.87%

S&P 500    -1.03%

NASDAQ   -1.44%
14:28


Mesoblast Stock Plummets

$MESO

Australian biotech firm Mesoblast's stock is down 35% after US health authorities declined to approve its therapy to treat a rare disease that affects blood cancer patients.

The US Food and Drug Administration (FDA) has asked the company for at least one more study that shows its therapy, called remestemcel-L, can treat steroid-refractory acute graft versus host disease.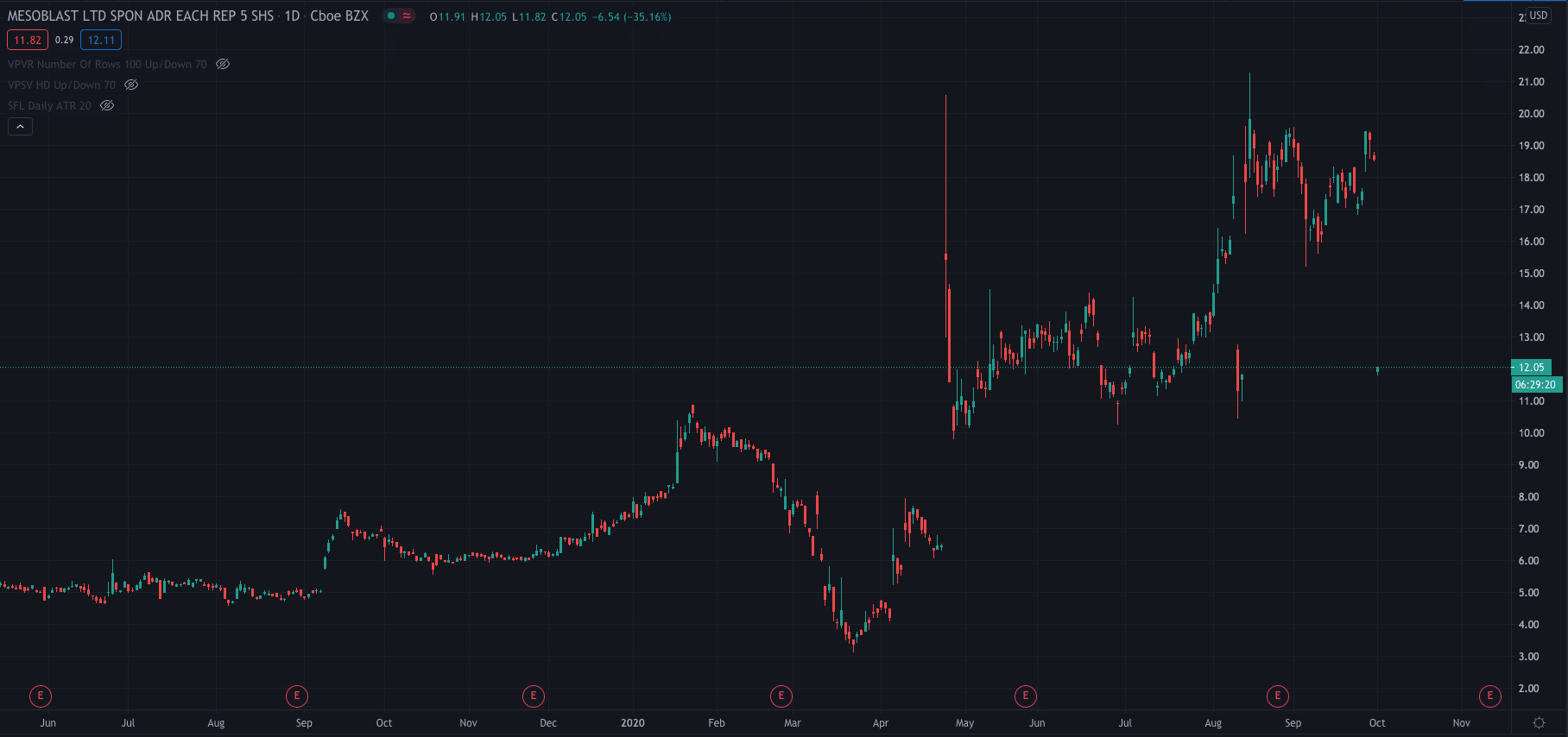 12:57


Lonestar Resources Stock Surges 150%...

$LONE +145% $0.60

Lonestar Resources stock is up 145% after the company was granted permission from a federal bankruptcy judge to access to the cash it needs to go through the Chapter 11 bankruptcy process.

HERE'S WHY LONESTAR'S SHARE PRICE SURGED 210% TODAY
11:17


SPI Energy Research...

Ahead of the US markets open, I did some research on SPI Energy who's share price surged over 4,000%  to as high as $46.67 per share before plummeting over the past week and closing yesterday's session at $5.71 after a 20% fall.

Recently it seems that the mere mention of electric vehicles is enough to send a company's stock price rocketing, and that's what happened with SPI who announced they are launching an electric vehicle subsidiary (EdisonFuture Inc). Here are some of the main points I found…

So, if you are looking for a reason for the fall in its share price, these are just a few!
10:42


NIO Posts Record Deliveries

NIO Inc has posted record-high monthly and quarterly deliveries.

The company delivered 4,708 vehicles in September and 12,206 vehicles in Q3.

So far in 2020, NIO has delivered 26,375 vehicles in 2020.
10:31


UK Stock Movers

Corero Network Security (CNS) +32% – CORERO (CNS) SHARE PRICE JUMPS ON RECORD Q3 ORDERS

Tlou Energy (TLOU) +17%

Anglesey Mining (AYM) +16%

Orient Telecoms (ORNT) +15%

Ovoca Bio (OVB) -18%

Heavitree Brewery (HVTA) -16%

Centamin (CEY) -16%
10:20


Scancell Shares Spike

SCANCELL SHARES SURGED 24.7% TODAY, HERE'S WHY

Shares of Scancell Holdings Plc (LON: SCLP) surged 24.7% after the company agreed to partner with Cobra Biologics to manufacture plasmid DNA. Click the link above for the full story.
08:54


European Equities

European indexes are down after the news from Trump last night, following on from a fall in Asian markets…

FTSE 100   -0.74%

DAX            -0.80%

STOXX 50 -0.85%

IBEX 35      -0.38%

CAC 40       0.83%-
07:45


Preview

Morning all…

-There is only one place to start. US President Donald Trump has tested positive for COVID-19

-Asia-Pac markets traded lower with the Nikkei and ASX both closing down

-US equity futures are also down, all trading 1% lower

-General Motors is considering boosting its stake in Nikola in a reworked deal

-In FX markets the US dollar is up on the day but has seen some weakness in the last hour

-On today's calendar we have European Inflation data, along with non-farm payrolls and Factory orders in the US.