Latest

21:04


US Equities Close

Despite the uncertainty surrounding the election, US equities have had a positive day…

DOW         +1.34%
S&P           +2.15%
NASDAQ  +3.85%
Today

19:44


US Equities Still Going Strong...

DOW         +2.01%
S&P           +2.64%
NASDAQ +3.76%

Elsewhere, the US election still has no conclusion. The Trump campaign has filed a lawsuit in Michigan to halt the counting of ballots.
Today

16:44


US Stock Performance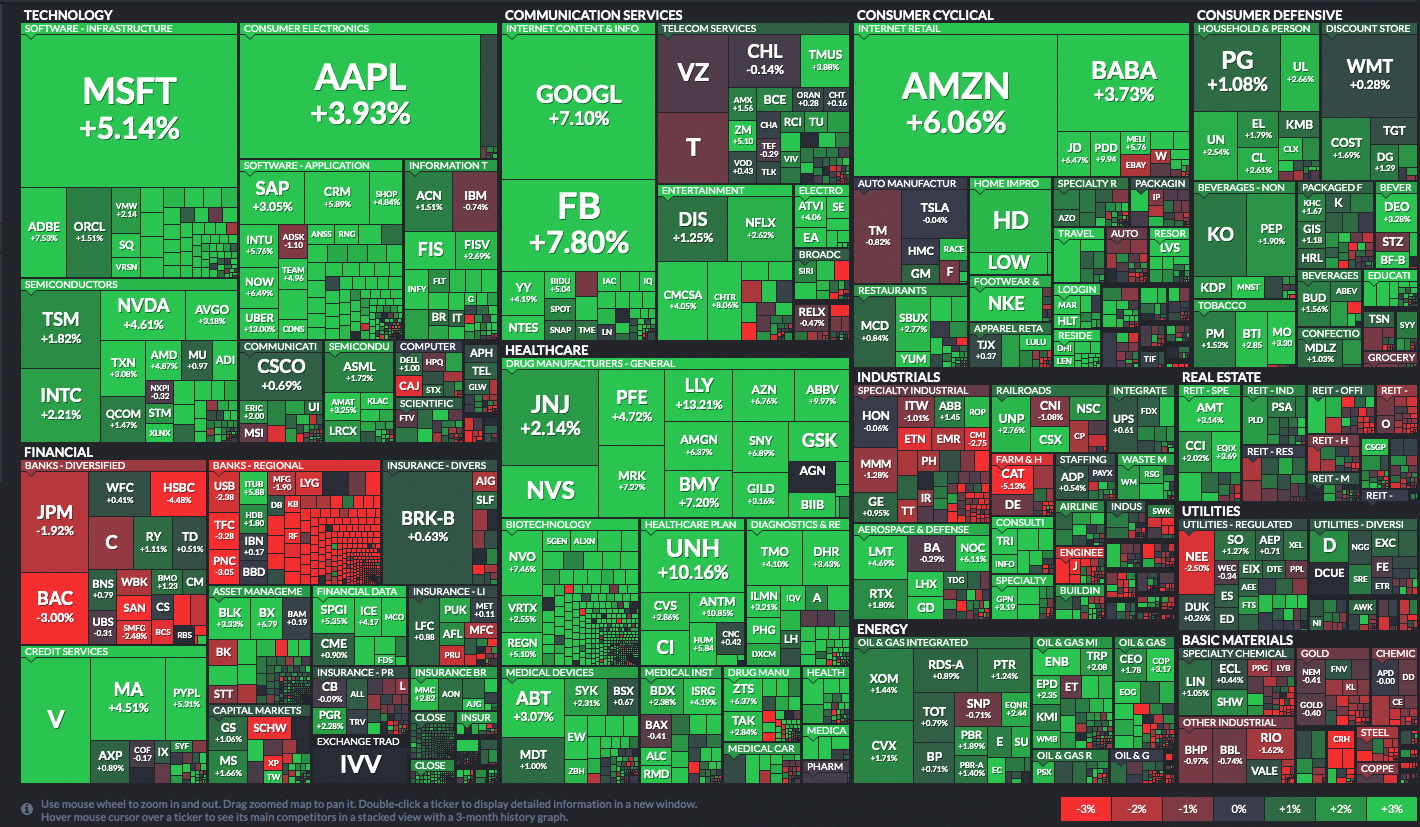 Today

16:35


European Indices Close Higher

FTSE 100      +1.66%

DAX               +1.95%

STOXX 50    +2.06%

IBEX 35        +0.47%

CAC 40         +2.44%
Today

15:34


US Stock Movers

Supernus Pharmaceuticals +22.87%: SUPERNUS PHARMACEUTICALS (SUPN) STOCK RALLIES AFTER BEATING Q3 EARNINGS ESTIMATES

Digirad Corp  +22.29%: DIGIRAD CORP STOCK RALLIES 25% AFTER CONFIRMING THE $18.75M SALE OF DMS HEALTH

AC Immune    +19.00%

Biogen +14.81%: Biogen shares rise after the FDA provided a positive statement appearing to endorse Biogen's Alzheimer treatment
Today

14:37


US Indices Positive

DOW           +0.65%

S&P             +1.22%

NASDAQ   +2.42%
Today

10:33


UK Stock Movers

Gainers:

Verici Dx +87.40%:  Company listed on the AIM yesterday

Wishbone Gold +61.54%:  Wishbone says its "independent geological consultants in Australia, Terra Search Pty Ltd ("Terra Search"), have identified four magnetic targets of considerable size covering 2.4km by 400m on its Patersons Range Project in the Havieron and Telfer region of Western Australia."

IQ-AI +52.78%:  IQ-AI SHARES SURGED 31.1% ON FDA APPROVAL OF ITS LIVER BIOPSY TECH IN THE US

CPL Resources +34.01%: Shares soar after CPL says it has agreed to a takeover from Japan's Outsourcing Group in a deal said to be worth €318 million
Today

09:45


US Index Futures Higher

US index futures are higher with the Dow up +0.04%, the S&P is +0.65% higher and the Nasdaq is up +2.76%.
Today

08:37


European Indices Down...

FTSE 100    -0.17%

DAX             -1.03%

STOXX 50  -0.96%

IBEX 35      -1.80%

CAC 40        -0.34%
Today

07:19


Preview

Good morning all. There is only one place to start…

-Based on Fox's decision desk Biden is leading the US election race. However, it is finely poised with Trump performing better than most polls predicted. Trump has just spoken to say that he is up in many of the states where the result is yet to come in. Trump has claimed that "they are trying to steal the election," and said they will be going to the US supreme court

-That's enough of that for now. Overnight APAC equity markets traded overall higher

-The US dollar has gained strength overnight and into this morning

-On the economic calendar today we have EZ, US and UK Markit services data, US and Canadian balance of trade data, and US ISM non-manufacturing data

-The earnings calendar sees companies such as Wendy's, Qualcomm, ScottsMiracle-Gro, Zynga, Hilton, Upwork, Marathon oil, Paycom, and Acadia Pharma reporting.