Latest

21:05


US Markets Close

US indexes have had a strong day…

DOW        +1.68%

S&P 500  +1.81%

NASDAQ +2.32%
20:55


Xpresspa (XSPA) Shares Spike

$XSPA: +16.15%  $2.23

Xpresspa shares have spiked in the last hour after news that the company will debut rapid COVID tests and New York's JFK airport.
20:23


Trump Leaving Hospital

President Trump has tweeted to say that he will be leaving the Walter Reed Medical Centre today at 6:30 pm (EST).

https://twitter.com/realDonaldTrump/status/1313186529058136070?s=20
17:43


US Stock Movers
Gainers:
Greenpro Cap +83.94%
MyoKardia +57.92%
Westwater Resources +44.80%
Losers:
Nam Tai -23.54%
Cinemark Holdings -17.96%
AMC Entertainment -10.43%
16:45


European Equities Close

It was a positive day all round for European indexes…

FTSE 100      +0.71%

DAX               +1.09%

STOXX 50    +0.90%

IBEX 35        +1.22%

CAC 40         +0.97%
16:03


DraftKings Stock Plunges...

$DKNG: -7.4% $59.06

DraftKings shares have plunged today after news that the company will offer 32 million shares of its Class A common stock.

The company said it intends to use the proceeds from the offering for "general corporate purposes."
15:10


MyoKardia Stock Up 58%

$MYOK: +58% $220.90

One of the biggest moving US stocks so far today is MyoKardia. The company and Bristol Myers Squibb announced a definitive merger agreement that will see Bristol Myer's acquire MyoKardia in a deal worth $13.1 billion.

MYOKARDIA STOCK SURGES ON BRISTOL MYERS SQUIBB ACQUISITION NEWS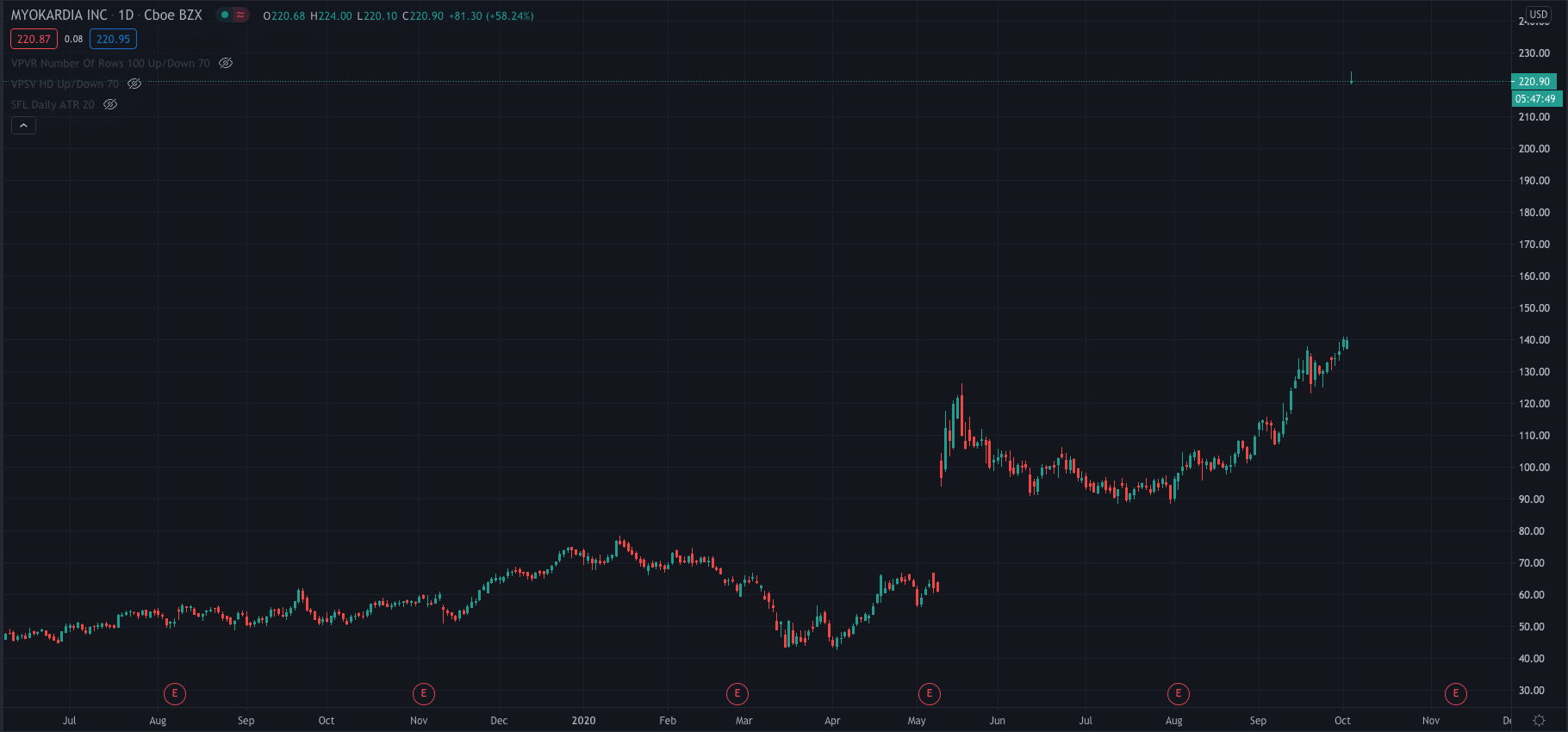 14:35


Equity Markets

US Equities have started positively…

DOW         +1.08%

S&P 500   +0.98%

NASDAQ  +0.99%

European equities are also trading higher so far today…

FTSE 100     +0.64%

DAX              +0.84%

STOXX 50   +0.72%
11:30


Regeneron Shares Up 5%

$REGN

Regeneron Pharmaceuticals shares are up 5.35% at $30.20 premarket after US President Trump was treated with Regeneron's experimental COVID-19 dual antibody.
09:18


Weir Group Sells Oil & Gas Division, Shares Surge

Weir Group shares have surged as high as 1604p per share after the Glasgow-based company announced it is selling its oil and gas division to Caterpillar in a deal worth £314 million.

Weir has continued with its strategy of leaving the power and oil and gas markets.

Its shares are currently trading at 1481.5p, up 15.73%.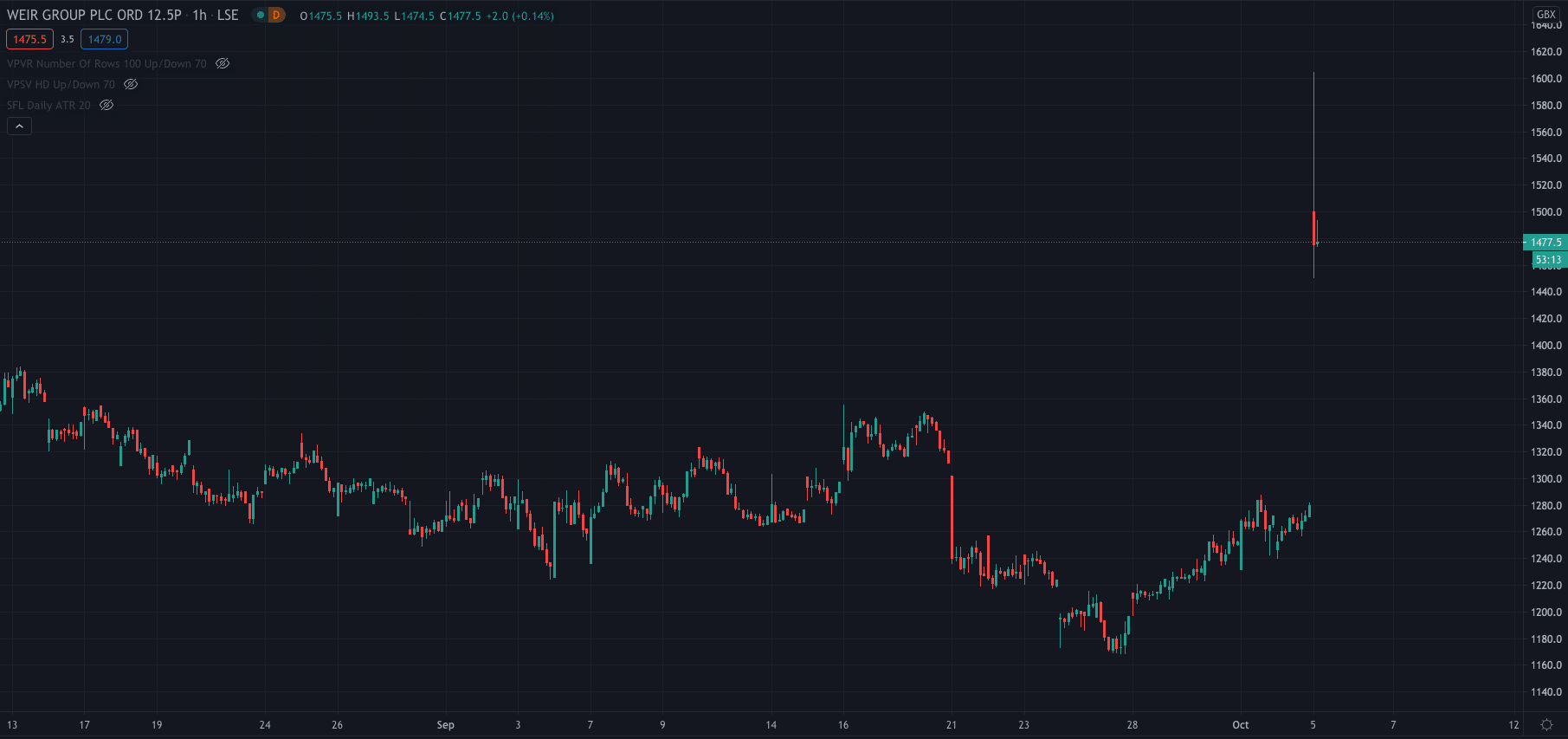 08:32


Cineworld Shares Plummet

Cineworld shares have dropped over 50% as low as 15.64p after the company confirmed that all of its UK and US outlets will temporarily close.

The company also said it will be cutting jobs, with 45,000 workers affected worldwide.

Here is the full story: CINEWORLD SHARES CRASH 53% ON CINEMA CLOSURE PLANS
07:45


Preview

Morning all…

-We will start with Asia-Pac equities where it was an overall strong day. The Nikkei closed 1.23% higher while the ASX closed up 2.59%

-According to reports, US President Trump's condition is improving and he could be discharged from hospital shortly

-Trump was treated with Regeneron's experimental antibody treatment

-A call between UK Prime Minister Boris Johnson and the President of the European Commission, Ursula von der Leyen, has seen both sides agree to intensify trade talks. Goldman Sachs have said they believe there will be a thin zero-tariff FTA struck by early November

-On the calendar today we have European, UK and US PMI's, European retail sales, and ISM non-manufacturing