Latest

21:05


Markets Are Closed...

DOW           +1.95%

S&P             +1.96%

NASDAQ   +2.59%
Today

19:06


The Fed Keeps Rates Near zero

The Federal Reserve has held interest rates near zero as the economy continues to grow, but not near pre-pandemic levels.

The Fed kept its benchmark interest rate between 0%-0.25%.

"Economic activity and employment have continued to recover but remain well below their levels at the beginning of the year,"  the Fed said in its statement.
Today

16:38


European Indices Positive

The rally continues…

FTSE 100      +0.33%

DAX               +1.97%

STOXX 50    +1.75%

IBEX 35        +2.07%

CAC 40         +1.24%
Today

16:24


US Stock Movers

Hall of Fame Resort & Entertainment +135.78%: HALL OF FAME RESORTS & ENTERTAINMENT (HOFV) STOCK SOARS AFTER DEAL WITH SPORTS ILLUSTRATED 

Altus Midstream Company +122.83%: ALTUS MIDSTREAM STOCK JUMPS OVER 90% AFTER RAISING 2021 FORECASTS

Oncternal Therapeutics +93.38%: Oncternal Therapeutics announces Q3 earnings and reveals it has received Rare Pediatric Disease Designation for TK216 for treatment of Ewing sarcoma

Upwork +40.41%: UPWORK STOCK SURGES 28% AFTER Q3 EARNINGS BEATS ESTIMATES
Today

16:20


Gold

Gold is having a great day, now up 2.58% at $1,952…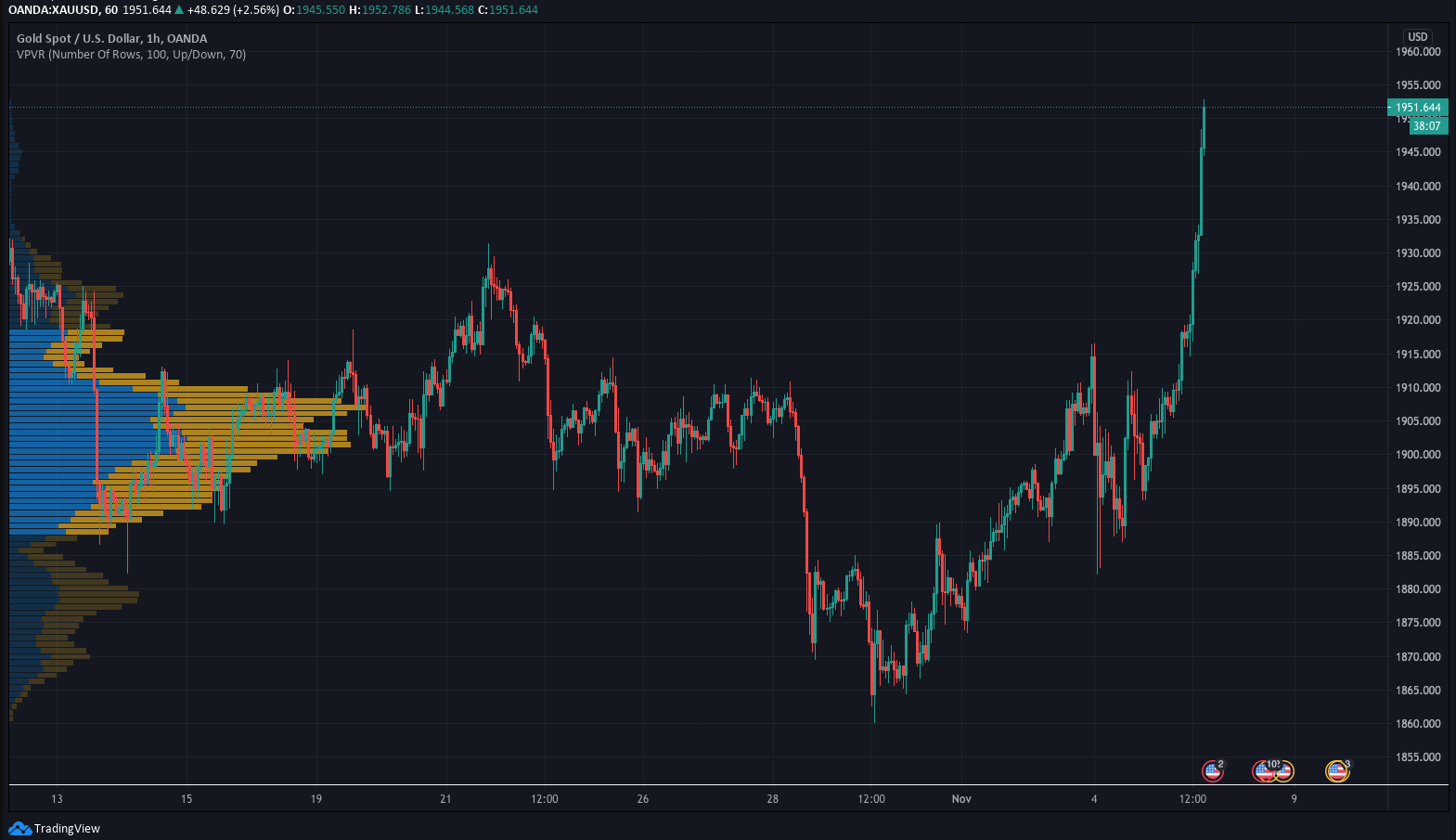 Today

15:01


US Equities Positive

Well, the markets have ignored the election and are continuing to drive higher, despite Trump filing lawsuits against several states. The Trump campaign is to make a major announcement in Las Vegas at 11: ET and his campaign are planning Philadelphia press conference at 10:15 am.

DOW         +1.61%
S&P           +2.03%
NASDAQ +2.59%
Today

10:45


UK Stock Gainers

IQ-AI +47.45%: IQ-AI SHARES SURGED 31.1% ON FDA APPROVAL OF ITS LIVER BIOPSY TECH IN THE US
Shares of IQ-AI Ltd (LON: IQAI) have surged 47% today to 18.80p after yesterday's news that the company received regulatory approval from the US Food & Drug Administration (FDA)

European Metals Holdings +37.69% 

Verici Dx +25.37%
Today

08:41


European Equities Positive

FTSE 100     +0.17%

DAX              +0.84%

STOXX 50   +0.83%

IBEX 35       +0.92%

CAC 40        +0.77%
Today

07:55


Preview

Good morning…

-The US presidential race still goes on, although, Biden is still in the lead, while Trump is considering legal action against several states

-APAC equity markets were positive with the Nikkei closing 1.73% higher and the ASX closing at +1.28%

-Jeff Bezos has sold another $3 billion worth of Apple shares

-The BoE has kept interest rates on hold, causing the pound to jump, currently trading at 1.3010. The BoE said it sees UK unemployment at 6.25% in the fourth quarter, down from its August projection of 7.5%.

-On the rest of the economic calendar today we have EZ retail sales, US  initial jobless claims, and the Fed's interest rate decision

-The earnings calendar sees names such as Alibaba, Roku, Square, GM, AstraZeneca, Peloton, Regeneron, Uber, Dropbox, Cloudflare, and Bristol-Myers Squibb reporting.