Latest

21:05


US Markets Close

DOW          -2.25% 27,501

S&P 500    -2.76% 3,332

NASDAQ   -4.11%  10,847

Just to add, $TSLA closed 21% lower, $GOOGL down 3.6%, and $AAPL closed 6.7% lower.

Stocks took a beating today particularly Tesla.

Anyway, that's all from me, have a good evening people!
20:13


Slack

$WORK

Slack Stock is up 1.48% at $29.50 as we approach the close. The company is reporting its earnings after the market closes.
20:09


Apple Seeks Damages From Epic Games

$AAPL

Apple has reacted in its legal battle with Epic Games, filing counterclaims saying that the gaming company has breached its contract with Apple: Via CNBC
17:50


Uber/General Motors Pact

$GM $UBER

GENERAL MOTORS IN PACT WITH UBER

GM TO OFFER $UBER DRIVERS SPECIAL PRICING ON NEW EV PURCHASES: Via Twitter @DeltaOne
16:53


Co Diagnostics (CODX)

$CODX

Co Diagnostics shares are up 35% at $11.16 after the company announced that it has entered into an agreement with Arches Research, Inc, a CLIA laboratory and subsidiary of Polarity TE, Inc, (Nasdaq: PTE), to expand Arches' COVID-19 testing services using Co-Diagnostics' Logix Smart™ COVID-19 test kit.
16:49


European Equities Close

FTSE 100    -0.18%  5,926

DAX             -1.01%  12,968

STOXX 50  -1.38%  3,268
14:32


US Equities

DOW        -1.21%  27,793

S&P 500  -1.85%  3,363

NASDAQ -3.27%  10,94
13:21


Nikola/General Motors

$GM $NKLA

Nikola shares have surged 31% to $46.85 per share premarket after General Motors announced it is taking an 11% share in the electric vehicle company. The deal is worth around $2 billion.

General Motors shares are up 4.93% premarket at $31.48.
11:49


Bitcoin

For any of you, BTC traders out there…

HERE'S HOW BITCOIN (BTC) PRICE COULD REACH $8,000 IN SEPTEMBER
11:21


European Stock Gainers

i-nexus Global (INX) +70% – I-NEXUS GLOBAL (INX) SHARE PRICE SOARS AFTER SALES BOOST

Hydrogen Group (HYDG) +35%

Worldsec LD +33%

Fuji pharma (FUP) +25%

ToqueBlancheMonde (MLTBM) +21%

Yoc (YOC) +14%
11:20


Tesla Shares Plummet Pre-Mkt

Tesla shares are down 7.56% pre-market at $386.68 per share.

It seems stocks go down as well, who would have thought!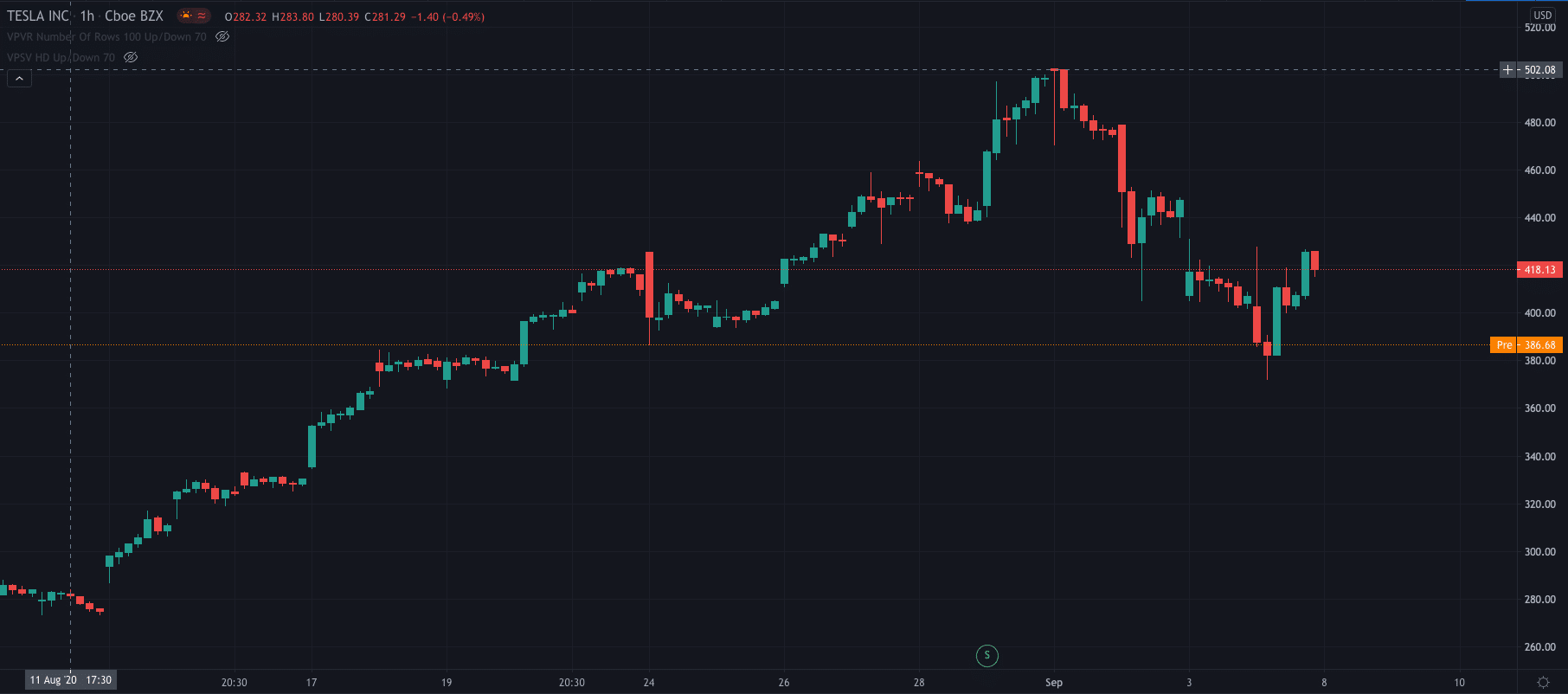 08:31


European Equities

FTSE 100       +0.47%  5,965

DAX                -0.11%  13,085

STOXX 50     -0.18%  3,308
07:30


Morning Preview

Good morning all…

-Asia-Pacific markets performed positively. The Nikkei closed 0.81% higher while the ASX closed at +1.06%.

-US President Trump has raised the prospect of "decoupling" the US economy from China.

-In Brexit news, the UK's chief negotiator has called for "realism" from the EU.

-In FX markets the USD has shown some weakness so far this morning.

-On today's calendar, we have seen Germany's balance of trade come in lower than estimated while still to come there is France's balance of trade, Italian retail sales and EZ Q2 GDP 3rd est.

-Names on the earnings calendar include Slack, Lululemon, Napco, Coupa and Health Equity.