Latest

21:08


US Equities Close, Greenland Stock The Biggest Mover

DOW          +0.90%
S&P            -0.11%
NASDAQ  -1.37%

Greenland Technologies (NASDAQ: GTEC) stock ends the day as the top moving stock, up 99.57% at $4.67 per share after the company reported it will start offering integrated electric drivetrain systems to its existing forklift OEM clients to support the manufacturing of electric forklifts using lithium batteries.
Today

19:18


US Stocks Performace

Tech stocks are taking a hit…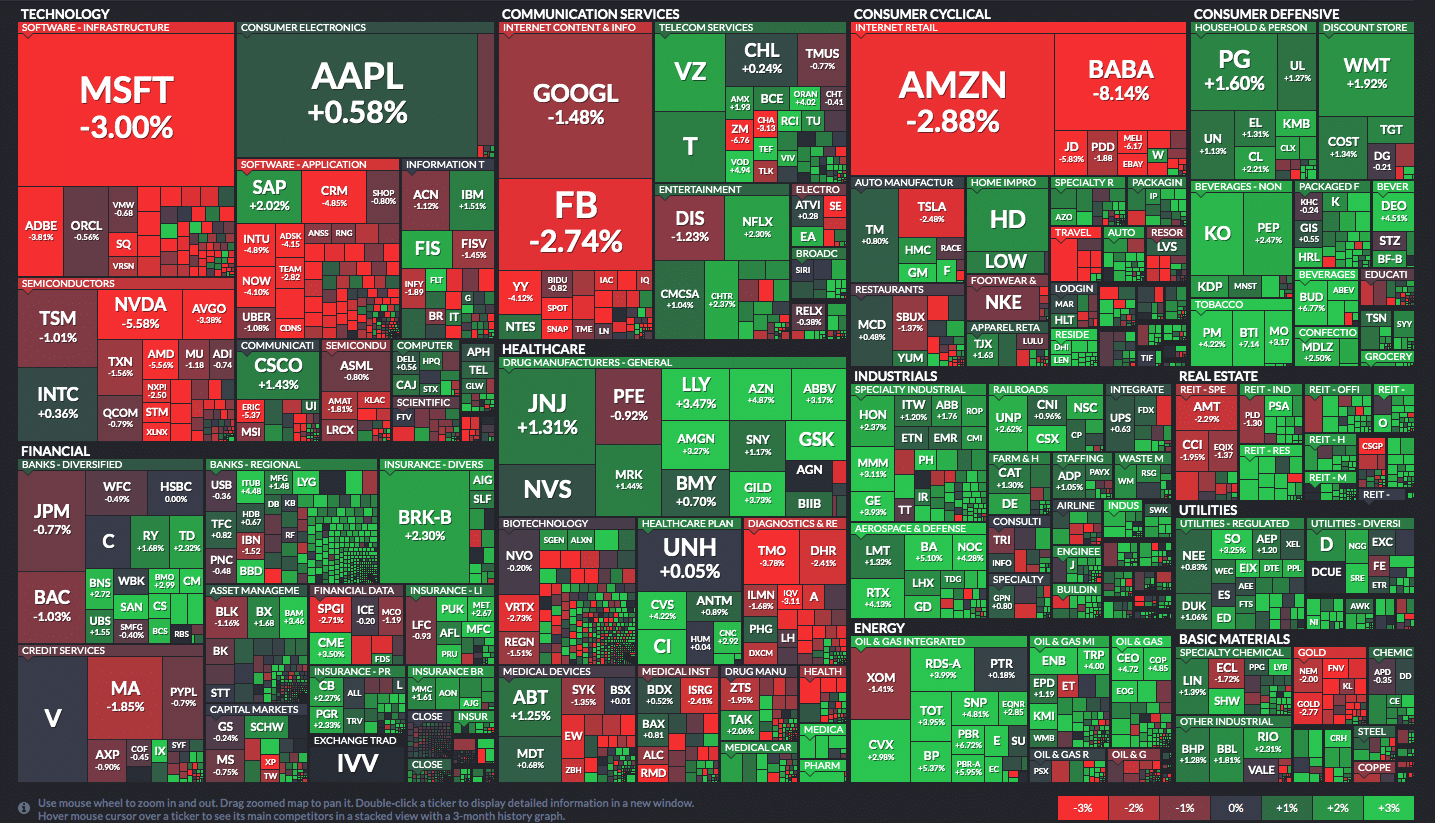 Today

16:35


European Stocks Close Positive

FTSE 100     +1.74%
DAX              +0.54%
STOXX 50   +1.05%
IBEX 35       +3.37%
CAC 40        +1.55%
Today

14:44


US Equities Mixed

DOW            +0.17%

S&P              -0.62%

NASDAQ    -1.26%
Today

14:19


Jumia Stock Tumbles

Shares of Jumia Technologies (NYSE:JMIA) have fallen over 18% to $13.02 premarket after the company reported its third-quarter earnings, missing revenue estimates with $33.7 million reported, below estimates around the $38 million mark.

Its share price is, however, still up 137% for the year to date.
Today

11:47


Beyond MeatShares Fall

Beyond Meat shares are down 22% to $117.30 premarket after the company reported its third-quarter earnings revealing that consumer purchases slowed.
Today

10:51


UK Stock Movers

Cineworld +32.13%: CINEWORLD SHARE PRICE GAINS ALMOST 100% ON VACCINE NEWS

Arena Events +31.18%: Arena Events releases interim results showing that revenue and gross profit fell due to coronavirus restrictions, but the company remains in a strong financial position.

Metro Bank +25.43%:  CEO Dan Frumkin buys £1.1 million worth of stock in the bank.

Saga +23.91%: Shares in insurance company Saga, rise due to coronavirus optimism.

Rolls-Royce +23.45%: ROLLS-ROYCE SHARE PRICE GAINS NEARLY 100% IN TWO DAYS. HERE'S WHY

Tri-Star resources -52%: Trading in the company's ordinary shares was restored to trading on AIM yesterday. The company also released its half-year report showing a rise in pre-tax profit.
Today

08:31


European Equities

FTSE 100   +0.60%
DAX            -0.10%
STOXX 50 +0.14%
IBEX 35     +0.60%
CAC 40       +0.36%
Today

07:52


Preview

Good morning…

-APAC markets were mixed with Chinese bourses falling, while the Nikkei and ASX closed higher

-In light of yesterday's vaccine news, there have been concerns expressed by some regarding the mRNA technology. The NIH's Fauci said there are still questions about its durability

-In other coronavirus drug news, Eli Lilly (NYSE: LLY) shares rallied over 3% after-hours to $146.75 as news broke that it has been granted FDA emergency authorisation for its coronavirus antibody treatment

-Elsewhere the UK's House of Lords voted against the UK government on its Internal Market Bill

-US equity futures are mixed with the Dow and S&P higher and the Nasdaq down

-On today's economic calendar we have already seen unemployment data for the UK showing a rise to 4.8%, while we have the European and German ZEW economic sentiment index at 11 am

-Companies reporting earnings today include Lyft, DataDog, BioNTech, Advanced Auto Parts, Tencent, Corbus Pharmaceuticals, and FICO