Latest

21:05


US Equities Fall

DOW           -1.09%
S&P             -1.01%
NASDAQ   -0.65%

The biggest gainer of the day was EuroDry, closing over 68% higher after initially increasing over 132%. Here is the reason for its climb: EURODRY STOCK JUMPS 132% AFTER THIRD-QUARTER EARNINGS REPORT
Today

19:16


US Stock Performance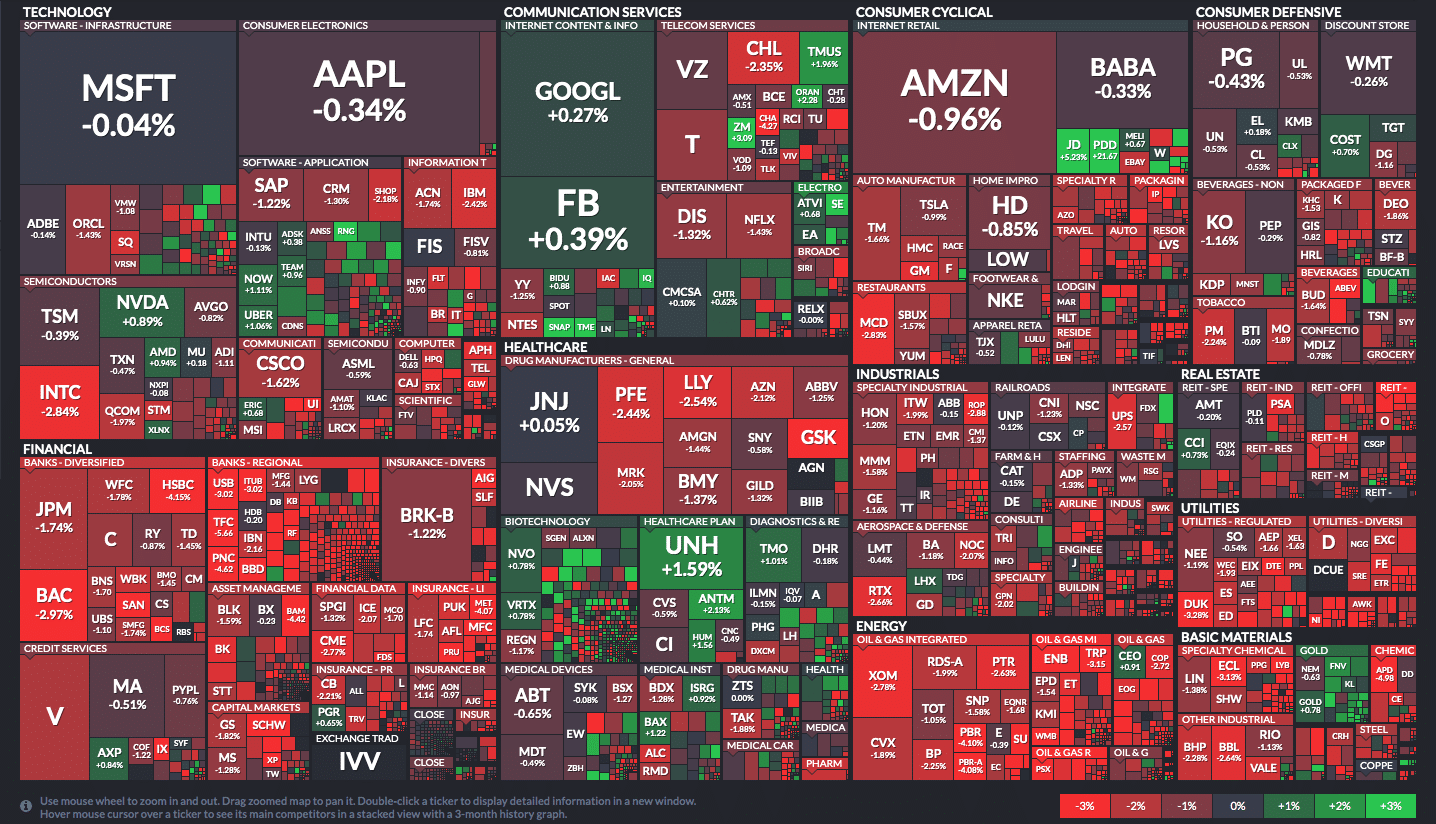 Today

16:46


European Stocks Close Lower

FTSE 100    -0.63%
DAX             -1.21%
STOXX 50  -1.13%
IBEX 35      -0.92%
CAC 40        -1.52%
Today

16:05


Qualcomm

Reports circulating online claim that Qualcomm (NASDAQ: QCOM) has received an export license that will allow it to ship 4G chips to Huawei.

According to one report, there is scepticism that Huawei's suppliers will be able to gain a 5G export license, and it is expected that Mediatek will gain a license as well.

Qualcomm shares are trading over 1% lower today at $146.15.
Today

15:15


Aker Biosciences Stock Rallies

Aker Biosciences (NASDAQ: AKER) stock has rallied over 37% to $2.36 after the company jointly announced a definitive merger agreement with MyMD Pharmaceuticals.

The company is expected to be renamed MyMD Pharmaceuticals Inc and remain listed on the Nasdaq under the new ticker MYMD.

"On a pro forma basis and based upon the number of shares of Akers common stock to be issued in the merger, current Akers' shareholders will own approximately 20% of the combined company, on a fully diluted basis, and current MyMD's shareholders will own approximately 80% of the combined company on a fully diluted basis," the companies said in their statement.
Today

15:12


US Equities Mixed

Just over 40 mins after the US market open and equities are a mixed bag…

DOW          -0.50%
S&P            -0.25%
NASDAQ  +0.35%
Today

10:12


UK Stock Gainers

Victoria Oil & Gas +82.59%: Victoria (VOG) announces the settlement of litigation with Cameroon Holdings (CHL) which terminates the CHL royalty agreement. VOG had ceased making royalty payments back in January 2019, and the two companies have now agreed on a settlement amount of, in aggregate, $12.5 million.

Marsh & McLennan +39.95%

AIQ Limited +23.68%
Today

08:42


European Equities Lower

FTSE 100     -0.74%
DAX              -0.69%
STOXX 50   -0.62%
IBEX 35       -0.70%
CAC 40        -0.72%
Today

07:55


Preview

Equities
Asian equities fell overnight after a mixed close on Wall Street while US and European futures are trading lower.

COVID-19
Cases are increasing stateside and New York has increased regulations to try and stop the growth. The US set a single-day record for cases as hospitalizations in the country hit an all-time high.
The EU has struck a deal to buy 300 million doses of Pfizer's vaccine with reports stating that they will pay less than the US for the drug.

Brexit
Yesterday the Irish foreign minister, Simon Coveney, said that an EU-UK deal is unlikely this week and talks will drag on past the November 15th deadline, warning of problems if a deal is not struck by next week.

Economic Data
On the calendar today we have already seen the UK's GDP come in at 15.5%, with the country's balance of trade came in above expectations, while to come we have US inflation data and speakers from the BoE, ECB, Bundesbank and the Fed.

Stocks
On the earnings calendar today we have Wix.com, Cisco, Walt Disney, Applied Materials, Energizer, Blink, Inmode and more.