As it happens:
Latest

21:03


US Markets Close Lower

DOW         -0.54%

S&P 500   -0.61%

NASDAQ  -0.10%
20:04


Eli Lilly Coronavirus Treatment Trial Halted

Eli Lilly's Phase 3 trial of its antibody treatment for COVID-19 has been halted over potential safety concerns the company confirmed today.

The news has seen Eli Lilly's shares fall over 3% to $149.71.

Speaking to CNBC, spokeswoman Molly McCully said "Safety is of the utmost importance to Lilly. We are aware that, out of an abundance of caution, the ACTIV-3 independent data safety monitoring board (DSMB) has recommended a pause in enrollment."
19:38


Apple Shares Fall

Apple shares fell over 3% after the company unveiled its first 5G iPhone. The starting prices for Apple's four new 5G phones are set from $699 to $1,099.

Its stock price is currently down 2.60% at $121.17.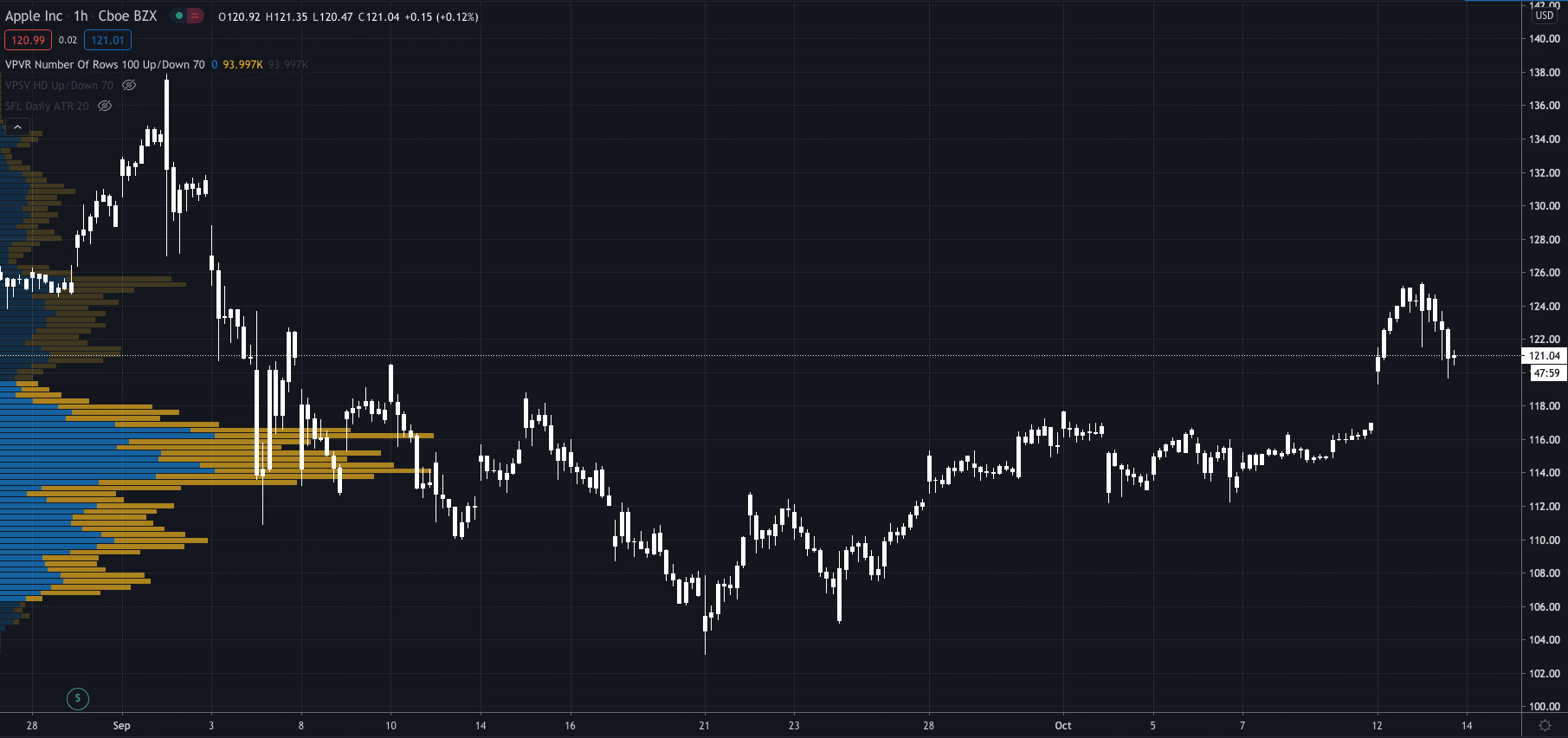 16:55


Boeing

Boeing shares are down over 2% today…

First off the company said it won no new orders in September.

The EU has been given the green light to tariff almost $4 billion worth of US goods for illegal state aid to Boeing as the battle between Airbus and Boeing escalates.
16:36


European Indexes Negative

FTSE 100      -0.51%

DAX               -0.96%

STOXX 50    -0.58%

IBEX 35        -1.08%

CAC 40         -0.64%
15:50


US Stimulus Bill Update

Nancy Pelosi has said that Trump's offer on the coronavirus stimulus package falls significantly short in a letter to lawmakers.

however, Pelosi did say she remains hopeful a deal will eventually be reached.
15:25


Stocks Lower

US stocks are trading lower overall with the Dow down 0.25% and the S&P down 0.27%. The Nasdaq is up slightly but looks to be turning around and is moving lower. It is currently trading at +0.09%.

Apple shares are trading lower after yesterdays rise, while a number of other large-cap stocks are down so far today.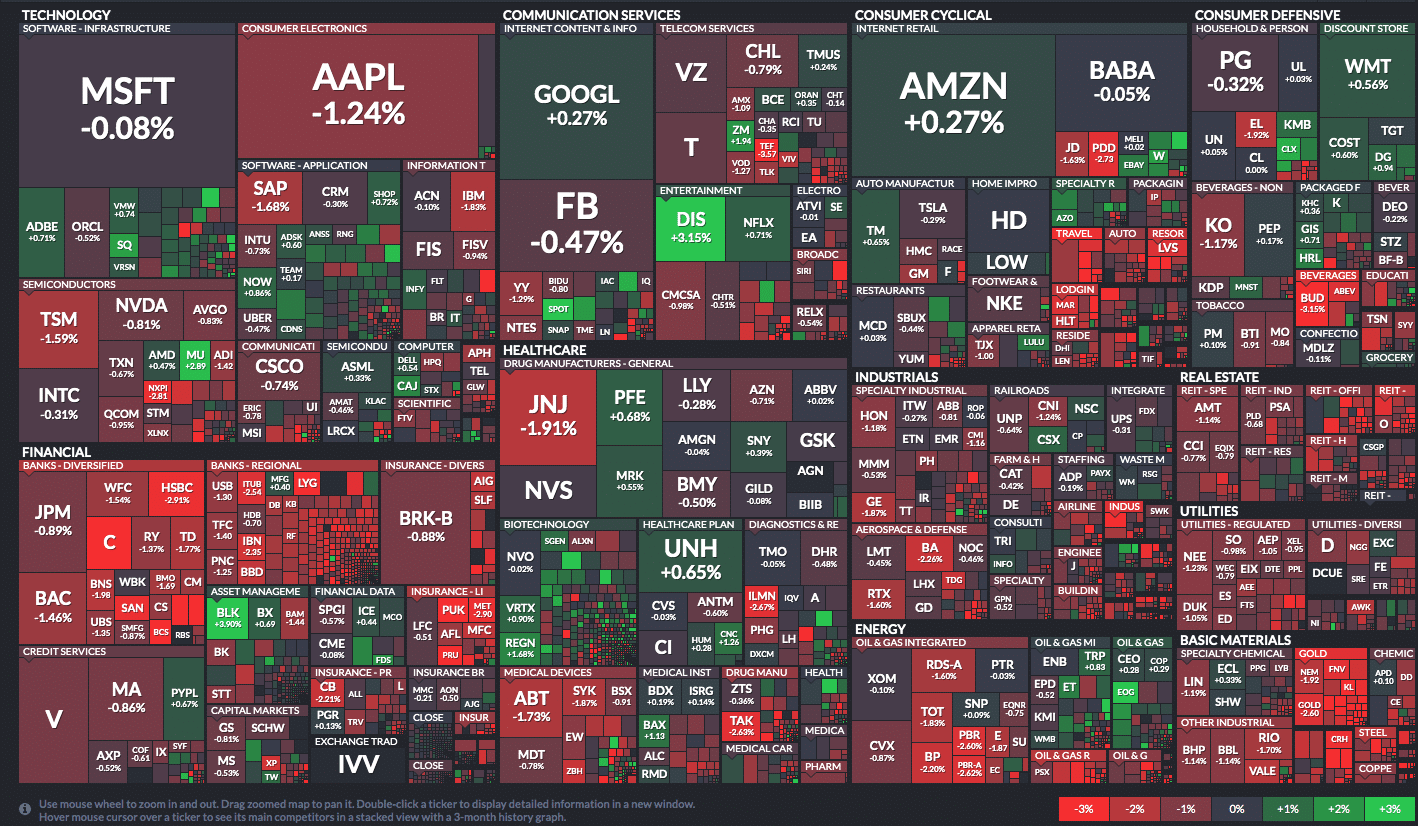 15:00


US Stock Gainers

Pedevco +64.78% – Company makes exchange offer to acquire all outstanding common units of Sandridge Permian Trust.

Medigus +58.73%

Ebang International +19.13%
14:19


Pedevco Stock Surges

$PED +97% $2.65

Pedevco stock is up 97% premarket at $2.65 after the company made an exchange offer to acquire all outstanding common units of Sandridge Permian Trust.

The company said that the purpose of the offer to exchange is to acquire all of the outstanding Trust common units to combine Pedevco and the Trust.

"PEDEVCO believes that the combination of PEDEVCO and the Trust represents a financially and strategically compelling, value-creating opportunity for both PEDEVCO stockholders and holders of Trust Common Units."
11:12


Johnson & Johnson Premarket

$JNJ

Johnson & Johnson shares are down 1.36% premarket at $149.77 after the company paused its COVID-19 vaccine trial.
11:09


US Futures

US futures prices are currently mixed with the Nasdaq up 0.73%, the Dow is down 0.39% and the S&P is down 0.13%.
10:15


French Connection (FCCN) Shares Fall

French Connection shares have fallen 16.20% to 7.50p after the company reported interim results for the six month period ending the 31st of July.

The company said the "majority of trading impacted by COVVID-19 pandemic."

Group revenue fell 53.1%.
10:12


Synairgen

"Shares of Synairgen plc (LON: SNG) are up 41.2% since Friday boosted by investor optimism about its SNG001 drug, which treats COVID-19 symptoms. The stock is up over 4000% this year as analysts express caution that the price reflects future expectations, yet SNG001 is yet to be licensed."

SYNAIRGEN SHARES ARE UP 41.2% SINCE FRIDAY, HERE'S WHY
08:43


European Equities Trade Lower

FTSE 100      -0.39%

DAX               -0.36%

STOXX 50    -0.39%

IBEX 35        -0.69%

CAC 40         -0.49%
07:33


Preview

Good morning…

-APAC equity markets were mixed overnight. Trading in Hong Kong was suspended due to typhoon Nangka

-Johnson & Johnson says it has paused all trials of its COVID-19 vaccine due to a participant becoming sick. An independent committee will now review the patients illness

-The UK unemployment rate data was released this morning, rising to 4.5%

-In FX markets the US dollar strengthened overnight, but it is pulling back slightly this morning

-On the calendar for the rest of the day we have European and German ZEW economic sentiment and US inflation data