Latest

21:00


US Markets Close

After regaining some losses, US indices close in the red…

DOW          -0.06%

S&P 500    -0.13%

NASDAQ   -0.47%
Today

20:15


Biggest Stock Movers

Huttig Buildings Products +37.93% – MillRoad Capital proposed to acquire 100% of the outstanding shares in Huttig for $4 per share

SPI Energy +26.74% – SPI ENERGY SHARES SURGED 66.2% TODAY, HERE'S WHY

Cars Com +22.72% – Stock soars after positive revenue outlook

Organogenesis +22.22% – ORGO STOCK SURGES, HERE'S WHY…

Fastly -27.87% – Fastly Stock falls after the company said that demand from its biggest customer, TikTok owner ByteDance did not meet expectations

Vivopower -21.71% – VivoPower stock plummets after a public share offering prices the stock at a deep discount

Vertex Pharmaceutical -19.12% – VERTEX STOCK PLUNGES AFTER PHASE 2 TRIAL STOPPED
Today

19:32


US Equities Regain Some Losses

US indexes are on the comeback trail after regaining some losses from earlier in the day.

The DOW is now down just 0.09%, the S&P 500 is down 0.30% and the NASDAQ is down 0.72%.
Today

16:45


European Indices Close In the Red

FTSE 100       -1.76%

DAX                -2.54%

STOXX 50     -2.47%

IBEX 35         -1.44%

CAC 40           -2.11%
Today

15:53


Huttig Building Products Shares Rise

$HBP

Huttig Building Products share price has surged 47.88% to $3.57 after MillRoad Capital, the company's largest shareholder proposed to acquire 100% of the outstanding shares in Huttig for $4 per share in cash representing a 66% premium on yesterday's share price of $2.41.
Today

15:13


US Stimulus Deal

US President Trump has said there is a chance of getting a COVID-19 stimulus bill done before the election .

He has also ruled out any more lockdowns saying "we're doing fine".
Today

14:41


US Equities

US indexes start the say lower with all three currently down over 1%…

DOW          -1.00%

S&P 500    -1.00%

NASDAQ  -1.06%
Today

13:20


Staffing 360 Solutions

$STAF

Staffing 360 Solutions shares are the biggest gainer so far premarket in the US, up 107% at $1.63 per share.

While there has been no stock-specific news, the rise may be down to investors looking at the potential for the demand of specialised staff if the economy does eventually recover.

Its share price has fallen significantly in 2020 but today's rise has seen it regain a level last seen in July this year.
Today

11:41


US Equity Futures

It's looking like an ugly day all round for stocks…

Dow futures are down 1.01%, S&P futures are down 1.08% and Nasdaq futures are down 1.56%.
Today

10:49


GCM Resources

"Shares of GCM Resources PLC (LON: GCM) have surged 86.2% after the energy and mining company signed a framework agreement with China Nonferrous Metals (CNF) to develop GCM's Phulbari coal and power project in Bangladesh."

GCM RESOURCES SHARES SURGED 86.2% TODAY, HERE'S WHY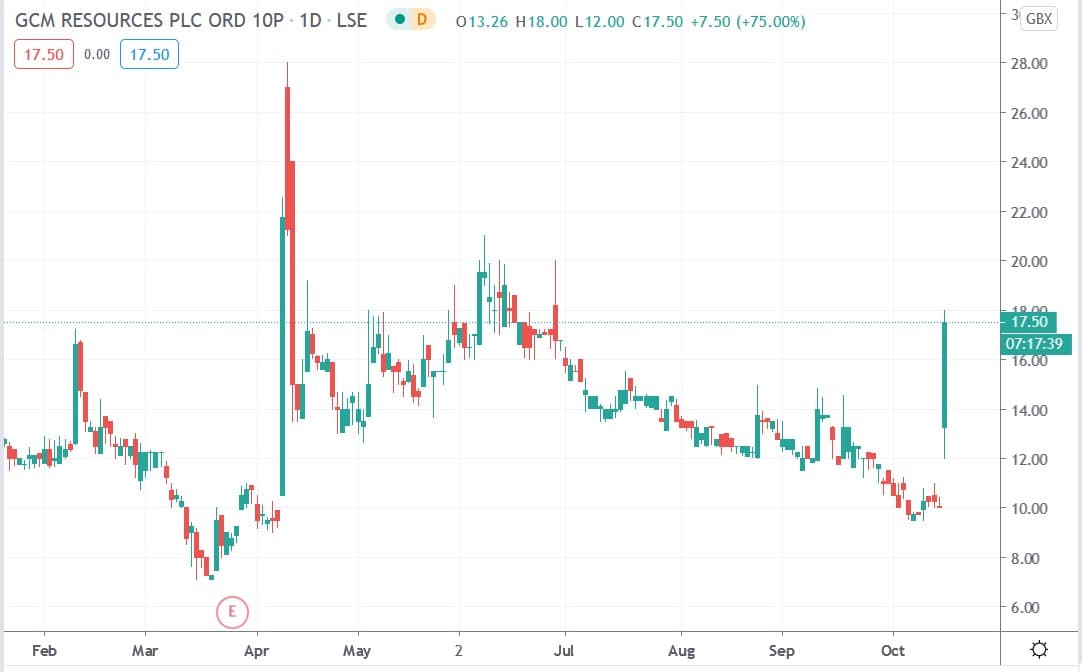 Today

08:52


European Equities Fall

FTSE 100      -1.89%

DAX               -2.36%

STOXX 50    -2.03%

IBEX 35        -1.64%

CAC 40         -1.80%
Today

07:45


Preview

Good Morning…

-APAC markets traded mostly lower overnight with the Nikkei closing 0.51% lower

-US stimulus bill hopes are fading after Treasury Secretary Mnuchin said that a deal on the bill is unlikely to happen before the election

-According to reports the US has warned international financial institutions against doing business with individuals it holds responsible for China's crackdown in Hong Kong and that they could face sanctions if they do

-Ryanair is to cut its winter capacity from 60% to 40%, the company warned that guidance could be further revised downwards. The airline expects the fiscal year 2021 traffic to fall by approximately 38 million guests

-On today's data calendar we have US import and export prices and initial jobless claims while the BoC's Lane, ECB President Lagarde and the Fed's Quarles and Kashari are speaking