Latest

21:05


US Markets Close Lower

After a positive open US indices have closed in the red…

DOW          -1.16%
S&P            -1.17%
NASDAQ  -0.82%
Today

19:21


Pfizer, BioNTech Vaccine

According to CNN BioNTech and Pfizer will seek Emergency Use Authorisation for its coronavirus vaccine on Friday.

The news comes after the company said its vaccine passed Phase 3 trials with 95% effectiveness, meeting all primary efficacy endpoints.
Today

17:25


US Stocks

Financial and oil & gas stock looking the strongest so far today…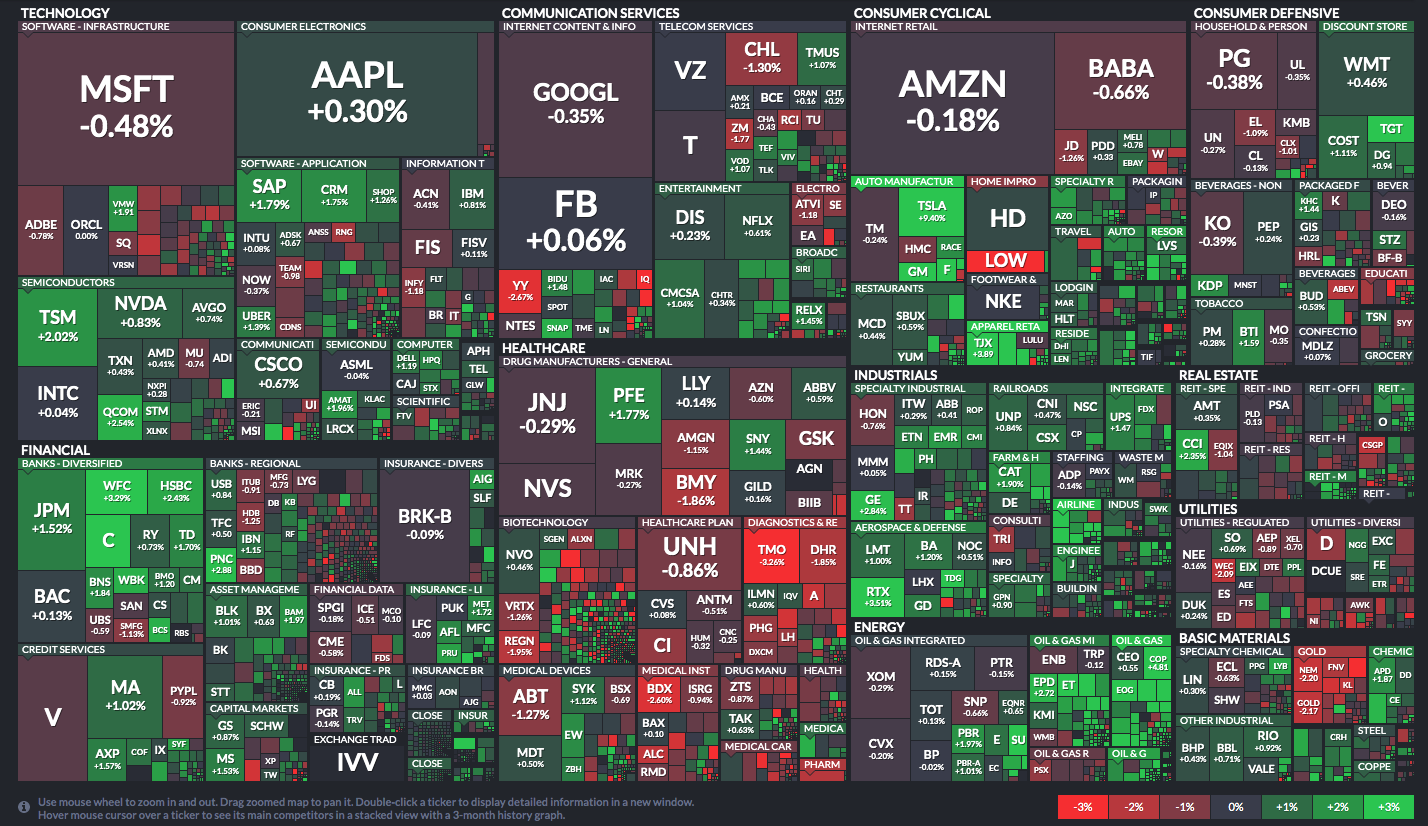 Today

16:36


European Equities Close Higher

FTSE 100     +0.30%
DAX              +0.50%
STOXX 50   +0.37%
IBEX 35       +0.58%
CAC 40         +0.52%
Today

16:31


NIO Shares Down 5%

NIO shares are down 5% at $44.26 despite the company reporting a record-breaking quarter.

Here's our story on its third-quarter: ELECTRIC CARMAKER NIO REPORTS A RECORD-BREAKING QUARTER
Today

15:02


Nikola Shares Spike

Shares of Nikola Corp (NASDAQ: NKLA) have spiked after General Motors (NYSE: GM) mentioned Nikola's EV technology on its website, suggesting that a partnership agreement is in place.

$NKLA +15.34%  $25.44

$GM +3.76% $43.56
Today

14:36


US Stocks Positive

DOW          +0.14%
S&P            +0.09%
NASDAQ   +0.07%
Today

10:42


UK Stock Gainers

Micro Focus International +27.64%: MICRO FOCUS INTL (MCRO) SHARES SURGE 28.2% ON UPBEAT FULL-YEAR MARGINS

Tri-Star +25%

Anglesey Mining +19.15%
Today

08:19


European Equities Lower

FTSE 100     -0.42%
DAX              -0.17%
STOXX 50   -0.18%
IBEX 35       -0.21%
CAC 40         -0.22%
Today

07:50


Preview

Good morning…

Equities
Indexes in the APAC region were mixed following on from the negative close on Wall Street. US futures are currently down.

Covid-19
The UK government has been urged to strengthen tier restrictions or risk another surge in cases. Yesterday the death toll was 598, the biggest jump since May.
In Scotland, eleven local authorities entered level four of Scotlands five level tier system.
In the US, cases continue to surge, reaching record numbers in recent days.
France tops 2 million cased.

Brexit
A report from the Telegraph says that France has understood to have accepted there will be reduced access to UK waters for fishing after the transition period ends. In the same report, it says that the Irish prime minister claims "landing zones" are in sight for a Brexit trade deal.
However, Downing Street is said to have pushed back on the idea of an imminent deal.

Stocks
NIO reported strong sales momentum in its third-quarter results.
Companies reporting earnings today include Target, Nvidia, Lbrands, Sonos, TJX, and Kingsoft Cloud.

Economic Calendar
UK and Eurozone inflation data, Canadian inflation, and speakers from the Bundesbank, BoE, BoC, and Fed.