As it happens:
Latest

21:03


US Markets Fall...

DOW          -1.43%

S&P 500    -1.62%

NASDAQ   -1.65%
20:17


US Sanctioning China

The US Secretary of State Pompeo has tweeted, saying: "Today, we are sanctioning mainland-China and Hong Kong entities and individuals for conduct related to the sanctioned proliferator the Islamic Republic of Iran Shipping Lines. Our warning is clear: If you do business with #IRISL or its subsidiaries, you risk U.S. sanctions."

https://twitter.com/SecPompeo/status/1318264944073363458
19:52


US Equities Plummet

US indexes have plummeted since the positive open, much like their European counterparts. The DOW is down -1.24%, the S&P 500 is at -1.38% and the NASDAQ is trading at -1.22%.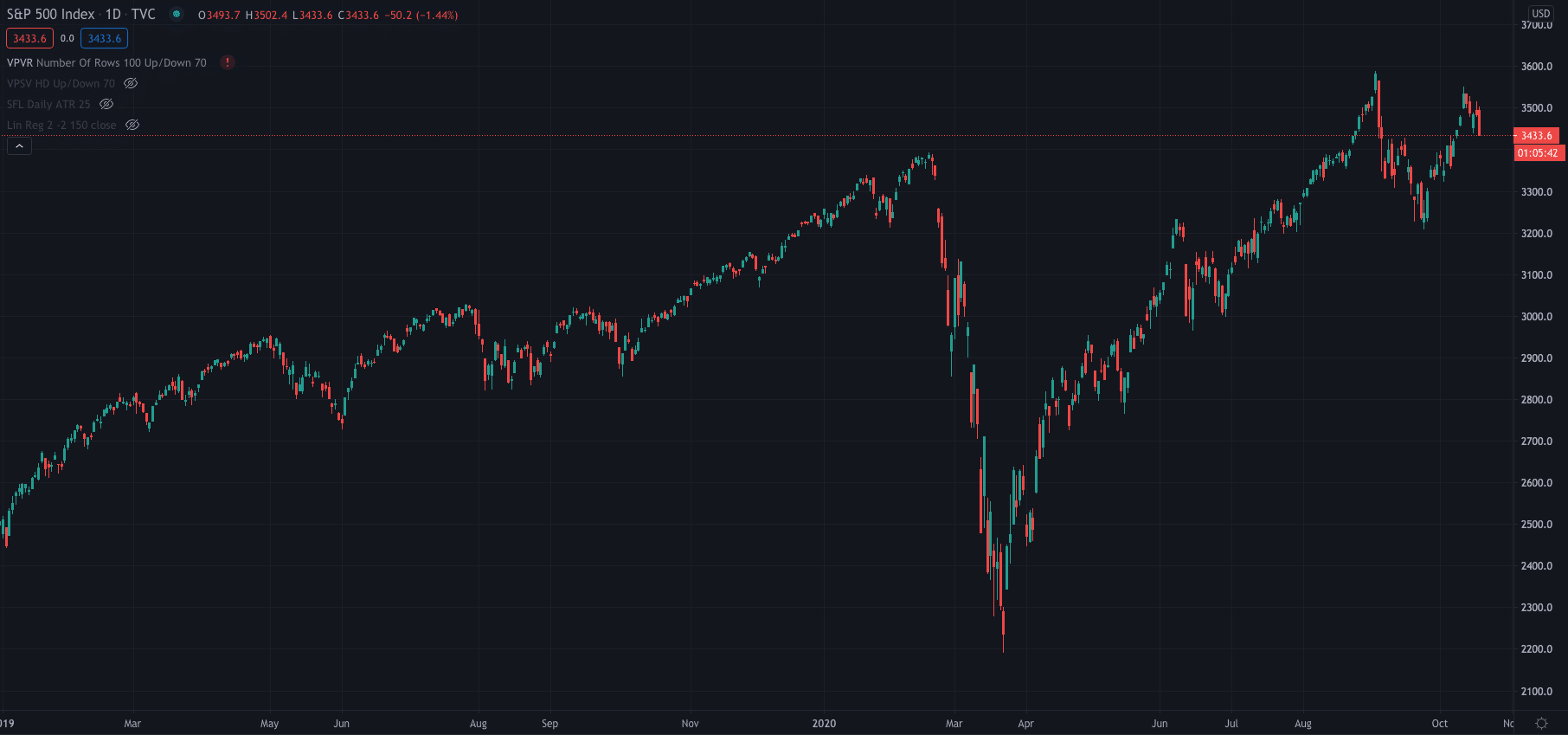 16:52


US Stimulus Bill...

In a Fox News interview, White House spokeswoman Alyssa Farah says that they are cautiously optimistic that House Speaker Pelosi is moving towards a deal on the coronavirus stimulus package.

Farah says there has been some progress on stimulus talks.
16:46


European Markets Close Lower

After starting the day positively indices have taken a turn lower with European indices mostly closing lower…

FTSE 100      -0.55%

DAX               -0.41%

STOXX 50    -0.12%

IBEX 35        +0.05%

CAC 40         -0.22%
14:57


US Equities

DOW           +0.27%

S&P 500     +0.34%

NASDAQ    +0.52%
14:34


Midatech Pharma

$MTP

US-listed shares of biotechnology company Midatech Pharma (NASDAQ: MTP) have surged premarket after the company announced positive results from its Phase 1 study in patients with Diffuse Intrinsic Pontine Glioma (DIPG).

Here is the FULL STORY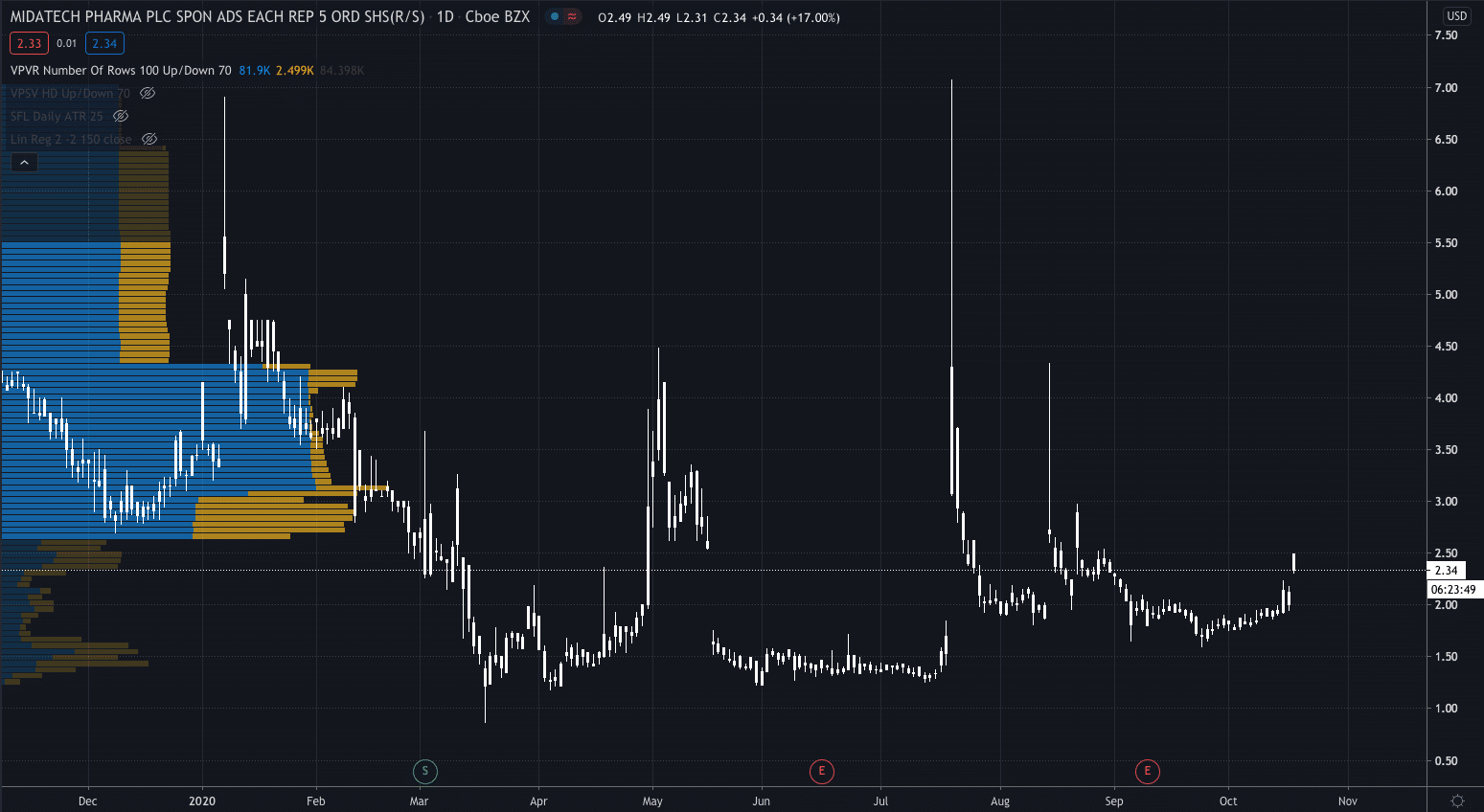 14:16


BOQI International (BIMI) Stock Surges

$BIMI

BOQI International shares are up 107% at $4.02 after the company announced its second-quarter financial results showing that revenue increased by 1026% compared to the same period last year.

Its share price closed at $1.94 on Friday.
09:50


UK Stock Movers

Gainers:

Contango Holdings +27.00% – Company acquires the Garalo Gold Project in Mali for $1 million. Full Story

Orient Telecoms      +26.73%

Alien Metals             +25.58%

Losers:

Dairy Farm Int         -59.00%

Boohoo                      -12.87% – PwC to step down as official auditor. Full Story

B.S.D Crown             -11.94%
08:48


European Equities Start the Week Higher...

FTSE 100     +035%

DAX              +0.54%

STOXX 50   +0.79%

IBEX 35       +0.59%

CAC 40         +0.82%
07:50


Preview

-The majority of equities in the APAC region traded mostly higher overnight, although, Chinese indexes are trading negatively

-China said its economy grew by 4.9% in Q3, lower than the forecasted 5.1%

-US House Speaker Nancy Pelosi said differences remained with the Trump administration on the coronavirus stimulus package and that if an agreement were to be reached before the election it would need to be within the next 48 hours

-The Chinese government has warned the US it may detain Americans in China in response to the US' prosecution of Chinese military-affiliated scholars according to a WSJ report

-Michael Gove said the door "still ajar" for talks with the EU regarding a trade deal but only if the EU moves on key areas

-On today's data calendar we have Eurozone construction output and a host of central bank speakers from the ECB, Bundesbank, BoE and Fed

-It's a big week of earnings. Some of the names reporting today include IBM, Halliburton, Logitech, Philips, and Cadence