Latest

21:05


US Markets Close

Dow Jones +0.30%  28,332

S&P 500  +1.03%  3,479

Nasdaq  +1.73%  11,665

Have a good evening all!
20:52


Salesforce Job Cuts

$CRM

Salesforce has notified some staff of around 1,000 jobs cuts.

The news comes right after the company reported positive results in its latest earnings report.

Its shares are up 26% today at $272.57 per share.
19:48


US Stock Performance

Via Finviz.zom…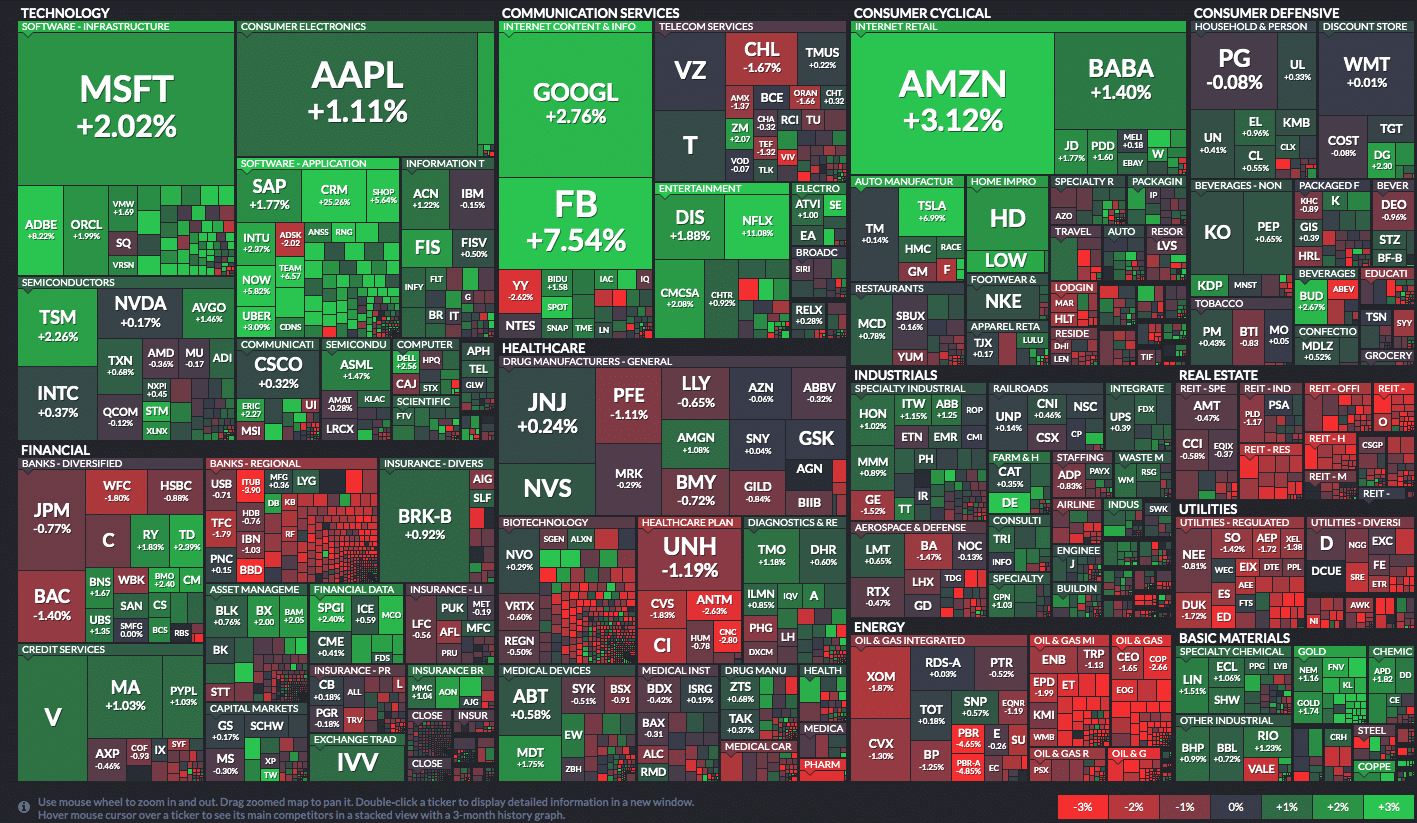 16:48


Tech Stocks

There are a few tech stocks surging higher today…

Tesla (TSLA) +4%, Amazon (AMZN) +1.52%, Facebook (FB) +5.64%, Netflix (NFLX) +8%, Roku (ROKU) +9.39%, Shopify +5.53%, The Nasdaq is up 1.2%.

Update: Can't believe I forgot Alphabet (GOOGL) +1.10%.
16:45


Netflix Shares Charge Higher

Netflix shares are charging higher, currently up 8% at $531.50.

We are yet to see any news.
16:42


European Equities Clos

FTSE 100 +0.1%

DAX +0.95%

STOXX 50  +0.8%
14:41


Dicks Sporting Goods

$DKS

Dicks Sporting Goods reported second-quarter comparable sales that beat estimates before slowing in August.

Comp. sales rose 11% through the first three weeks of 3Q

E-commerce sales were up 194% y/y in the quarter.

Dick share price is up 11% at $5.81 per share.
14:34


US Equities

Dow Jones -0.11%

S&P 500  +0.12%

Nasdaq  +0.56%
12:34


European Equities Update

FTSE 100  -0.11%

DAX  +0.51%

EURO STOXX 50  +0.38%
11:51


Vela Share Price Plummets

Vela's share price has plunged over 50% today…
11:13


Salesforce Shares Surge

$CRM

Salesforce shares are up 13% at $244 premarket after the company raised its 2021 revenue forecast.
10:14


European Stock Gainers

4D Pharma +30% – HERE'S WHY 4D PHARMA SHARE PRICE IS FALLING

Hemogenyx Pharmaceuticals +18%

Provident Financial +16%

Alfen +13%

Elekta +12%
08:40


European Equities

FTSE 100  -0.23%  6,023

DAX  +0.29%  13,099

EURO STOXX 50  +0.18%  3,335
07:25


Morning Preview

Morning people…

-Asian markets were mixed overnight following their Wall Street counterparts.

-According to Bloomberg, China is set to buy a record amount of soybeans this year.

-The US dollar is making small gains this morning with the EURUSD and GBPUSD falling slightly.

-On today's calendar, we have French consumer confidence coming up shortly, and US durable goods orders just after lunchtime.

-On the earnings calendar, we have names such as Dick's Sporting Goods, NetApp, RBC, Dycom Industries, American Software, and Express.