Latest

21:05


US Equities Close Higher

DOW           +0.13%
S&P             +0.28%
NASDAQ    +0.92%
Today

19:20


US Stocks

Healthcare and tech stocks lead the way on Friday…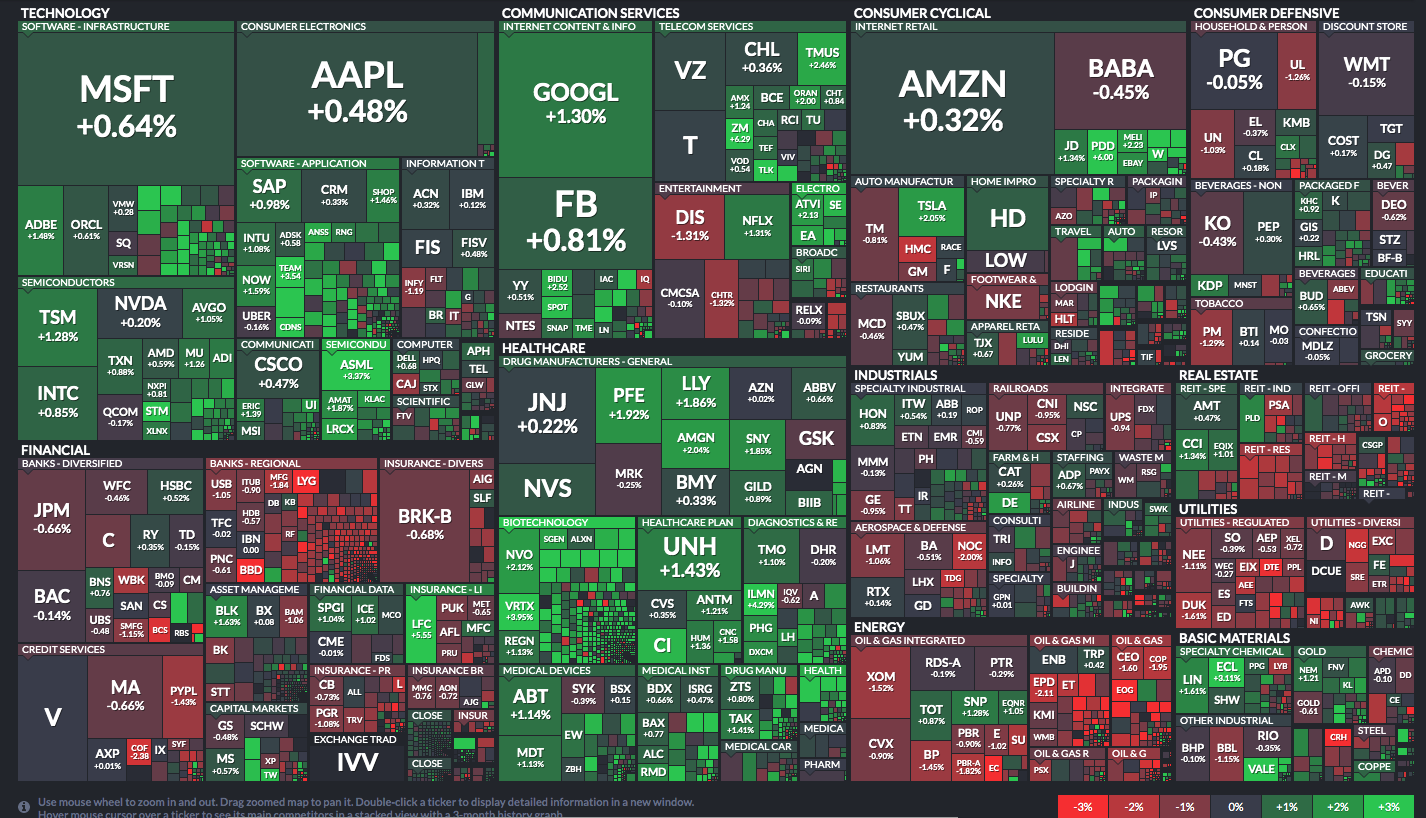 Today

17:41


Bitcoin

Bitcoin (BTC) price is trading about 2.5% lower on the day to extend weekly losses to over 9% after the price action corrected sharply lower yesterday.

BITCOIN (BTC) PRICE CORRECTS SHARPLY LOWER AFTER PRINTING A 3-YEAR HIGH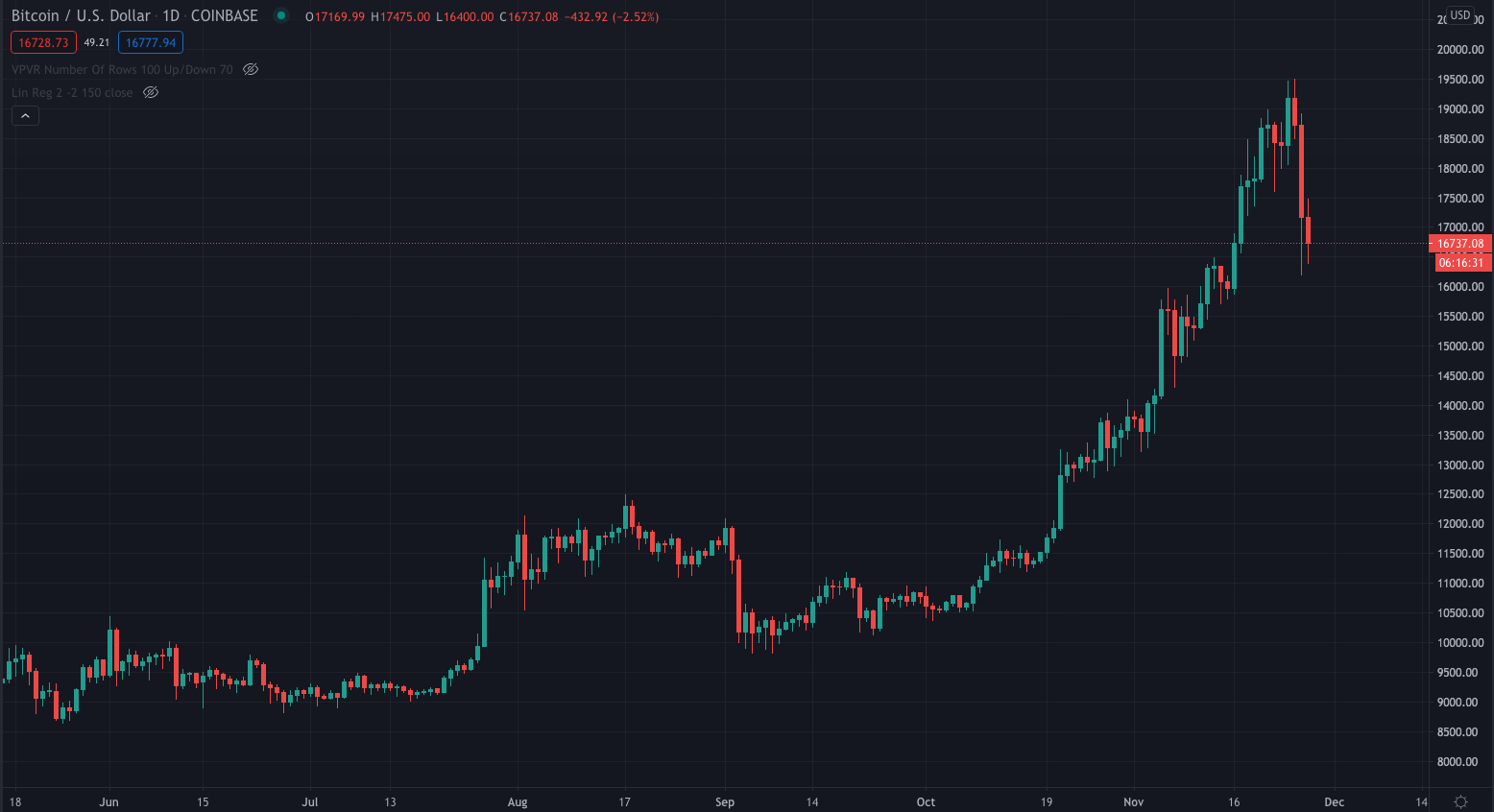 Today

16:37


European Equities Close Higher

FTSE 100    +0.12%
DAX             +0.42%
STOXX 50  +0.54%
IBEX 35      +0.88%
CAC 40       +0.56%
Today

16:09


CBAK Energy Shares Rise After Kandi Technologies Deal

CBAK Energy (NASDAQ: CBAT) shares are up 16.39% at $8.35 after the company announced its subsidiary, Dalian CBAK Energy Technology, signed a supply framework agreement with Zhejiang Kandi Vehicles, a wholly-owned subsidiary of Kandi Technology Group (NASDAQ: KNDI).

According to the Supply Framework Agreement, Kandi Vehicles is planning to purchase approximately $120 million worth of battery pack system and customized battery manufacturing service in 2021.

Kandi Technologies shares are 3.66% lower at $13.97.
Today

15:20


Sorrento Therapeutics Shares Rise

Shares of biopharmaceutical company, Sorrento Therapeutics (NASDAQ: SRNE) are rallying on Friday after the company said that its wholly-owned subsidiary, SmartPharm Therapeutics, has been awarded a contract from the Defense Advanced Research Projects Agency (DARPA).

SORRENTO THERAPEUTICS STOCK SURGES 20% AFTER DARPA-JPEO CONTRACT AWARD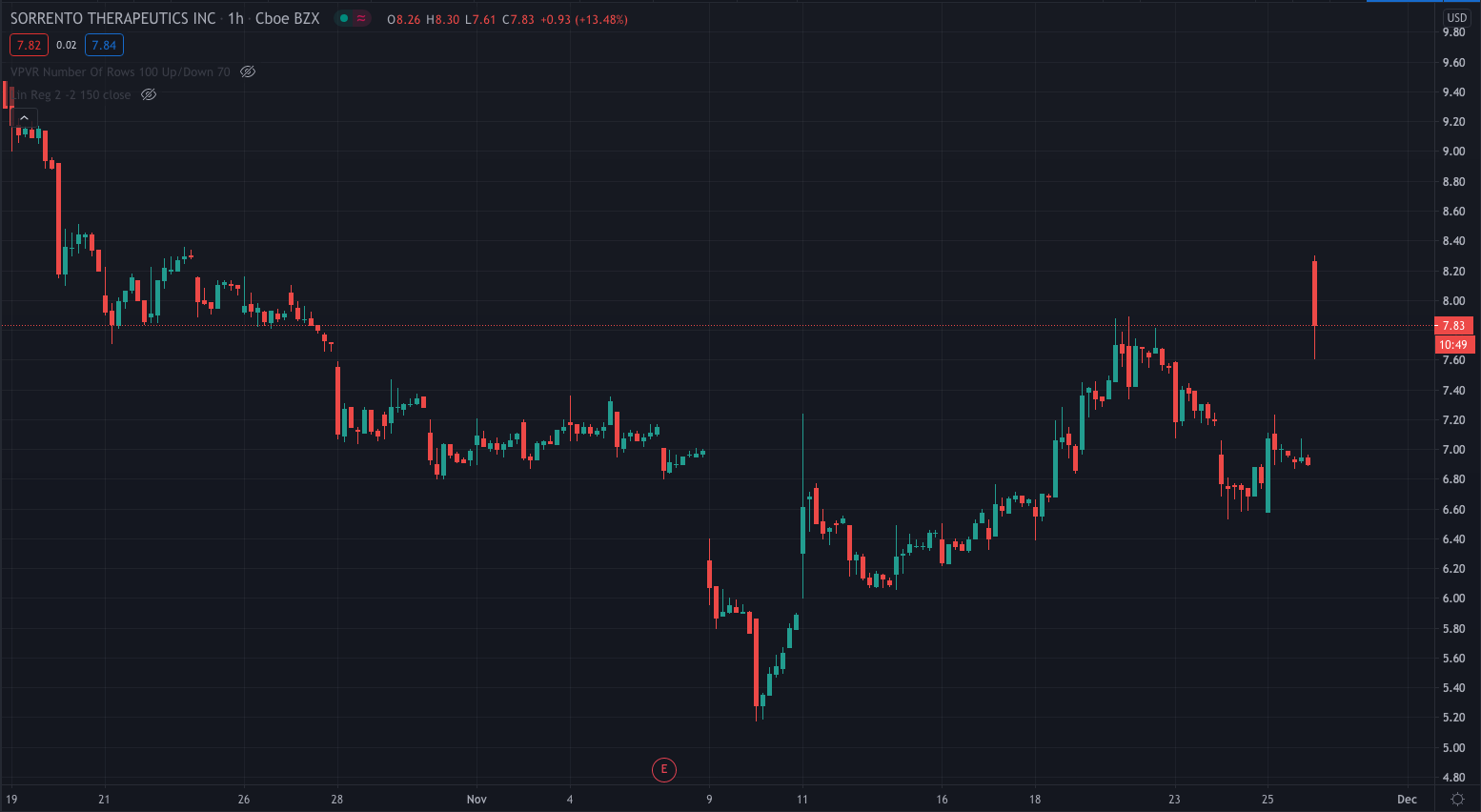 Today

15:09


Tesla Shares Up 3%

Tesla shares are edging ever close to the $600 mark after climbing to all-time highs of $597.89 so far today.

Tesla shares are currently priced at $594.29, +3.53%.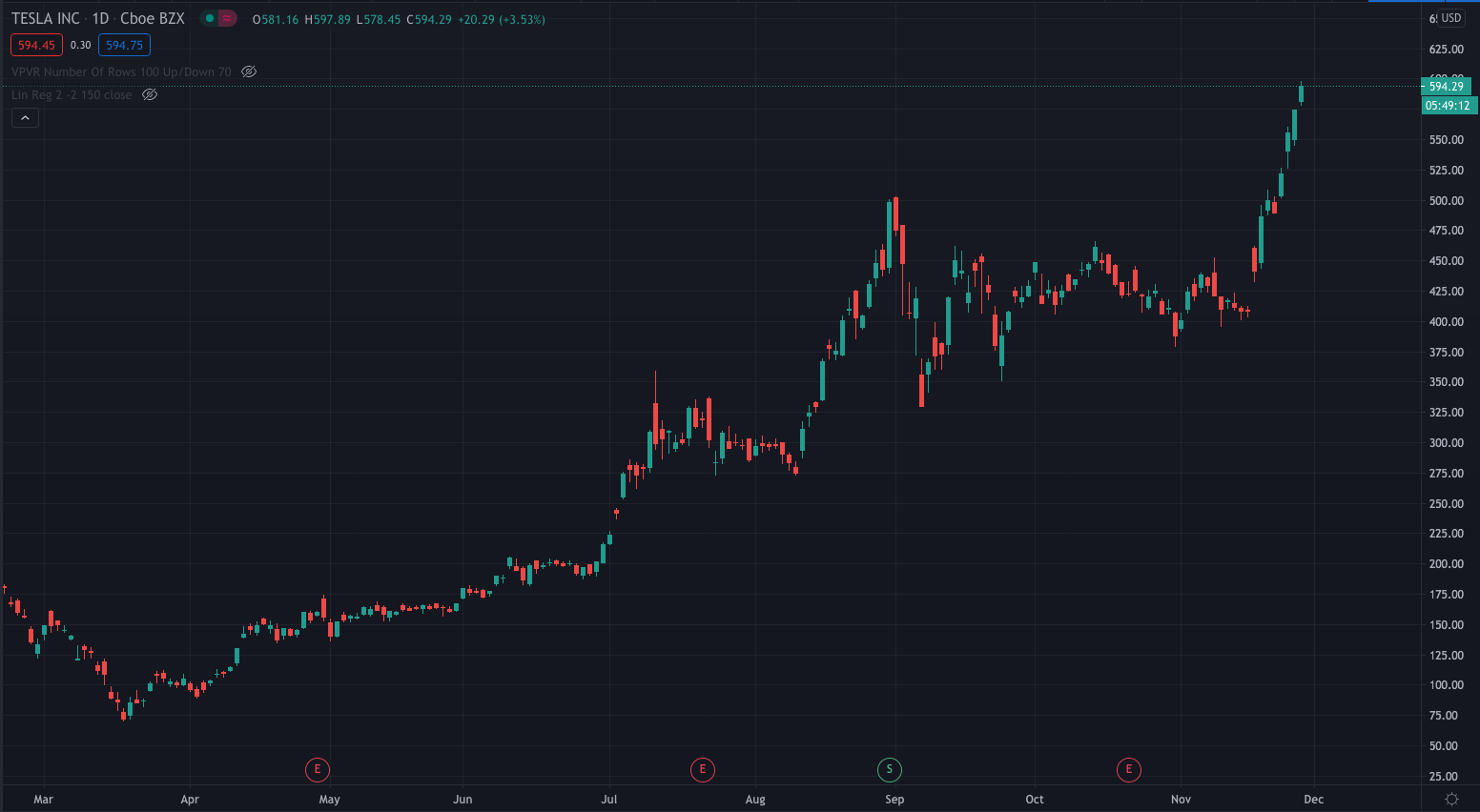 Today

14:33


US Equities Open Higher

DOW         +0.22%
S&P           +0.32%
NASDAQ  +0.63%

The Nasdaq composite hits a record high.
Today

14:13


Gold Plummets...Again

Gold has taken another fall after a couple of days of respite. It has now broken the $1,800 level and is currently down 1.90% at $1,775 after starting the day at $1,810.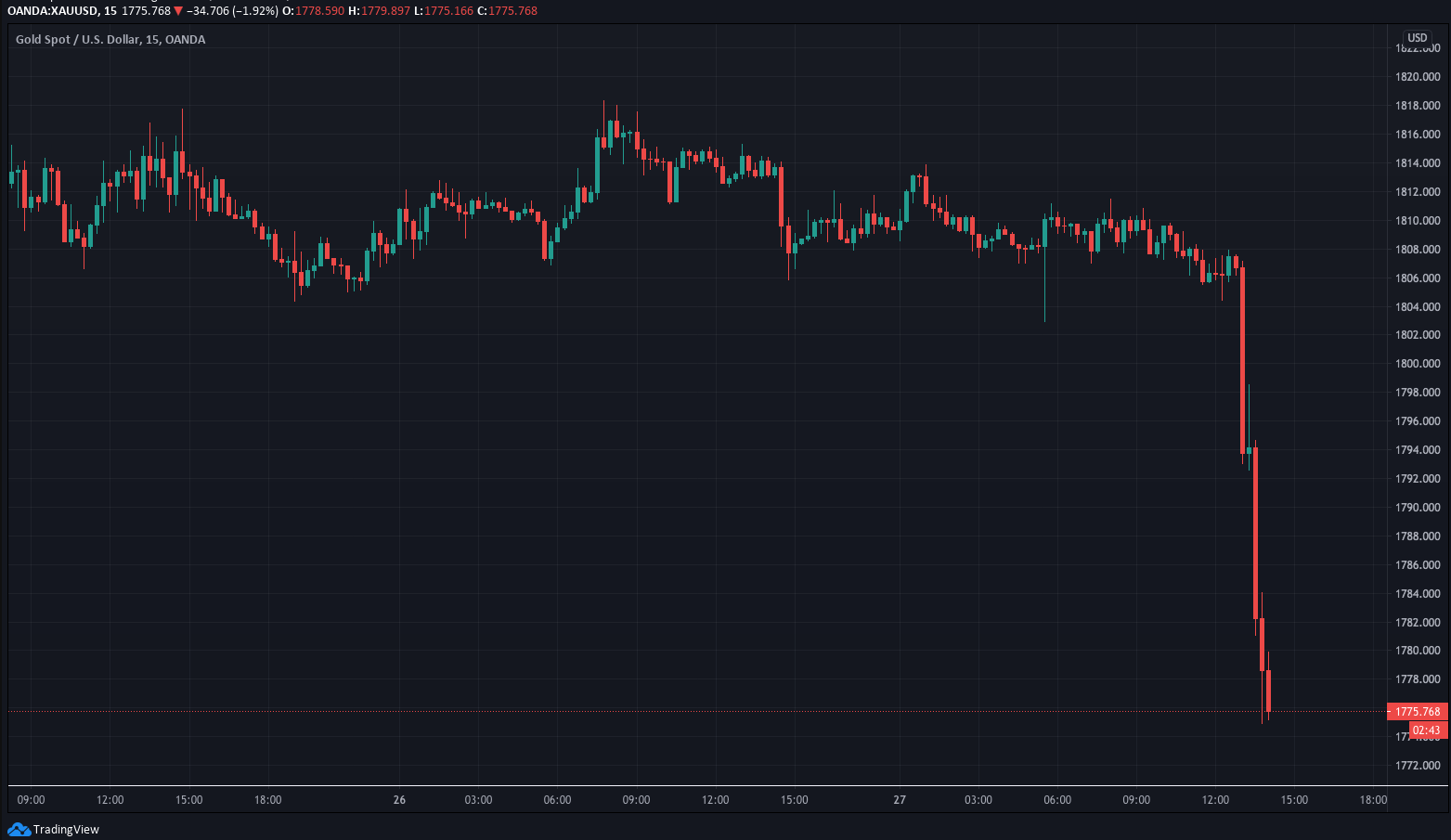 Today

10:49


Reach Share Price Surges

Shares of Reach PLC (LON: RCH) exploded nearly 17% this morning in London to hit fresh record highs after the company reported digital growth in five months to November 22.

DAILY MIRROR: REACH SHARE PRICE SOARS 17% TO RECORD HIGHS ON STRONG DIGITAL GROWTH
Today

09:49


UK Stocks

Triad Group +32.81%: Triad releases its half-year results showing a fall in revenue but a rise in profits. The company said consultation utilisation for the second half of the year is at the highest for several years.

Immunodiagnostic Systems +28.49%: IMMUNODIAGNOSTICS (IDH) SHARES SURGED 57.5% AFTER ITS COVID-19 TEST KITS WENT ON SALE

Starvest +17.65%

LoopUp Group -41.90%: LOOPUP SHARE PRICE CRASHES OVER 50% ON LOWER PROFIT AND REVENUE GUIDANCE

Serinus Energy -33.14%: Serinus announced that it has raised $21 million through the oversubscribed placing of 787,936,852 Shares and Subscription Shares, both at a price of 2 pence per new Ordinary Share.
Today

09:08


Capita Stock Rallies

Shares of Capita PLC (LON: CPI) are up 6.3% after the company confirmed that it is in negotiations to sell its Education Software Solutions (ESS) division to boost its balance sheet and clear some of its mounting debts.

CAPITA SHARES SURGED 6.3% TODAY AFTER TALKS ABOUT SELLING ITS ESS UNIT BEGUN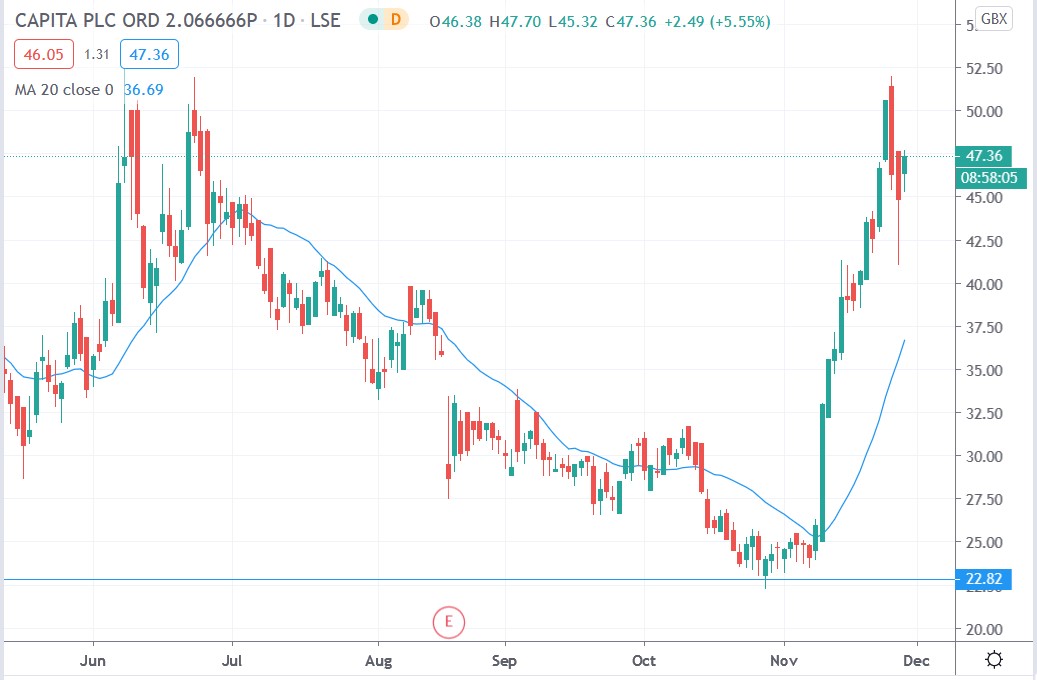 Today

08:53


European Equities

The majority of European equities are trading higher so far today with the FTSE 100 the outlier in our list…

FTSE 100     -0.56%
DAX              +0.36%
STOXX 50   +0.41%
IBEX 35       +0.36%
CAC 40         +0.42%
Today

07:50


Morning Recap

Good morning…

Equities
Overnight Asian equity markets traded higher following the fall in European indices and the Thanksgiving holiday in the US.
US index futures are trading higher while European futures are in the red.

Covid-19
The majority of areas in the UK were put in tier 3 restrictions yesterday with 99% for the country in tiers 2 and 3. London was placed in tier 2.
AstraZeneca is to conduct a new coronavirus vaccine trial as questions were raised about the data from its recently released trial results.
Daily cases in Europe are falling in the six hardest-hit countries in Europe.

Brexit
EU and UK negotiators are set to meet face to face this weekend after officials were forced to quarantine. Yesterday a tweet from RTE Europe Editor Tony Connelly said that Michel Barnier had called an "urgent" meeting of EU fisheries ministers for tomorrow.

Economic Calendar
On the calendar today look out for Eurozone economic sentiment and consumer confidence, and speakers from the Bundesbank.