Latest

21:05


US Equities Close

DOW          +0.20%
S&P            +0.20%
NASDAQ   -0.05%
Today

19:26


Sequential Brands

Sequential Brands Group (NASDAQ: SQBG) shares are rallying on Wednesday after the company said it it has launched a broad exploration of strategic alternatives available to best position it for success and maximize value, with another option being the sale of one or more of its existing brands. 

SEQUENTIAL BRANDS STOCK SURGES 22% AS SALE BEING EXPLORED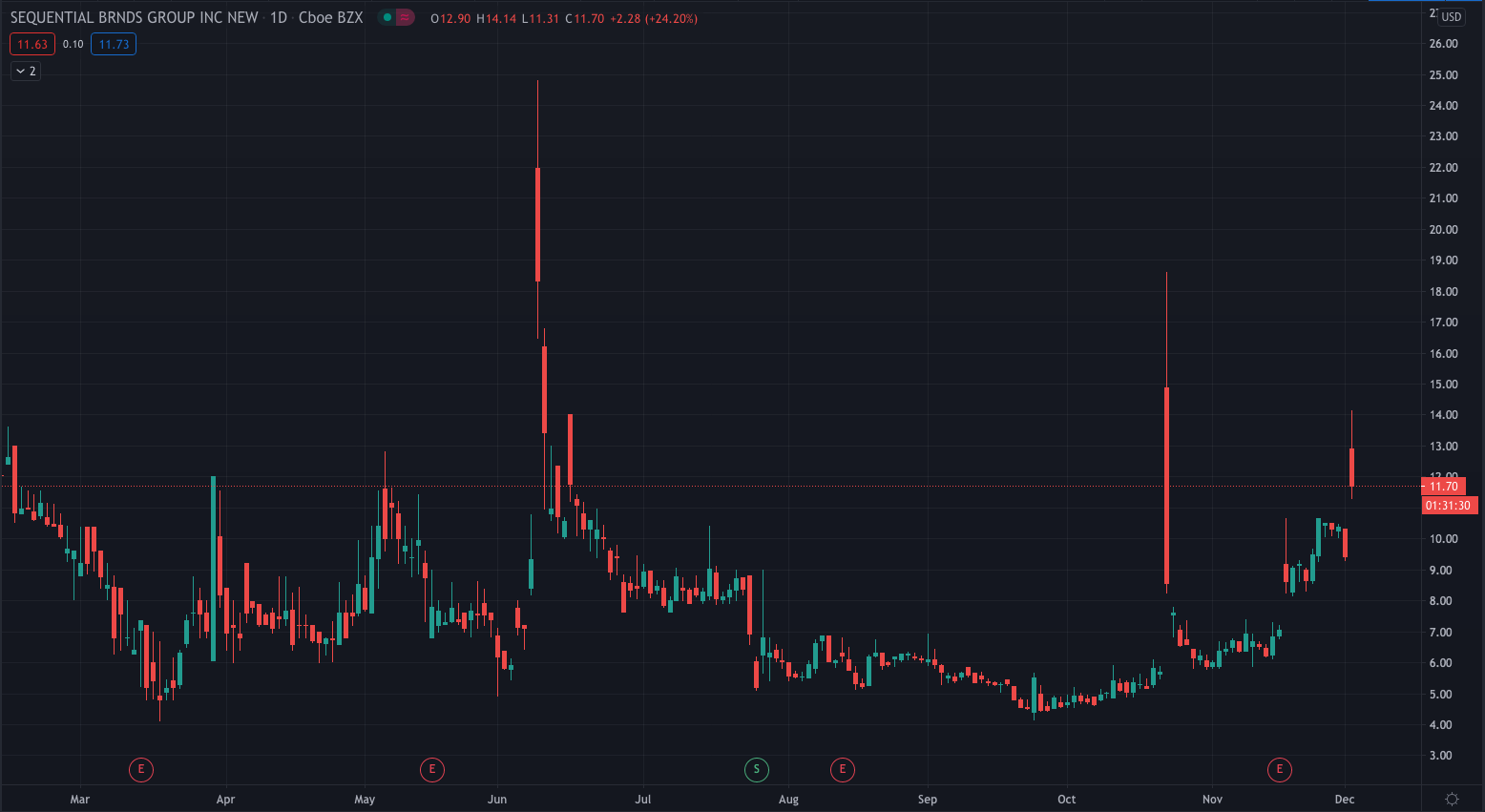 Today

16:45


European Equities Mixed

FTSE 100     +1.18%
DAX              -0.55%
STOXX 50   -0.15%
IBEX 35       +0.96%
CAC 40        +0.03%
Today

15:44


Workhorse Group

Shares of the electric vehicle manufacturer, Workhorse Group (NASDAQ: WKHS) are down over 23% premarket on Wednesday after news that the United States Postal Service (USPS) is delaying its decision on its replacement vehicles.

WORKHORSE STOCK PLUMMETS AFTER USPS TRUCK DECISION DELAY
Today

14:36


US Equities Lower

DOW          -0.58%
S&P            -0.34%
NASDAQ   -0.92%
Today

14:34


Ovid Therapeutics

Biopharmaceutical company, Ovid Therapeutics (NASDAQ: OVID) has announced that its Phase 3 Neptune clinical trial of OV101 (gaboxadol) to treat Angelman syndrome failed to meet its primary endpoint, sending its stock price plummeting.

OVID THERAPEUTICS STOCK FALLS AFTER TRIAL FAILURE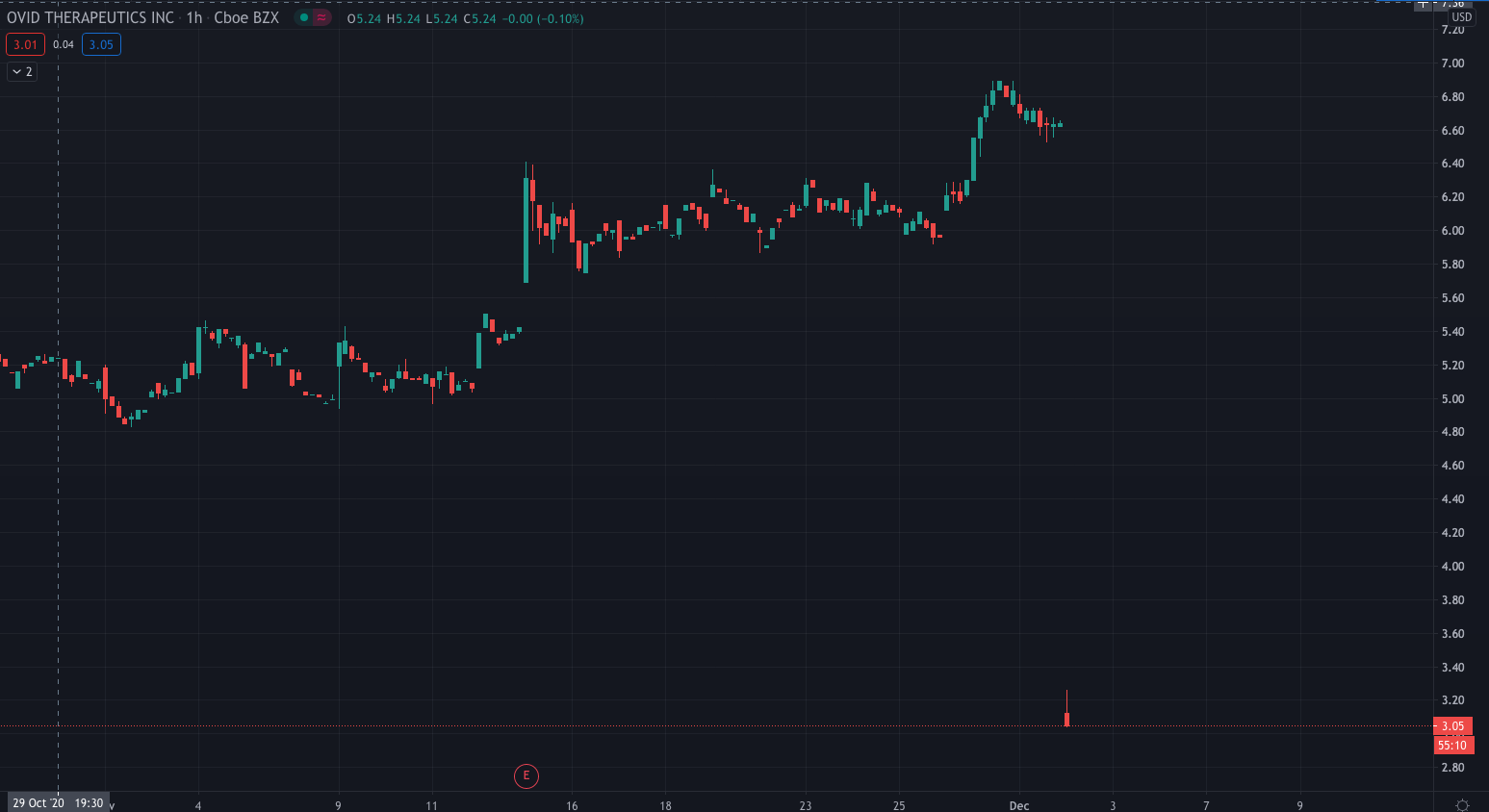 Today

13:45


Sareum Shares Rally

Shares of Sareum Holdings Plc (LON: SAR) surged 4.56% despite the lack of major announcements from the company as investor interest in the biotech company's shares spiked based on its recent progress.

Here's the full story: SAREUM SHARES SURGE 4.56% PREMARKET AMID SPIKE IN INVESTOR INTEREST
Today

10:26


UK Stock Gainers

Ethernity +28.63%: The company releases an update revealing revenue is expected to be in line with market expectations and that it is positioned for growth in 2021.

Concepta +25.94%: Concepta announces the launch of its DNA testing service following the recent acquisition of The Genome Store. The testing service will be launched today under the new MyHealthChecked™ brand.

Actual Experience +15.54%: The company reported it has issued 3,114 new shares under the company's share purchase scheme at 90p per share.

Omega Diagnostics +7.14%: Omega Diagnostics Group Plc (LON: ODX) reported a smaller loss during the first half of its 2021 financial year.
Today

09:40


Belvoir Group

Shares of Belvoir Group PLC (LON: BLV) surged 10.4% after the company released a trading update on the past 10 months of its financial year revealing that its results so far were better than its pre-coronavirus expectations.

BELVOIR GROUP SHARES SURGED 10.4% ON EXTRAORDINARY 10-MONTH TRADING UPDATE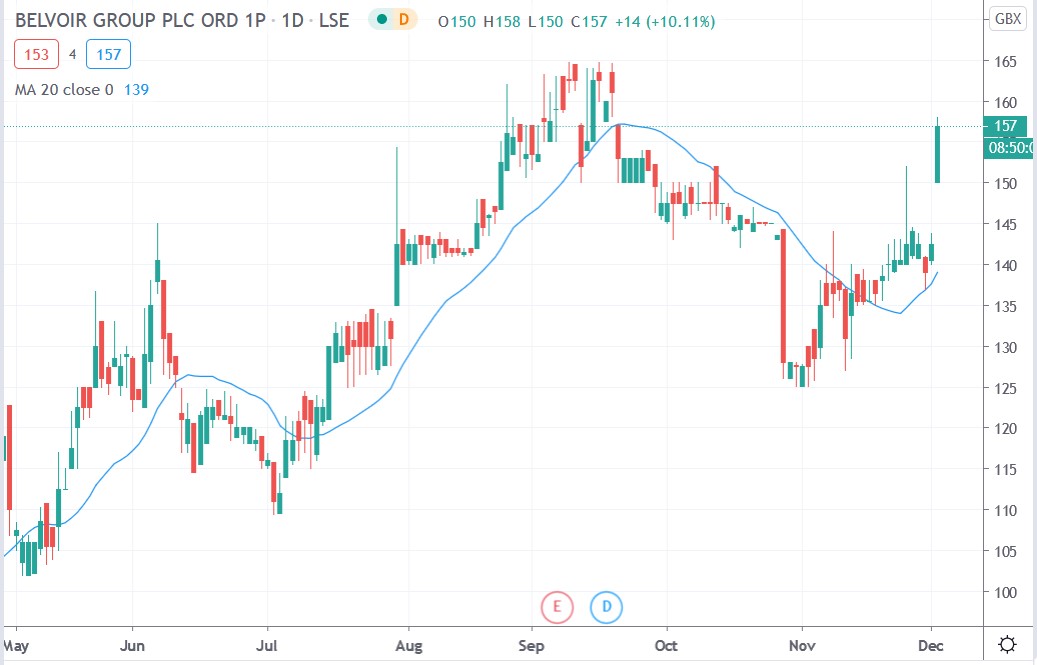 Today

08:17


European Equities

FTSE 100   +0.07%
DAX            -0.36%
STOXX 50 -0.37%
IBEX 35     -0.02%
CAC 40      -0.24%
Today

07:45


Morning Recap

Good morning…

Equities
Overnight equity markets in the APC region were mixed following the positive close on Wall Street.
US equity futures are currently down.

Covid-19
In the past hour, the UK has approved the use of Pfizer's coronavirus vaccine. UK Health Secretary, Matt Hancock said that vaccinations will begin next week.
In the US, the CDC has recommended that nursing homes and healthcare workers get vaccines first. Although the vaccine is yet to be approved in the US, shipments of both Pfizer and Moderna's vaccines are due to be delivered later this month.

US Stimulus
Senate Majority Leader, Mitch McConnell has rejected a new $908 billion stimulus plan put forward in an effort to break the stalemate.

Brexit
Despite a tweet from the Chief Political Commentator at Times Radio stating the UK and EU have entered "the tunnel"  in Brexit trade talks there has been no confirmation.
Most of the talk is still surrounding the three main trade negotiation issues.

Stocks
Salesforce announced its deal to buy Slack in a $27.7 billion cash and stock deal.
Fisker has filed to offer 27.8 million shares.
Elon Musk said Tesla is open to mergers with legacy automakers but won't attempt a hostile takeover.
Companies reporting earnings today include Patterson, Snowflake, Zscaler, and Okta.

Economic Calendar
Look out for Eurozone unemployment data, and US ADP employment change data, later today.