Latest

17:01


BAE Systems

British multinational defence, security and aerospace firm BAE Sytems (LON: BA) said that the US Air Force has awarded the company a five-year contract worth $66.6 million.

Full Story: BAE SYSTEMS AWARDED $66.6M US AIRFORCE CONTRACT – SHARES UNMOVED

Check out HOW TO RESEARCH AND PICK STOCKS
16:37


European Equities Close
FTSE 100: +3.45%
DAX: +1.72%
STOXX 50: +1.79%
IBEX 35: +3.11%
CAC 40: +1.19%
15:50


NYSE To Delist Chinese Firms

The NYSE has reversed its decision once again and will delist three Chinese telecom giants after new guidance from the Treasury Department.

The NYSE announced on Thursday it will remove US-traded shares of China Telecom, China Mobile and China Unicom to comply with an executive order signed by President Donald Trump.
15:38


Genetron Holdings

Gentron shares are up 26.51% at $17.35 after the company announced an exclusive strategic partnership agreement with Chia Tai Tianqing Pharmaceutical Group Co., Ltd, a subsidiary of Sino Biopharmaceutical Limited for HCCscreen™, Genetron Health's blood-based early screening test for hepatocellular carcinoma in China.

Under the agreement, the companies will work together exclusively to co-market and co-promote HCCscreen™ in the hospital market, covering designated territories in China.

The Best Healthcare Stocks To Buy Right Now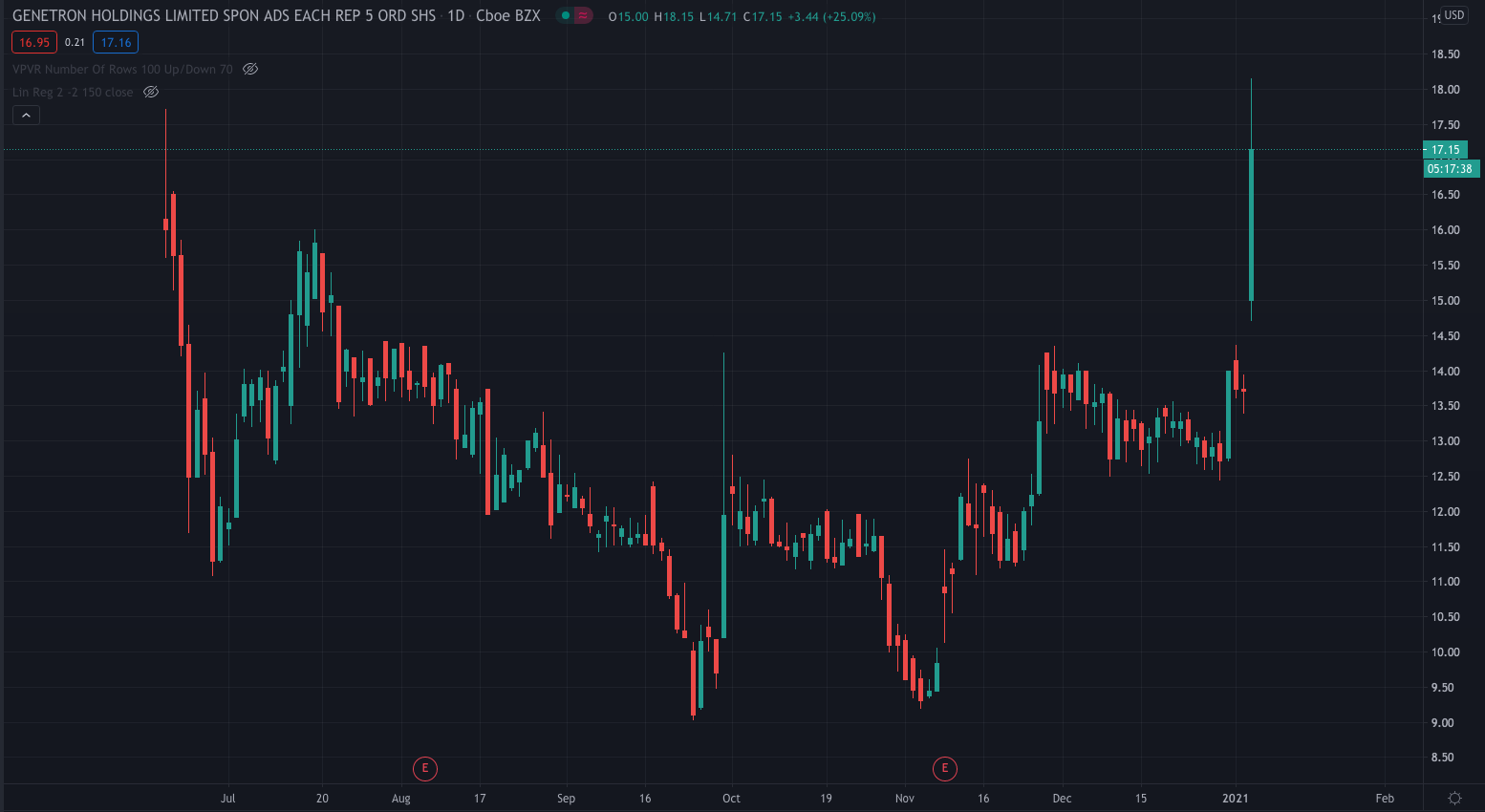 14:31


US Equities Open
DOW: -0.19%
S&P: -0.47%
NASDAQ: -1.04%
12:57


TAT Technologies

TAT Technologies Ltd. (NASDAQ: TATT), a provider of products and services to the commercial and military aerospace and ground defence industries, has seen its shares rally after hours to $7.06, +37.84% after it announced that its fully owned subsidiary, TAT Piedmont Aviation, and Honeywell International, have entered into a 10-year agreement for an exclusive worldwide Auxiliary Power Unit (APU) rental services for OEM authorized GTCP331-500 engine.

Check out The Best Tech Stocks To Buy Right Now
11:48


IQ-AI

Today, shares of IQ-AI Ltd (LON: IQAI) rallied 14.9% despite the lack of major announcements from the imaging biometrics company as buyers stepped in to defend a key support level again.

IQ-AI SHARES RALLY 14.9% AS BUYERS DEFEND A KEY SUPPORT LEVEL, AGAIN
10:42


Headlam Group

Headlam Group (LON: HEAD) rose over 6% on Wednesday morning after the company said its operations in the UK and Europe will remain open during the lockdown periods.

The UK based flooring company intends to continue operating from all of its sites, providing a nationwide delivery service chain, collection service, and ongoing customer support through the periods.

Headlam said it will also continue to purchase product throughout the lockdown, while it has worked closely with suppliers to ensure continued product flow from the EU following Brexit.

Headlam Group shares are currently trading 5.6% higher at 378p per share after closing Tuesday's session at 358p.
09:17


UK Stock Gainers
Argo Blockchain +25%: Crypto firms rise following Bitcoins rise to new ATH's of $35,868
Equals Group +20.81%: Equals releases a FY 2020 trading update reporting a positive H2  with revenue expected to be around £1m above expectations of £29m. The group said it significantly reduced its cost base.
Carclo +20.56%
Braveheart Investment Group +18.73%
Online Blockchain +17.79%: Crypto firms rise following Bitcoins rise to new ATH's of $35,868
Check out The Best AIM Shares To Buy Right Now
08:05


European Equities
FTSE 100: +0.96%
DAX: +0.48%
STOXX 50: +0.65%
IBEX 35: +0.93%
CAC 40: +0.66%
Overnight News
Morgan Stanley raises its Tesla price target to a street high of $810 from $540
US President Trump signed an executive order banning transactions with eight Chinese software applications including Ant Group's Alipay
TAT Technologies shares jumped after hours (+57.84%, $8.05) on news of a 10-year strategic contract with Honeywell. As part of this agreement, TAT-Piedmont acquired Honeywell's GTCP331-500 APU rental bank for approximately 

$6.5 million