Latest

21:35


US Stocks Close

It wasn't a great day for US stocks either after their European counterparts closed in the red…

Dow Jones  -0.68%  26,469

S&P 500  -0.62%  3,215

Nasdaq  -0.94%  10,363

That's all from me for the week. Enjoy your weekend traders. I'll see you on Monday!
21:25


Synairgen

Shares in Synairgen soared today. Its UK-listed shares closed the day at +9.09%, while in the US its OTC shares close an enormous 34.69% higher.

Here is our most recent story on the stock – SYNAIRGEN SHARE PRICE UP 550% AS CEO NOTES QUICK PROGRESS
20:30


Boeing

Boeing will delay all new 777X jetliners as demand drops for long haul jets. $BA
20:14


Big Rock Partners Acquisition Corp

$BRPAW shares are down 34% .
20:10


Natuzzi

I'm back, are stocks up yet?

Anyway…

Natuzzi is up 54% today after reports it has renewed accounts-receivables securitization facility for added 5 years.
16:55


Nio Shares Fall

Nio shares have fallen 4% so far today. The weakness appears to come from the growing US-China tensions after the closures of US and Chines consulates in Chengdu and Houston.

We could see an increase in tariffs or even the banning of certain companies. There was recently talk of TikTok being banned in the US. It looks as though investors are worried Nio could be impacted by the increase in tensions.
16:37


European Markets Close

FTSE 100  -1.43%  6,122

DAX  -2.05%  12,835

EURO STOXX 50  -1.80%  3,311

The US-China escalation has taken its toll on markets the past two days. Risk sentiment has soured.
16:14


US Stocks Performance

Here's how US stocks are doing…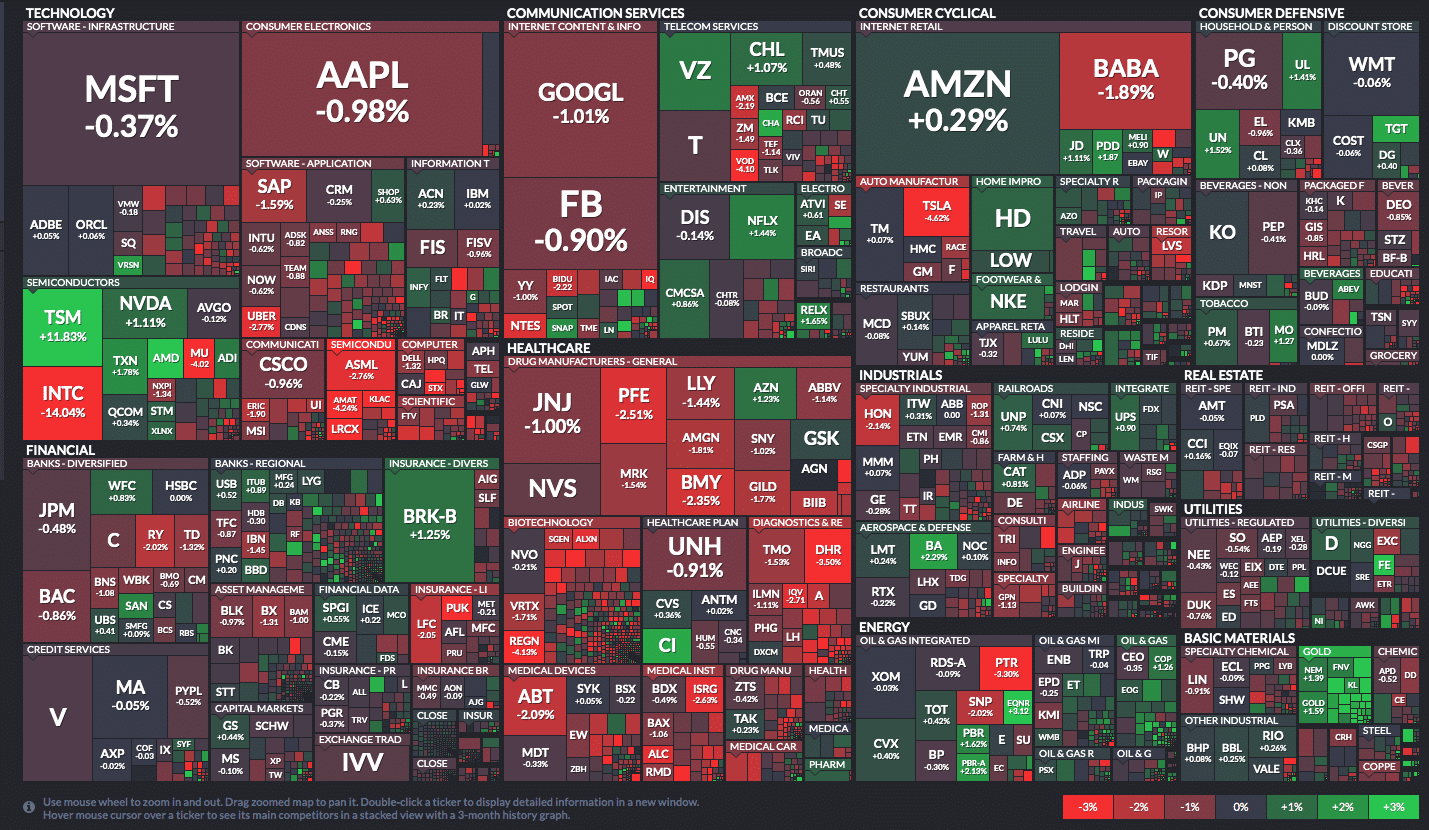 15:57


Global Stocks Performace

Here is how stocks have performed everywhere outside of the US in Friday sessions…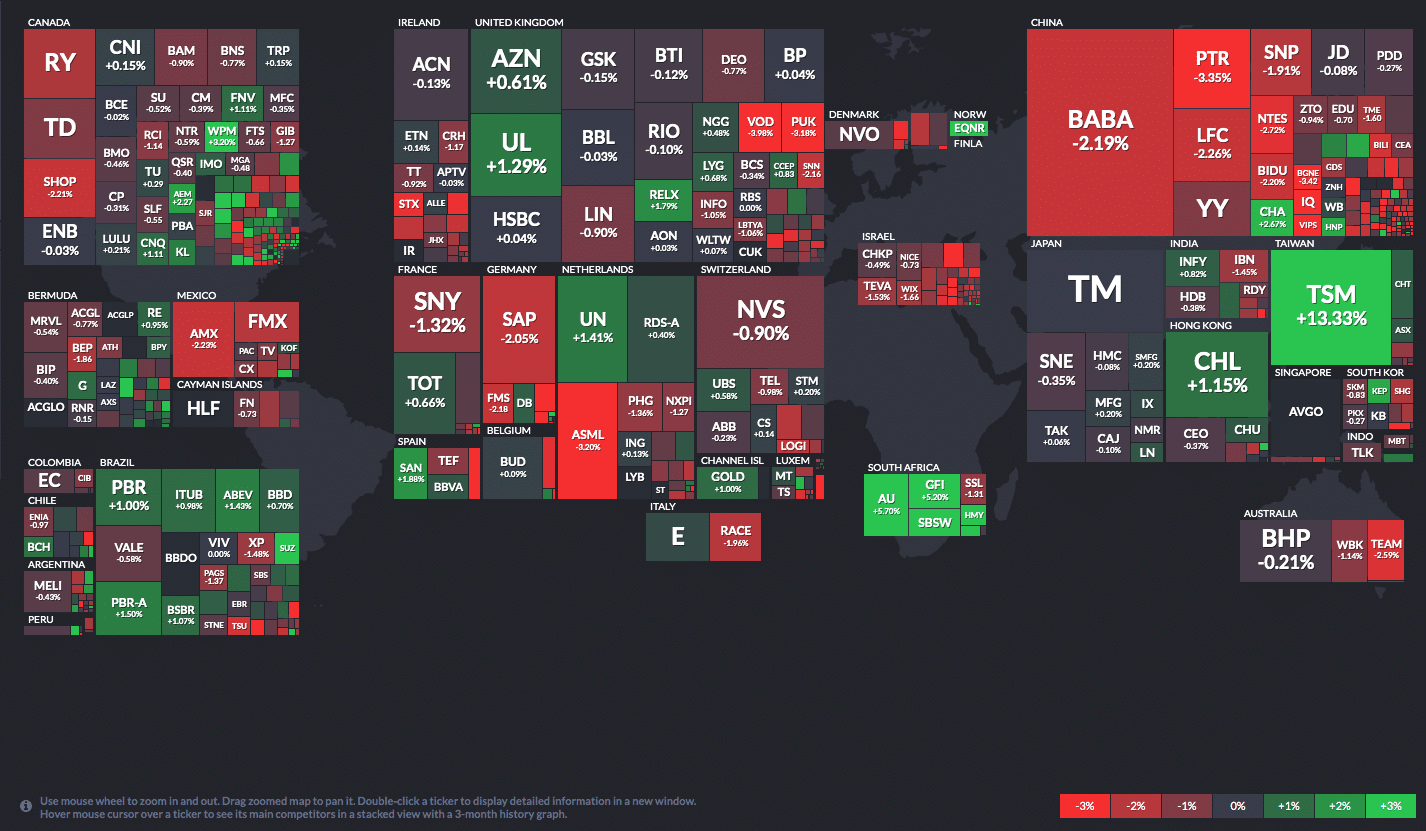 Via Finviz.com
15:09


Intel Shares Plummet

Intel shares have plummeted over 16% after Q2 report. The company's next-gen 7nm chips are delayed until at least 2022.
15:07


Gold Hits $1900

Gold has hit the $1900 level for the first time since 2011. It traded as high as $1906 before dropping to $1902 where it is now at.
15:04


US Equities

A little over half an hour after the US market open, let's see how they are doing…

Dow Jones  -0.43%  26,538

S&P 500  -0.61% 3,215

Nasdaq  –1.46%  10,308

Maybe I shouldn't have looked! Will we see a turn around heading into the weekend?
13:09


Tesla Shares Fall

Tesla shares are down -5.56% premarket.
13:06


European Equities Lunchtime Look

It's not good for the bulls so far today…

FTSE 100  -1.13%

DAX  -1.61%

EURO STOXX 50  -1.41%

Red across the board in Europe.
10:26


European Market Movers

Centrica +19% –  CENTRICA SHARE PRICE SOARS 38% ON £2.87 BILLION U.S UNIT SALE

Andrew Sykes Group +12%

IMI +8%

CVS Group +8%

Nordic Waterproofing Holding +8%

Group LDLC +7%
08:33


European Equity Market Prices

As expected, the European indices are trading lower so far today…

FTSE 100  -1.82% 6,098

DAX  -2.16%  12,820

EURO STOXX 50  -2.08%  3,301

The calendar today includes:

UK retail sales data (It has been released already today and was positive, returning to similar levels seen before the coronavirus pandemic)

UK, EZ and US PMI's

And, US new home sales
07:35


Morning Preview

Good morning all…
Stocks in the Asia-Pacific region traded lower last night, following their Wall Street counterparts. The Nikkei fell 0.58%, while the ASX closed -1.16% lower.
So far it looks as though we will see an open lower on the European indexes.
China confirmed it will ask the US to close its consulate in Chengdu. In retaliation for the US ordering the closure of the Chinese consulate in Houston.
In FX markets the US dollar has continued to weaken against most of the other major currency pairs.
Some of the US-listed companies reporting earnings today include: Verizon, American Express, Gentex, NEXTera ENERGY, First Hawaiian Bank, and Honeywell