Latest

20:51


US Equities Close
Dow Jones  +0.69%  27,930
S&P 500      +0.37%  3,398
Nasdaq        +0.42%  11,311
Elsewhere Apple closed 5% higher at $497.40 after briefly touching $499. Next week $500?
Have a good weekend all!
Today

20:40


US Stock Gainers

ShiftPixy +36%

Kelly Services +35%

Harpoon Therapeutics +28%

BigCommerce Holdings +14%

GameStop +9%

Apple +5%
Today

20:06


US Stock Performance

Here's how US stocks are performing today. Via Finviz.com.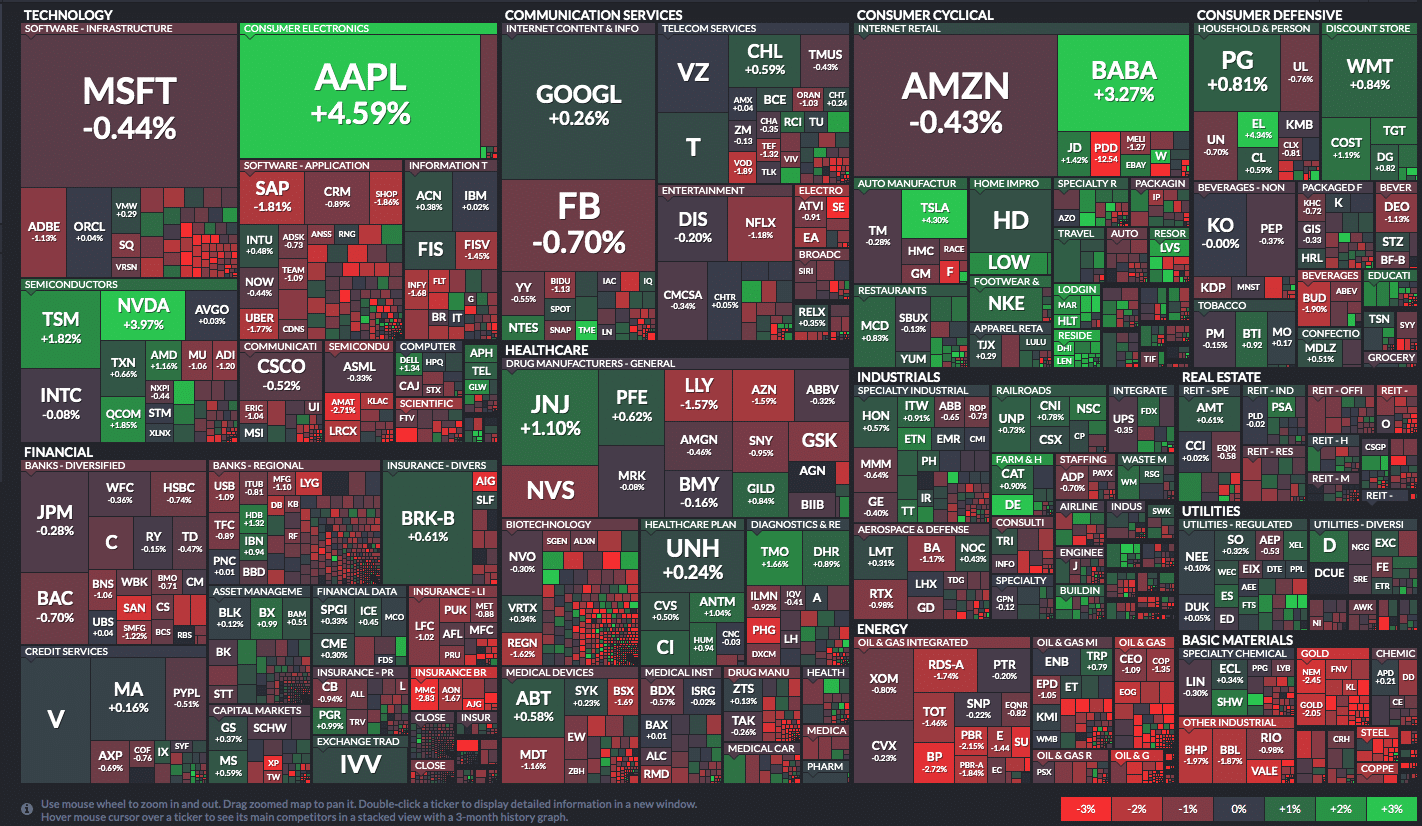 Today

20:01


Suncor Stock Falls

Suncor's stock price is down 2.52% at $15.88 today.

So far we have yet to see any company-specific news.
Today

17:00


European Equities
FTSE 100                    -0.40%  5,989
DAX                             -0.23%  12,736
EURO STOXX 50      +0.28% 3,252
Today

15:07


Midatech Pharma Stock Trades Higher

Midatech Pharma shares are up 23% at $2.59, after briefly touching nearly $3, +49%

We are yet to see any specific news regarding the company.
Today

15:04


US Equities
Dow Jones  +0.20%  27,796
S&P 500      +0.03%  3,385
Nasdaq        -0.04%   11,260
Today

12:40


EasyJet Shares Trade Higher

EasyJet shares are up 3% at 570p per share despite data showing Europes travel recovery stalling in August.

Data from ForwardKeys, a flight data provider said that ticket volumes for cross border air travel within Europe were at 28% of 2019 levels in July before falling to 18% in August.
Today

12:35


European Equities Update
FTSE 100  -0.24%
DAX  -0.13%
EURO STOXX 50  -0.40%
Today

10:43


Brexit

Some Brexit news for you…

EU's Barnier says no progress was made whatsoever on fisheries, far from agreeing on the essential issue of the dispute.

Barnier also said that an agreement at this stage looks unlikely.

Now here is my take…

I think this was pretty much expected. The same thing happened with the withdrawal agreement and a deal was done at the last minute. Both sides will continue to blame each other for a lack of progress before a last-minute deal is agreed.

A comment on Twitter that I very much agree with was:

"If both sides reference October as the deadline, that's when things start IMO. Nobody is giving away anything in August". Via @Adamlinton1.
Today

09:57


European Stock Gainers

Simec Atlantis Energy (SAE) +34%

Supply@ME (SYME)  +19%

Gem Diamonds (GEMD) +13%

Ferratum (FRU) +11%

Renalytix AI (RENX) +11%
Today

09:23


European Equities
FTSE 100                  -0.23%  5,999
DAX                           +0.31%  12,870
EURO STOXX 50    +0.25%  3,282
Today

07:38


Morning Preview

Morning people…
Asia-Pacific equity markets traded mostly higher with the Nikkei closing at +0.17% and the Hang Seng trading at +1.27%. The ASX missed out on the moves, closing down -0.14%.
Tesla's stock price closed above the $2,000 level at $2,001.83 after a 6.56% move higher yesterday.
The UK has reportedly submitted a draft free trade agreement in Brexit talks, although and a breakthrough is not expected.
In FX markets most major currencies are up against the dollar. However, we are seeing some dollar strength come in, in the last hour.
On today's calendar, we have already seen UK retail sales beat expectations. Later we have the UK, Eurozone and US manufacturing PMI's, along with Canadian retail sales and Eurozone consumer confidence.
On the earnings calendar, there are names such as Foot Locker, John Deere, Buckle, and Despegar.