Key points:
The [email protected] (SYME) share price soared 28.6% on the first deal.
TradeFlow Capital just completed an inventory monetisation deal.
Investors are hoping for more deals from now on.
The [email protected] Capital PLC (LON: SYME) share price soared by 28.6% after announcing that its subsidiary TradeFlow Capital had completed its first transaction introduced by CARGOEs Finance by DP World.

The inventory monetisation company hopes today's transaction will be the first of many after TradeFlow Capital signed an agreement with DP World in February this year to be part of the CARGOES Finance platform, which provides inventory-based funding to SMEs globally.
TradeFlow Funds agreed to monetise the inventory held by a coffee company based in the UAE operating within the Dubai Multi Commodity Centre (DMCC), with the transaction completed via the DMCC Electronic Warrants (E-Warrants) platform. TradeFlow is a shariah-compliant Murabaha transaction member of the DMCC E-Warrant platform.
The USD TradeFlow Fund SP digitally received authenticated warehouse E-Warrants for the coffee inventory. The fund received 66 E-Warrants via the DMCC platform representing the coffee stored in the DMCC Coffee Centre warehouse in the Jebel Ali Freezone.
Today's transaction is a massive win for [email protected] Capital, which has signed agreements with multiple partners but is yet to generate significant business from its partnerships, giving its detractors enough ammunition to keep questioning the validity of the company's inventory monetisation business model.
Now that the first deal via the CARGOES Finance platform and the DMCC has been completed, SYME is likely to get more business since it has now proven that it is a reliable funding partner to the DMCC and DP World, which owns the CARGOES platform.
Alessandro Zamboni, SYME's CEO, said: "I am immensely proud of the TradeFlow team for achieving this milestone first transaction in partnership with CARGOES By DP World and the DMCC. It is a testament to the value TradeFlow continues to build as an important member of the [email protected] stable and demonstrates the potential for future transactions under this exciting partnership with DP World."
Hopefully, SYME will keep announcing more transactions in future. SYME shares look attractive at current prices from a medium- to long-term perspective.
*This is not investment advice. Always do your due diligence before making investment decisions.
SYME share price.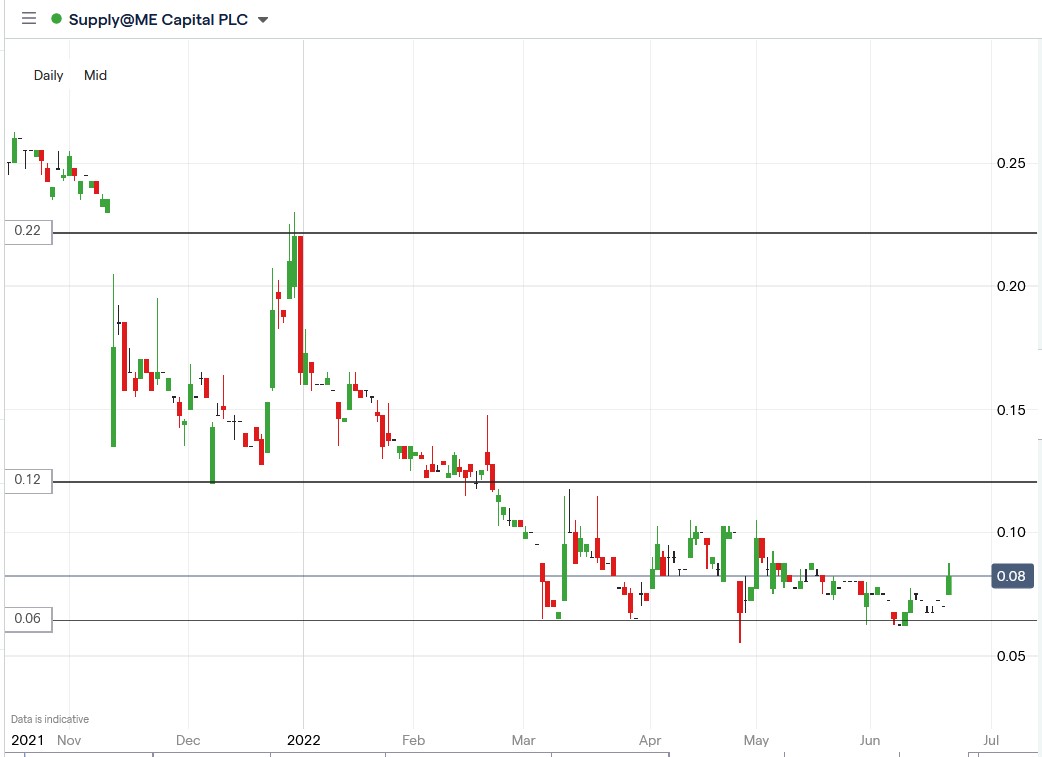 The SYME share price surged 28.57% to trade at 0.09p, rising from Wednesday's closing price of 0.07p.