The [email protected] Capital PLC (LON: SYME) share price edged  11.1% higher after announcing the date for its next investor presentation via the Investor Meet platform on 25 May 2023 at 11.30 a.m. (BST). All investors are welcome to listen to the presentation and ask questions. 

---
YOUR CAPITAL IS AT RISK. 81% OF RETAIL CFD ACCOUNTS LOSE MONEY.
---
The event will allow existing and prospective investors to ask the company's management team questions about its plans, including any progress in growing its business and attracting more funders to the platform. However, the questions must be submitted in advance.
Top Broker Recommendation
YOUR CAPITAL IS AT RISK. 68% OF RETAIL CFD ACCOUNTS LOSE MONEY
Investors interested in asking questions must submit them before the event on the Investor Meet Company dashboard by 5.00 p.m. (BST) on 19 May 2023. There will be no avenues for investors to ask questions during the meeting. The questions will then be grouped and addressed under key themes by the relevant SYME Leadership Team members.
SYME intends to provide an overview presentation of the Company's current activities, strategy and recent business developments through the investor presentation. Investors interested in understanding the company's prospects should attend the meeting.
The last significant announcement from SYME regarded its first IM transaction using traditional funding methods after the passing of the Italian law allowing for such transactions.
The inventory monetisation (IM) deal leveraged the recently passed Italian legislation pegno non possessorio (the "PNP Regulation") and was the country's first IM transaction under the non-agri-food-based inventory segment.
The IM deal was announced on 5 May 2023. Since then, there have been no updates regarding the deal's progress until today, when the company announced the Investor Meet presentation as an avenue for investors to ask questions.
I believe the event will attract much attention from investors interested in understanding SYME's business model and those who already support the company as shareholders. In addition, investors interested in owning SYME shares should also attend the event.
Meanwhile, the outlook for SYME's share price remains promising as it attracts more funders and unveils more IM deals in future as its business grows and takes on the massive global IM business that uses legacy technology and methods as opposed to SYME's modern infrastructure.
*This is not investment advice.
SYME share price.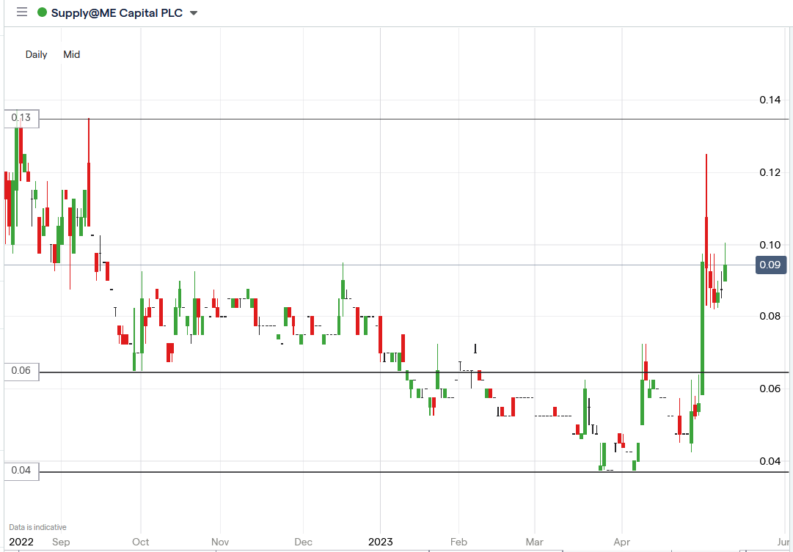 The SYME share price edged 11.11% higher to trade at 0.10p, from Monday's closing price of 0.09p.
---
YOUR CAPITAL IS AT RISK. 81% OF RETAIL CFD ACCOUNTS LOSE MONEY.
---