Key points:
Synairgen shares have fallen by 88.7% in 2022. What's next for the firm?
The plunge was triggered by clinical trial results for its COVID-19 drug.
Is there hope for the company from now on? Should it pivot from COVID-19?
Read on to find out…
The Synairgen plc (LON: SNG) share price has fallen 88.7% in 2022 after its SNG001 COVID-19 drug candidate failed to meet its primary and secondary endpoints in phase 3 clinical trial targeting hospitalised patients.

The company's shares plunged 92% on the news, which marked the end of the road for SNG001 as a COVID-19 treatment for hospitalised patients already receiving the standard of care treatment provided by most hospitals.
However, investors remained hopeful that the ongoing Phase 2/3 COVID-19 clinical trial conducted under the ACTIV-2 trial run by the US National Institute of Allergy and Infectious Diseases (NIAID) would yield positive results.
Unfortunately, NIAID recently halted the recruitment of patients for the ongoing clinical trial saying that the nature of the pandemic had shifted significantly and that the study would have to be redesigned to reflect the changing environment.
Synairgen was dealt two catastrophic blows as all hope for its SNG001 drug candidate being approved as a COVID-19 treatment flew out of the window after the ACTIV-2 study, which targeted patients in a home setting, was halted.
After the two blows, the biotech company is back on the drawing board, with many investors wondering what comes next for the firm. Luckily for investors, Synairgen has another clinical trial testing the effectiveness of SNG001 as a treatment for the chronic obstructive pulmonary disease (COPD).
Synairgen is also testing SNG001 as a treatment for Asthma, with the trial currently in the second phase, which could yield positive results. The company's shares are trading at lows, last seen in March 2020, and since all the adverse developments have been priced in, the chances of a move higher are pretty high.
If the Synairgen shares do not fall further, we could get a rally to the 39p resistance level outlined in the daily chart below. A break above the 39p level would bring the 56p level into play, after which the 84p level would be the next resistance level.
A lower break would bring the 5p long-term support level, which I expect to hold since a break below would not suit the company or its investors.
A rally higher would have to be fueled by positive investor sentiment in light of significant positive development by Synairgen, such as positive clinical trial results or the unveiling of a new strategy that resonates with investors.
*This is not investment advice. Always do your due diligence before making investment decisions.
Synairgen share price.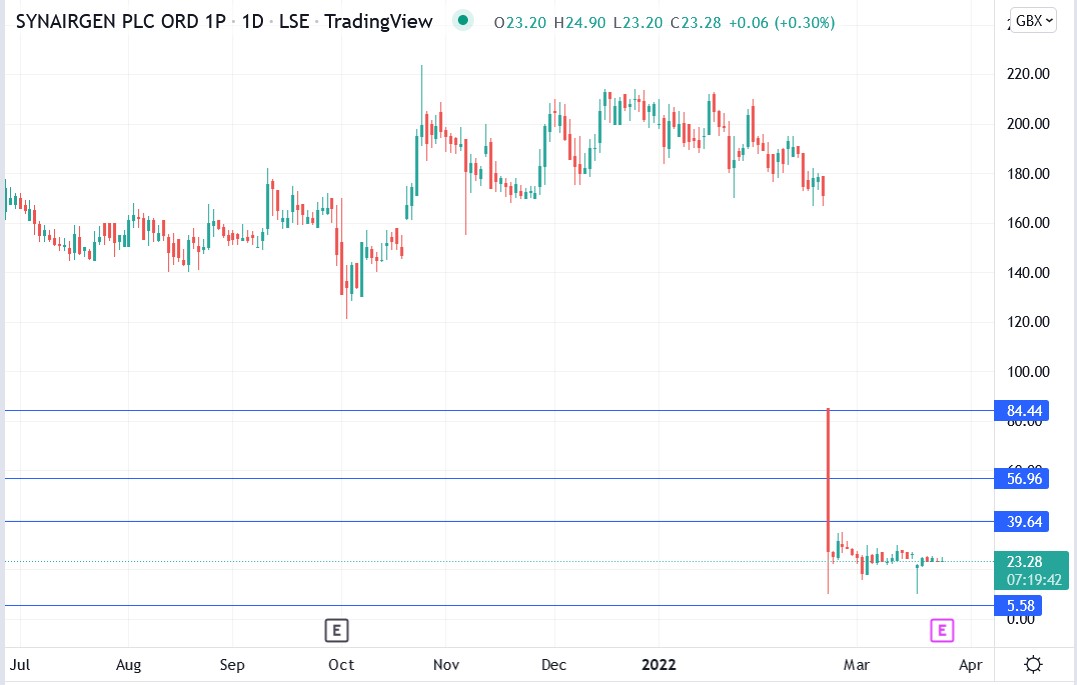 Synairgen share price has fallen by 88.68% in 2022. Can the shares stage a comeback?