Key points:
Synairgen share price crashed 92.1% on disappointing phase 3 trial results.
The results indicated that SNG001 is ineffective within a hospital setting.
However, all is not lost for the firm as there is still one pending phase 2/3 trial.
The Synairgen plc (LON: SNG) share price crashed 92.1% after announcing the phase 3 clinical trial results of its SNG001 inhaled COVID-19 treatment in hospitalised patients.

Investors reacted negatively to news that SNG001 failed to meet its primary and secondary endpoints during the phase 3 clinical trial on hospitalised patients.
Today's disappointing results mark the end of the road for the phase 3 trial as patients who received SNG001 were no more likely to be discharged from the hospital than patients who received a placebo.
Additionally, patients who received SNG001 were also no more likely to recover to "no limitation of activities" than those taking a placebo. Hence, the study failed to meet both its primary and secondary endpoints.
Synairen's CEO, Richard Marsden, pointed out that the study was done on patients already receiving the top standard of care in a hospital setting, which could have limited SNG001's ability to show clinical benefits.
Previous clinical trials were conducted on patients in a home-based setting where SNG001 demonstrated positive clinical effects.
Investors dumped their shares on the negative results triggering today's massive selloff.
Richard Marsden, Synairgen's CEO, commented: "While we are disappointed by the overall outcome, SNG001 has been administered to hospitalised patients on top of standard of care, which changed substantially between our Phase 2 and Phase 3 trials. This improvement in patient care may have compromised the potential of SNG001 to show a clinical benefit in respect of the endpoints for this study, which were not met. Despite this, we have observed an encouraging trend in preventing progression to severe disease and death, which we strongly believe merits further investigation in a platform trial. We are now analysing the full dataset to better understand all the findings."
The biotech company is currently waiting for the data from its phase 2 trial on home-based COVID-19 patients in the US and the more extensive follow-on phase 3 clinical study to determine how to proceed with developing SNG001 in the future.
Despite today's disappointing phase 3 clinical trial results, all is not lost for the company as the remaining in-home studies may generate positive results restoring investor confidence in the firm.
Following today's massive selloff, Synairgen shares look incredibly cheap and may be a good investment for investors with a high-risk tolerance. The shares could rally higher on positive future study results but could fall further if future results are negative.
*This is not investment advice. Always do your due diligence before making investment decisions.
Synairgen share price.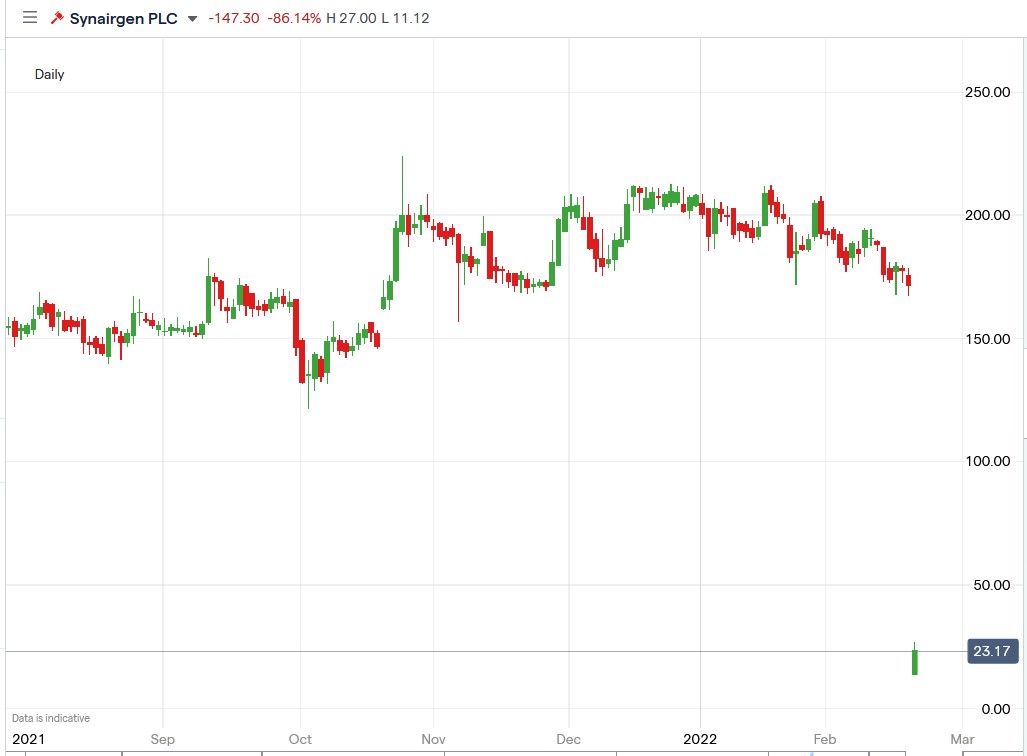 Synairgen share price plunged 92.16% to trade at 13.45p, falling from Friday's closing price of 171.60p.