Key points:
TerraForm Labs (TFL) has proposed several measures to rescue UST.
The measures include burning UST to reduce its supply and boost prices.
However, the two tokens may be beyond saving. Here's our latest update.
The Terra blockchain has announced several measures to save its LUNA token and its TerraUSD (UST) stablecoin following the recent selloff that has shocked the entire crypto and blockchain ecosystem.

Some of the proposals TerraForm Labs (TFL), the firm behind LUNA and UST, suggested burning the remaining UST to reduce its overall supply and boost prices.
The second measure is to burn the 371 million UST stored on the Ethereum blockchain, and lastly, TFL intends to stake 240 million LUNA to defend the Terra blockchain from governance attacks.
The Terra blockchain is now susceptible to governance attacks where network validators collude to steal assets from the Terra network in a 67 attack. TFL is working hard to stabilise UST, but LUNA prices are likely to remain depressed since burning UST leads to the creation of more LUNA.
Investors should note that LUNA holders lost the most money, given that the token was worth almost $42 billion in April when it was trading at $120, yet it is now trading at $0.000000937. You can imagine the scale of losses when an asset goes from trading at $120 to trading with nine decimal places.
Currently, there are no plans to revive LUNA, with many counting on UST stabilisation to trigger higher LUNA prices. Many experts have warned that the factors that led to UST's de-pegging and LUNA's annihilation were always there. However, those who tried to warn crypto investors and traders against the project were bullied and silenced by the LUNA fans.
The LUNA and UST crash will serve as a harsh lesson for crypto investors on the projects worth backing and those they should avoid.  Meanwhile, the recent crash will likely trigger significant regulatory oversight over the crypto industry, especially on stablecoin issuers.
Hopefully, investors have learned about the risks associated with algorithmic stablecoins that are not backed by actual collateral but by computer code, which a short-selling attack from well-capitalised players can target.
Such an attack is similar to what George Soros did to the British pound peg in September 1992.
*This is not investment advice. Always do your due diligence before making investment decisions.
LUNA crypto price.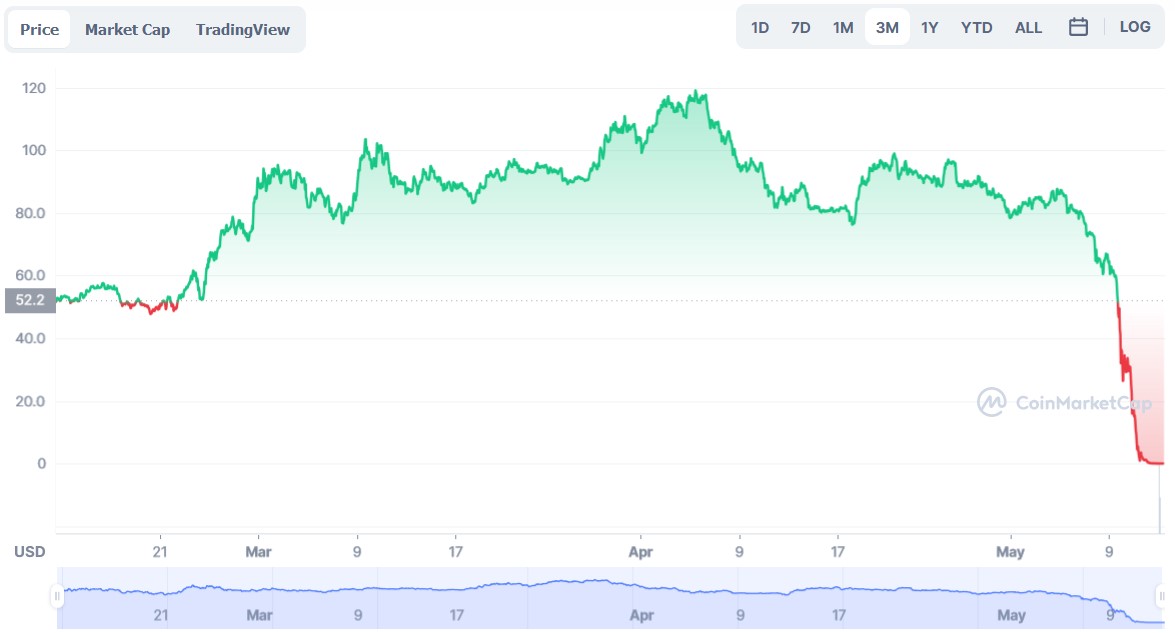 Terra LUNA crypto has fallen 99.99% in the past week following the massive crash wiping out over $40 billion in wealth.