Key points:
US stocks have fallen heavily in the past month, but the SQQQ stock is up.
SQQQ is a 3X inverse leveraged ETF that tracks Nasdaq's performance.
The ETF rises as the Nasdaq falls; hence, its recent gains. Should you buy it?
The US stock markets have fallen heavily, with the S&P 500 down 17.96% since the year started and the Nasdaq is down 26.67% this year and officially in bear territory.

Therefore, it is no wonder that some investors might be considering buying the SQQQ ETF, which is an inverse short ETF that tracks the Nasdaq index, meaning that it rises as the Nasdaq falls.
For comparison purposes, SQQQ is up 96.73% in 2022, making some investors think about buying the inverse 3X leveraged ETF. However, in my past coverage of SQQQ, I mentioned that the index is not suitable for long-term investment.
As an inverse leverage EFT, SQQQ's fees are pretty high at an expense ratio of 0.95%, with the ETF creator ProShares saying that its ultimate goal was to produce a daily return with long-term results divorced from the underlying index's returns.
Therefore, while you might have missed SQQQ's impressive returns this year, you might find relief knowing that while the Nasdaq tends to move higher, SQQQ falls over time. Hence, you would lose money in the long run.
I have been making the bullish case for the US stock market's impending rebound, but I have been wrong so far as the VIX continues trading at overbought levels and the Us stock indices keep falling.
However, it is a fact that the market cannot fall forever and somewhere in the future, we will get the much-awaited bounce that we have all been waiting for. Unfortunately for most investors still holding their positions to date, they might decide to sell and crystallise their losses just when the market is about to reverse course.
Therefore, if you held your positions and are significantly underwater, now might not be the time to sell the high-quality businesses you were holding. However, the situation is entirely different for short-term traders who tend to hold stocks for short periods to benefit from price swings that last a few days or weeks.
Meanwhile, I would stay away from SQQQ, especially after its recent rally, since it will start falling as soon as the Nasdaq reverses course and heads higher.
*This is not investment advice. Always do your due diligence before making investment decisions.
SQQQ stock price.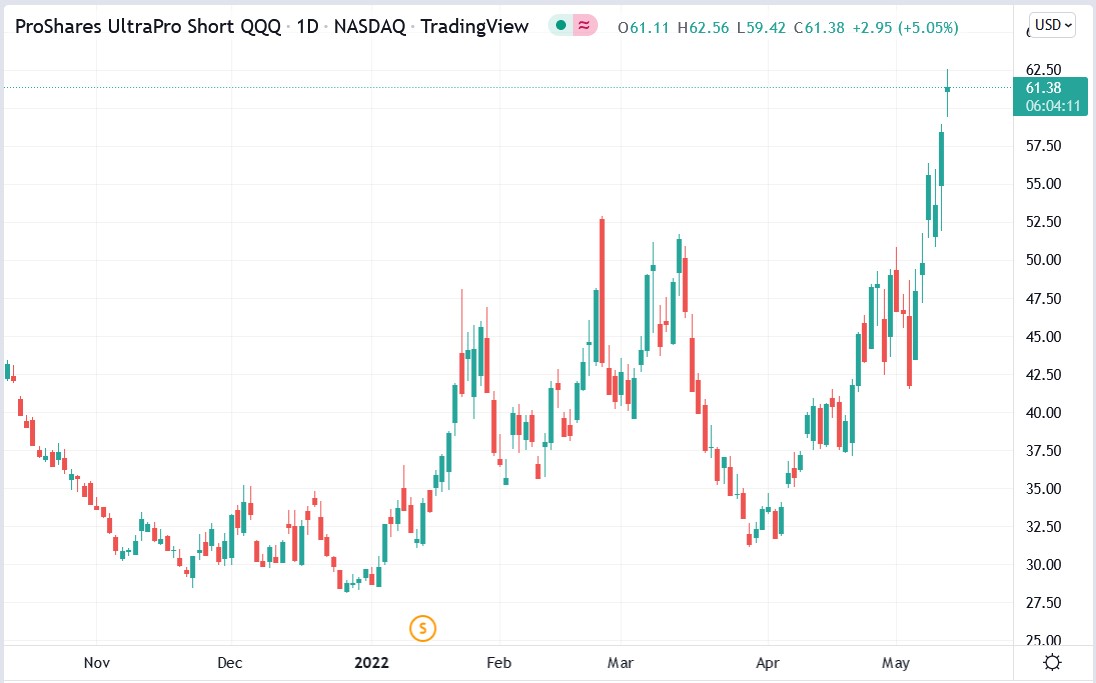 SQQQ stock price has risen 46.66% in the past month and is up 96.73% YTD, but could reverse course.