Key points:
The Aston Martin share price has fallen 58.4% this year.
The ultra-luxury carmaker's losses soared in Q1 2022.
Should you buy AML shares? Read on to find out.
The Aston Martin Lagonda Global Holdings PLC (LON: AML) share price has fallen 58.39% in 2022 as the ultra-luxury car manufacturer struggles to meet its ambitious goals of nearly doubling its car sales to 10,000 units per year.

The company's Q1 2022 results were disappointing as it sold 1,168 cars at wholesale prices to dealers compared to the 1,353 cars sold in Q1 2021. However, the company's margins improved as it generated more revenues in the first quarter versus in 2021.
Still, the carmaker's results were not good enough for fashion billionaire Lawrence Stroll, Aston Martin's chairman and one of its largest shareholders. So stroll moved to appoint former Ferrari CEO Amedeo Felisa as the company's new CEO replacing Tobias Moers, who will be stepping down from the role.
Stroll pointed out that while Moers had helped the company streamline its operations by cutting costs and launching new products, it was time for a change as Aston Martin repositions itself as an ultra-luxury manufacturer.
Amedeo has significant experience leading Ferrari, an ultra-luxury carmaker, compared to Moers, the former head of the Mercedes AMG division. Amedeo recently assumed his CEO role and has already made his first appointment.
The new CEO appointed Roberto Fedeli, another Ferrari executive, as Aston Martin's Chief Technical Officer (CTO). The two will work together to electrify the carmaker's product range and increase its sales volumes to meet its revenue target of £2 billion.
Global trends indicate that demand for luxury cars remained high despite the impact of the coronavirus pandemic and the rising inflation. However, the recent stock market and crypto crash might slightly dampen customer demand for luxury cars.
Still, Aston Martin has its work cut out to meet its ambitious goals. So, should you buy AML shares? The answer for me is no. Aston Martin has a massive debt pile and a history of bankruptcies. However, your answer might be different.
*This is not investment advice. Always do your due diligence before making investment decisions.
Aston Martin share price.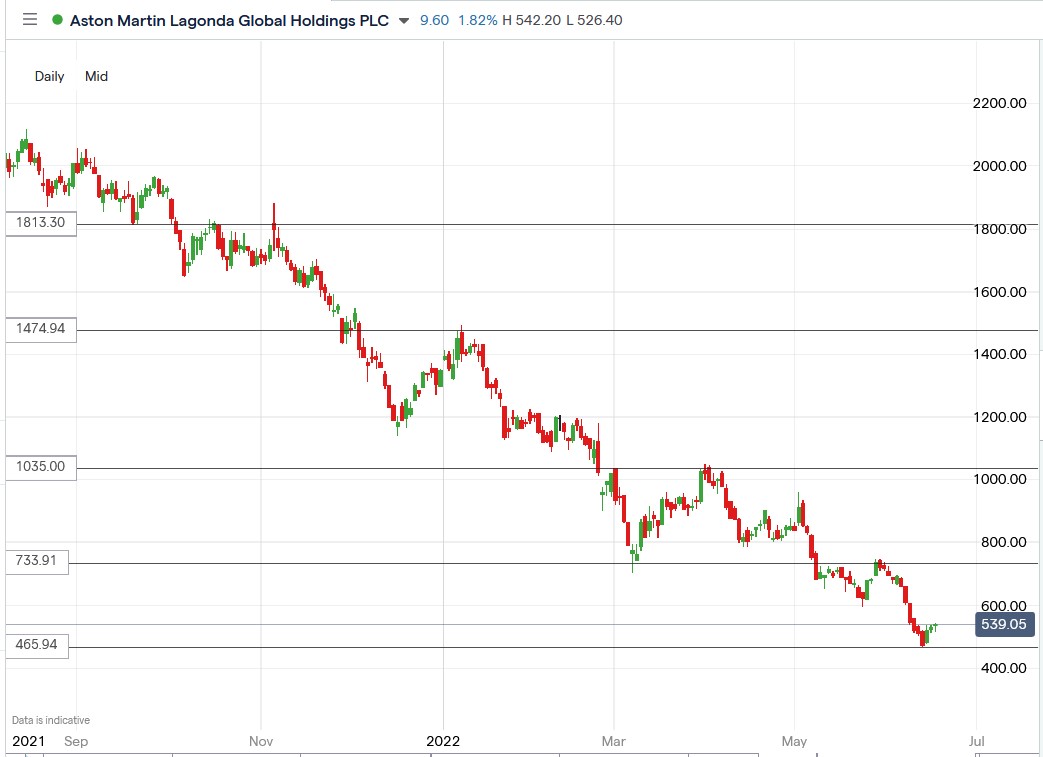 The Aston Martin share price has fallen 58.39% in 2022 and could be headed lower. Should you buy it?