Key points:
C3.ai stock has fallen over 90% from its all-time and looks attractive.
The AI company's government and enterprise businesses are flourishing.
The firm also has a hefty cash balance to fund its operations and buy shares.
The C3.ai Inc (NYSE: AI) stock price has fallen by 90.9% from its December 2020 all-time highs of $184 but is the worst finally over. So should investors buy the stock at its current price as a value play? Read on to find out…

C3.ai is a company that specialises in providing AI infrastructure and services to enterprise and government departments, especially the military, which recently awarded it a $500 million contract.
However, the contract award did not trigger a positive response from investors, given the significantly bearish sentiment currently dominating the markets, as investors sell growth stocks in favour of value stocks.
C3.ai's recent losses were driven mainly by the sour sentiment even as its overall performance improved. Its losses shrunk from $133.6 million in its 2021 fiscal year to $55 million during its 2022 financial year.
According to its latest earnings report, the company can now be regarded as a value stock since it had cash reserves of $1.1 billion, yet it is currently valued at $1.78 billion. Therefore, it is doubtful that its share price will fall much further, given the value of its cash holdings.
Hence, AI stock might be an attractive investment target at current prices. However, there are no guarantees that we won't get a further decline in AI stock. A break below the $13.50 support level could lead to further losses, which I think will still be limited.
The value of the global AI market is expected to reach $126 billion by 2025, and C3.ai could benefit from this trend, although its focus is on the enterprise and government sectors, not the consumer segment.
Meanwhile, the company is currently buying back its outstanding shares, reducing the available supply and absorbing some downward pressure that has besieged AI stock since last year.
*This is not investment advice. Always do your due diligence before making investment decisions.
C3.ai stock price.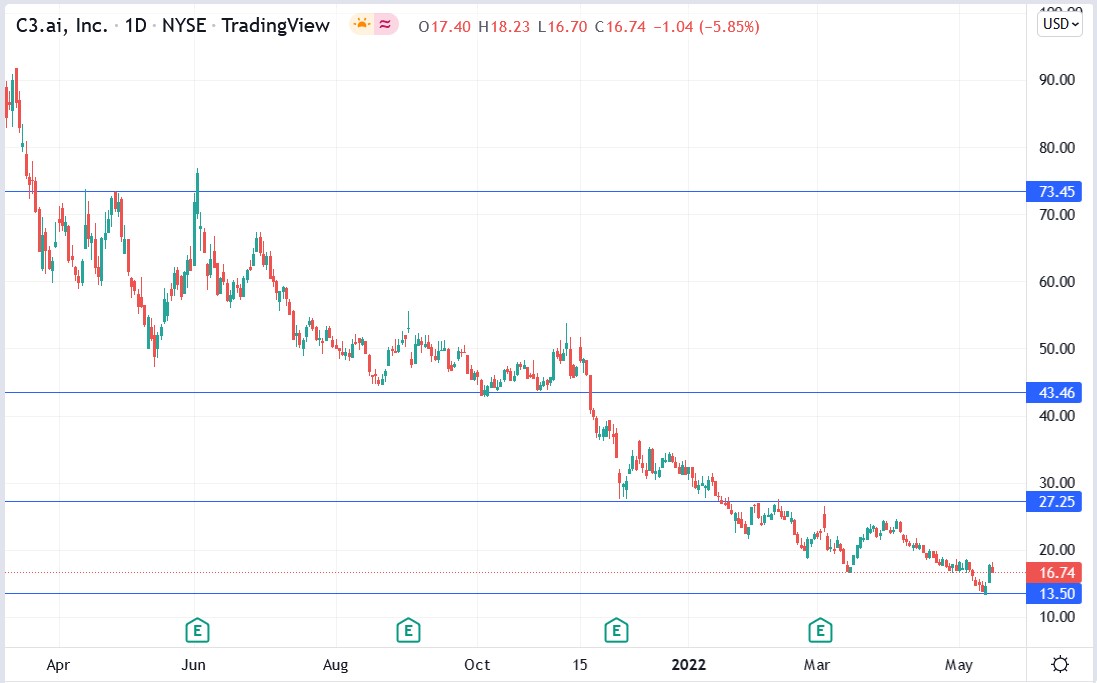 The C3.ai stock has fallen by 46.43% in 2022 but is down over 90% from its December 2020 all-time high of $184.