Key points:
The Teladoc price is down 65.5% in 2022 and could keep falling.
The telehealth firm is facing systemic problems fueling the decline.
As a result, there could be more losses in store for investors.
The Teladoc Health Inc (NYSE: TDOC) stock price has fallen 65.4% in 2022, leaving many asking when the stock shall bottom. The answer to this question is nuanced since several factors influence the decline in Teladoc stock.

The leading factor behind the downtrend is Teladoc's botched acquisition of Livongo for $18.5 billion in 2020. As a result, the company was forced to slash Livongo's value on its balance sheet to a mere $6.6 billion in a massive writedown.
However, Teladoc's problems run much deeper than the Livongo acquisition. The company's management team is slowly losing the trust of its shareholders since it keeps changing its forecasts.
For example, the telehealth company had promised investors that it expects to grow its revenue by between 25% and 30% annually up to 2024. The firm reiterated the same guidance at a conference earlier this year but recently lowered the figures to 18% to 23% annualised growth.
The latest downgrade came after the firm released its Q1 earnings results. Naturally, therefore, there is a disparity between what the management says and their actual results in a classic case of overpromising and underdelivering.
Tealdoc had reassured investors that it was experiencing significant consumer demand for its BetterHelp mental health service before quickly changing tune a month later. The firm now says that the service faced stiff competition from low-cost providers.
The disparity between what the company says and its results shows a significant disconnect and does not inspire confidence in most investors. As a result, the telehealth company has quickly switched from talking up its success to losses at a fast rate.
The TDOc share price chart below indicates that the shares recently bounced off a significant support level. However, I am not convinced that we have seen the last of TDOC's declines. As a result, there could be more losses in store for investors. Hence, I would steer clear of TDOC shares.
*This is not investment advice. Always do your due diligence before making investment decisions.
Teladoc stock price.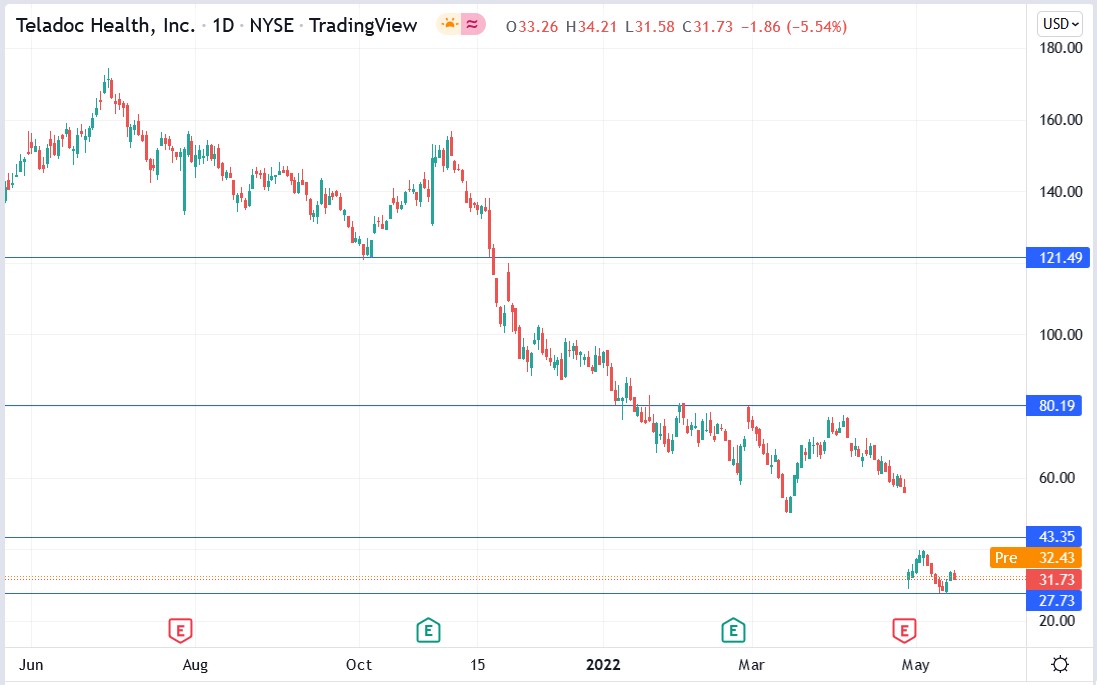 Teladoc stock price has fallen by 65.44% in 2022. Is the stock headed lower?