Key points:
The Mode share price edged 5.12% lower on a £2m fundraise.
The fintech company has witnessed significant changes in its C-suite.
Can Mode shares recover? Read on to find out.
The Mode Global Holdings PLC (LON: MODE) share price edged 5.12% lower after announcing that it had completed an almost £2 million fundraising event through the issuance of unsecured convertible notes worth £1.9 million.

Also read: 12 Best Shares To Buy As A Beginner.
Interestingly, the company's directors also participated in the fundraising after subscribing for loan notes worth £65,000, with a delayed subscription that will take the entire amount to £100,000. But, of course, it is always a good sign when a company's directors own part of the firm.
Mode shares have had a rough ride this year, down 73.71%. The company has had a high rate of churn in its C-suite after former CEO Ryan Moore resigned in January, after which Rita Liu was appointed as CEO in March.
The fintech company is trying to revamp its operations under the new CEO and recently appointed Jose Lauredo as its new Chief Technology Officer (CTO). In addition, the company has launched innovative products and services under Ryan Moore, including its Bitcoin rewards scheme.
Mode Global had also partnered with THG to offer its Bitcoin rewards to a larger number of consumers. However, as a growth company, Mode shares have fallen significantly this year as inventors abandoned last year's tech and growth stocks in favour of value stocks.
Rita Liu, Mode Global Holdings' CEO, commented: "Our recent fundraising displays the ongoing strength in our core businesses and shows that appetite from both new and existing investors has not waned despite the recent bout of market volatility. This fundraising round provides us with a greater opportunity to expand our unique position as an FCA-registered and LSE-listed fintech leader."
For those wondering when Mode shares will recover, the answer is, right now, we can't know for sure. The crypto markets have suffered immensely in the recent past as many projects collapsed, and it is not clear which firms will be left standing when the worst is over.
Furthermore, the economic challenges the world is facing are not about to end as leading central banks continue hiking interest rates to fight record-high inflation. However, we could get a short-term rally in Mode shares.
*This is not investment advice. Always do your due diligence before making investment decisions.
Mode share price.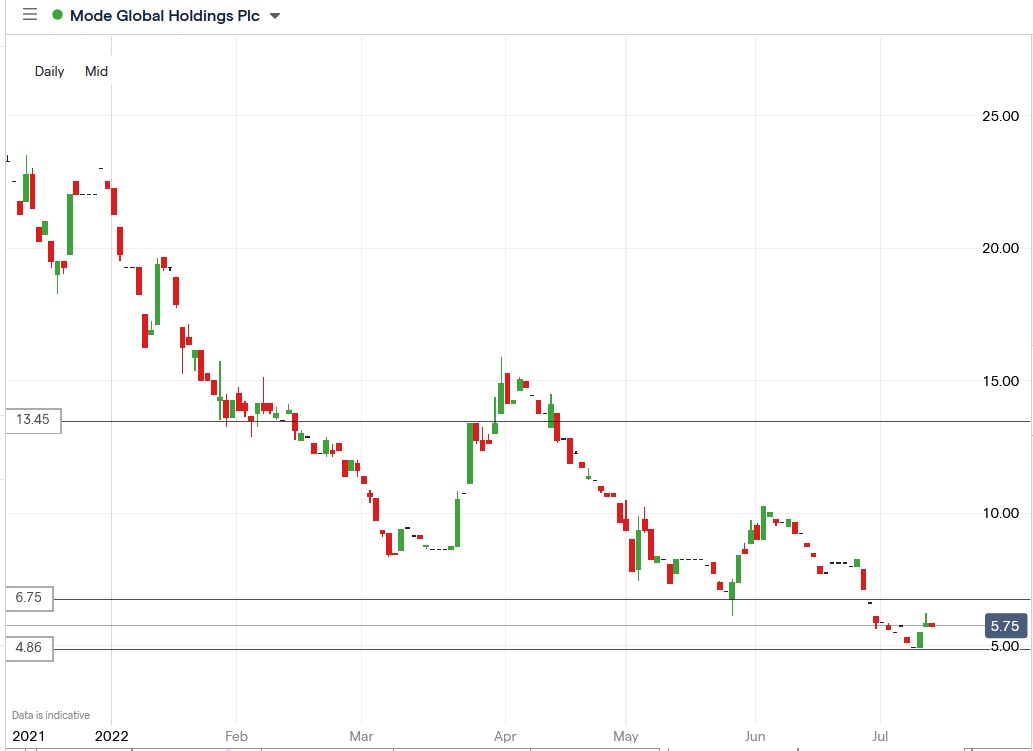 The Mode Global share price edged 5.12% lower to trade at 5.55p, falling from Tuesday's closing price of 5.85p.