Key points:
Sorrento Therapeutics (SRNE) stock price rallied 23.8% yesterday.
As a result, many wonder whether now is the right time to buy SRNE stock.
Read on to discover our assessment of SRNE stock.
The Sorrento Therapeutics Inc (NASDAQ: SRNE) stock price rallied by 23.8% yesterday, temporarily halting the downtrend that has been in place since July 2021. The biopharma company has been doing exceptionally well this year and has announced multiple significant milestones.

For example, one of its units, Scilex Holding Company, just signed an exclusive licensing deal with ROMEG Therapeutics for the right to commercialise Gloperba. This FDA-approved oral medication treats painful gout flares in adults.
The arthritic disorder affects approximately 8.7 million people in the United States. Gout cases in the US are increasing, and the company is looking to capitalise on the rising trend. The US gout market is estimated to be worth $8.3 billion by 20225.
Scilex is currently generating revenues after commercialising ZTlido (lidocaine topical system), which it launched and has grown its market share to cover 200 million people across the United States. Therefore, the company has the requisite experience to commercialise Gloperba.
Sorrento is currently working on various cancer treatments based on its innovative technologies such as CAR T (Chimeric Antigen Receptor – T Cells), DAR T (Dimeric Antigen Receptor – T Cells), and Antibody-Drug Conjugates (ADCs).
The company has multiple drugs in phase I, II and III/Pivotal studies that treat various diseases with significant revenue potential if commercialised. In addition, unlike many biopharma companies, Sorrento has experience successfully launching and marketing new drugs via its Scilex subsidiary.
Therefore, I do not expect the company to have any issues commercialising its drugs once regulators have approved them. Sorrento Therapeutics has one of the largest drug pipelines in small to medium-sized pharmaceutical companies, with its portfolio rivalling that of larger companies.
Market analysts have different opinions of Sorrento's prospects, with some having lower price targets while others have higher price targets. I would not have a problem buying SRNE shares at current prices since they were trading sideways from mid-May before yesterday's rally.
*This is not investment advice. Always do your due diligence before making investment decisions.
SRNE stock price.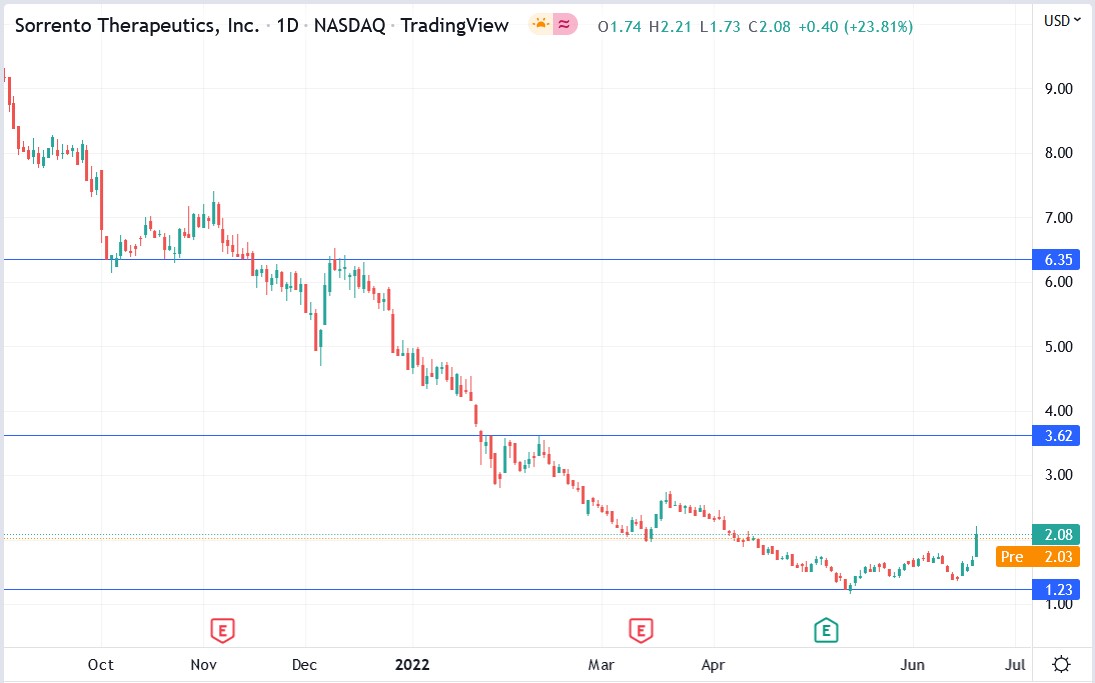 The SRNE stock price has fallen 57.55% in 2022 but rallied by 23.81% yesterday. What's next?