The Tower Resources PLC (LON: TRP) share price crashed 58.3% after revealing that it had raised gross proceeds of £2.3 million through a conditional placing and subscription of approximately 4.6 billion new ordinary shares of 0.001 pence each for 0.05  pence per Placing Share.
---
YOUR CAPITAL IS AT RISK. 81% OF RETAIL CFD ACCOUNTS LOSE MONEY.
---
The decline in TRP's share price was expected, given the significant discount at which the new shares were sold. The price of 0.05p per new ordinary share represented a 58% discount to yesterday's closing price of 0.12p, hence, the decline.  
Top Broker Recommendation
YOUR CAPITAL IS AT RISK. 68% OF RETAIL CFD ACCOUNTS LOSE MONEY
Tower Resources Chairman and CEO Jeremy Asher also participated in the capital raise and bought 100 million new placing shares at 0.50p each for a total of £50,000. His participation in the capital raise showed confidence in the company's prospects but was insufficient to stop the massive decline in TRP's share price.
Apart from the capital raise, Tower Resources also revealed that it had received a letter from the Prime Minister of Cameroon saying that he had instructed the Minister of Mines, Industry and Technological Development (MINMIDT) to take necessary measures to accelerate the license extension process in response to the Company's request.
Tower Resources and one of the rig contractors with whom it is in discussions have commissioned a leg penetration analysis and a leg extraction assessment regarding the specific rig being discussed based on the geotechnical survey. The work should be completed quickly.
The company intends to use the £2.3 million raised today to pay for the preparation of the drilling of the NJOM-3 well, even as discussions about its financing are concluded. In addition, the firm will pay for services associated with the well and for working capital purposes.
Tower Resources also issued an update regarding the standstill agreement with Energy Exploration Capital Partners LLC (EECP) following the Share Placement Deed of 13 January 2023 between the two firms. The firms agreed to a further standstill of settlement notices to convert the Subscription Amount Outstanding into shares.
Finally, the company also issued new stock options under the long-term incentive plan to its executives, including its CEO, Jeremy Asher.
*This is not investment advice.
Tower Resources (TRP) share price.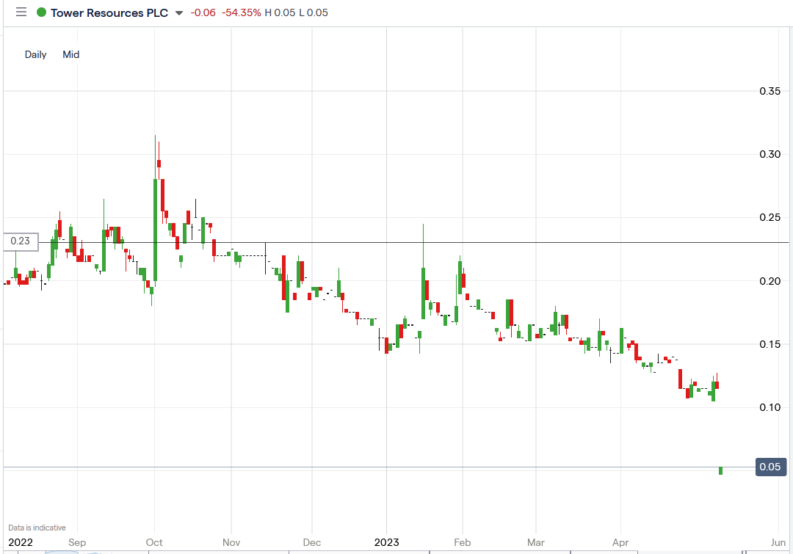 The Tower Resources (TRP) share price plunged 58.33% to trade at 0.05p, from Monday's closing price of 0.12p.
---
YOUR CAPITAL IS AT RISK. 81% OF RETAIL CFD ACCOUNTS LOSE MONEY.
---