The Troika Media Group Inc (NASDAQ: TRKA) stock price rallied 32.15% despite the company filing to sell 10.69 million shares on behalf of some of its stockholders. The company clarified that it was not selling the shares on its behalf and would not receive any sale proceeds.

---
YOUR CAPITAL IS AT RISK. 81% OF RETAIL CFD ACCOUNTS LOSE MONEY.
---
The rally higher today was driven by significant retail investor interest in the company since over 4.3 million shares had changed hands at the time of writing. The high investor interest in Troika Media comes at a time when retail investors have a keen interest in the company, as explained in previous articles.
Top Broker Recommendation
YOUR CAPITAL IS AT RISK. 68% OF RETAIL CFD ACCOUNTS LOSE MONEY
Troika Media shares surged higher from mid-February to early March before returning to earth. The move came after appointing Jeffries to help it optimise its capital structure. Since then, investor interest in the stock has been high, but the company has yet to retest its early March highs of close to $1.00.
In early March, I speculated that the rally in Troika Media shares could be a short squeeze, but it did not last long enough to translate into a full-blown short squeeze as we saw in late February. At the time, the price was falling back to earth after the meteoric rise.
The recent rallies in Troika Media shares have fallen short of the previous rallies, given that at the time, we had over 33 million shares change hands as opposed to just over 4 million shares that changed hands today.
The rally in Troika Media shares was also driven by news of an offer to buy the company from the CEO of the Genius Group, who tweeted that he had sent Troika Media a non-binding offer to acquire it together with a proposal to restructure its capital.
Although the deal did not finally materialise, it created enough buzz around Troika Media stock,w which is still restructuring its capital under Jeffries's advice.
Therefore, the rally in Troika Media stock is driven by retail investor interest, but more is not enough to trigger a short squeeze. 
Update:
Troika also clarified within the filing that it had received a number of bids for the sale or refinance of the company and was evaluating the bids and picking the winning bidder.
*This is not investment advice.
Troika Media Group (TRKA) stock price.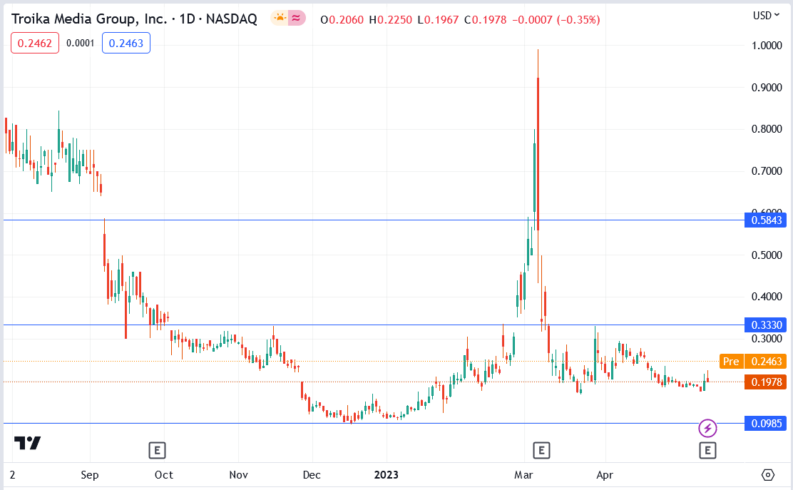 The Troika Media (TRKA) stock price was trading up 32.15% at $0.2614 from Monday's closing price of $0.1978.
---
YOUR CAPITAL IS AT RISK. 81% OF RETAIL CFD ACCOUNTS LOSE MONEY.
---