Twitter shares are down 3% in premarket trading after the social media saw prominent US figures have their accounts hacked in a Bitcoin scam.

Accounts of famous faces such as Barack Obama, Joe Biden, Kanye West, Elon Musk, Jeff Bezos and Bill Gates.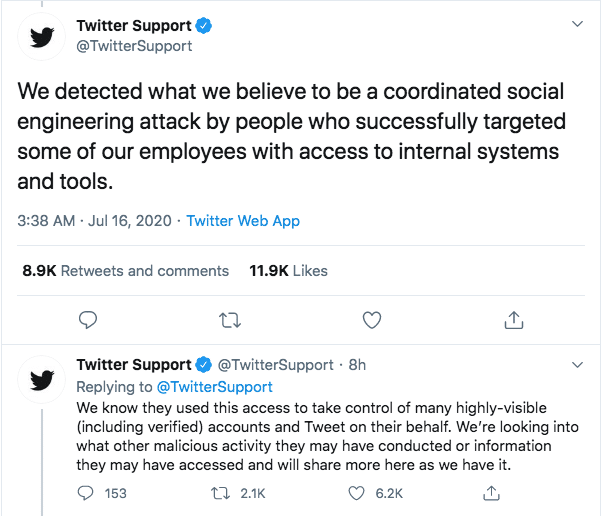 One of the Tweets which came from former US President Barack Obama's account said: "I am giving back to my community due to Covid-19!
All Bitcoin sent to my address below will be sent back doubled. If you send $1,000, I will send back $2,000!"
Twitter has said it was a "coordinated social engineering" attack that targeted employees.
"We know they used this access to take control of many highly-visible (including verified) accounts and Tweet on their behalf."
They went on to say that "We have locked accounts that were compromised and will restore access to the original account owner only when we are certain we can do so securely."
The tweets were deleted a few minutes after they were posted, but the attack represents a more significant security issue that could have a broader impact elsewhere. Some Twitter users have commented that a wrong tweet from one of these accounts could seriously affect financial markets.
Twitter shares have fallen in premarket trading, down by -3.31%, trading at $34.49. As Twitter continues to address the security issues, we could see a further drop off in the social media giant's share price.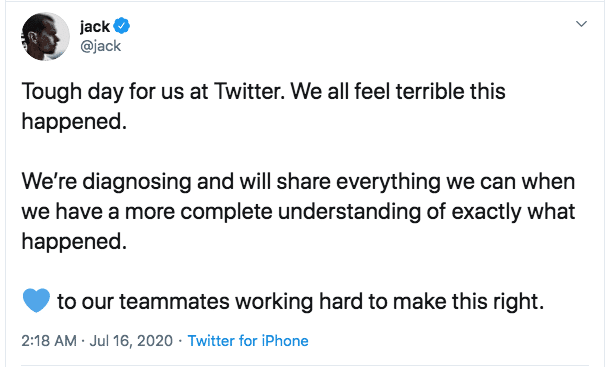 "Tough day for us at Twitter. We all feel terrible this happened.
We're diagnosing and will share everything we can when we have a more complete understanding of exactly what happened," said Twitter CEO Jack Dorsey.