Key points:
Twitter shares gapped 13% premarket on Elon Musk's acquisition offer.
Musk has offered to buy Twitter's remaining shares at $54.20 each ($43 bn).
Investors are waiting for a response from Twitter's board about the offer.
The Twitter Inc (NYSE: TWTR) stock price jumped 13% premarket after its board confirmed that it had received an unsolicited offer from Elon Musk to acquire its outstanding shares for $54.20 each in cash.

The surprising move came a few days after Elon Musk declined a seat on the company's board, limiting his acquisition of a more significant stake in the social media company. Today's move is being billed as a hostile takeover of the firm by Elon Musk for a whopping $43 billion.
Musk has been vocal about the changes he could make to Twitter, including adding an edit button to tweets, turning the company's San Francisco headquarters into a homeless shelter and giving premium subscribers automatic verification.
In his letter to Twitter's board, Elon Musk said that he believes that the best way to transform the firm is by taking it private since he has no confidence in the current management team. Furthermore, the changes needed might be harder to implement as a public company.
Musk is one of the most followed Twitter users and is one of the most influential figures on the platform. Unfortunately, Twitter has a history of banning people with vocal opinions that might not be popular in the mainstream media; Donald Trump's ban is one example.
As a controversial figure himself, Elon Musk might be the right person to bring free speech back into the microblogging site. Still, his offer is likely to face significant opposition from Twitter's board on multiple grounds.
First, one might argue that Musk's offer of $54.20 per share significantly undervalues Twitter, whose shares were trading above $70 a few months back. The board might ask for a better offer, which Musk will likely refuse.
The board might also argue that taking Twitter private would leave a company with millions of users at the whims of someone who acts spontaneously without the much-needed oversight from the management board.
Elon Musk has gotten into trouble with regulators for his antics as Tesla's CEO, such as his Tweet that he had secured funding to take Tesla, private at $420 per share. He also smokes weed in public, a behaviour that many have frowned upon.
The billionaire tech investor also said that if the deal does not work, he would have to reconsider his position as a shareholder, which means he might decide to sell his shares and exit the company.
Twitter's board will have to consider the ramifications of Musk's exit as the company's largest shareholder, given that it could trigger a downward spiral in the firm's share price. Still, we have to wait for the board's response to the offer.
*This is not investment advice. Always do your due diligence before making investment decisions.
Twitter stock price.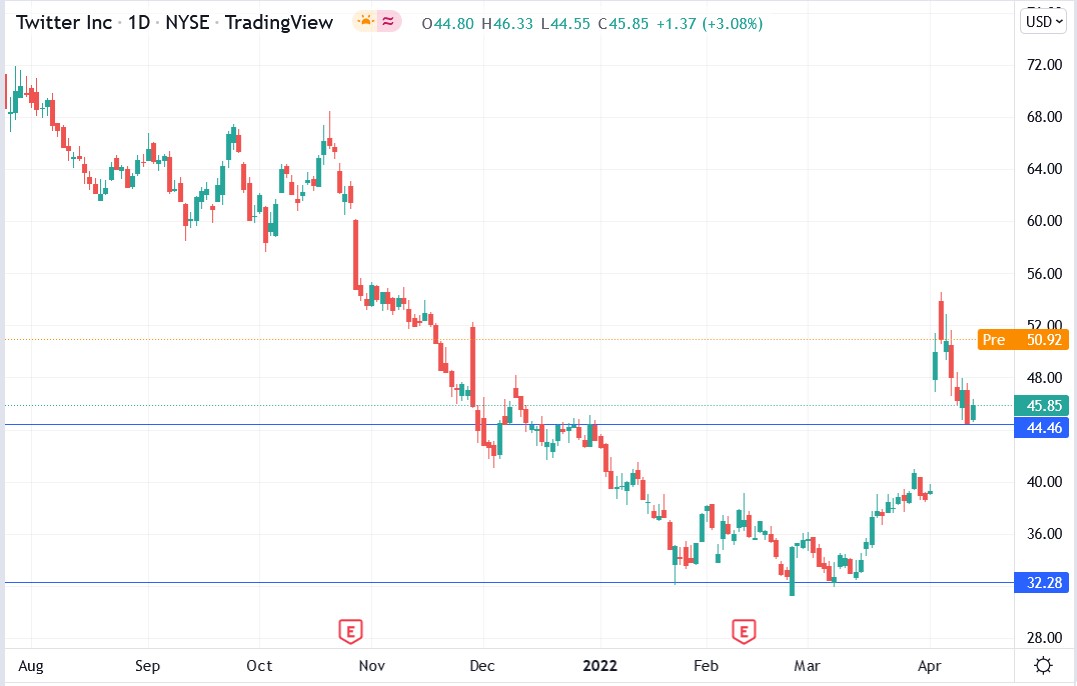 The Twitter stock price jumped 13% higher to trade at $51.01, rising from Wednesday's closing price of $45.85.