Key points:
The USDJPY pair was trading sideway amid the US dollar weakness.
The pair will keep rising until the BoJ abandons its easy money policies.
Investors are betting on the pair's further upside as the yen falls.
The USDJPY currency pair traded sideways for the day mainly because the US dollar index (DXY) had recorded a slight decline. Earlier today, a spokesperson for the Japanese government said that the recent one-sided decline in the Japanese yen was not good for the economy.

The Japanese government said it is closely monitoring the financial and currency markets as the yen's decline has significantly impacted the country's importers. The government has warned that it would not tolerate speculation against the yen by people looking to profit from its weakness.
Also read: 8 Best Forex Trading Strategies.
Many suspects that the Bank of Japan has made stealth interventions in the Forex markets to stabilise the yen, which has kept investors at bay as they wait to see if the interventions will significantly impact the yen's overall performance. However, the interventions are unlikely to do much for the yen over the long term.
The Bank of Japan governor, Haruhiko Kuroda, has repeatedly said that the BoJ will not change its easy monetary policies until inflation Japan starts rising creating the need for rate hikes to fight inflation. However, the recent yen weakness may provide the right trigger for inflation in Japan to start rising.
The price of imports will soar as the yen weakens against its global peers, led by the US dollar. As a result, the BoJ may be forced to reverse its policies sooner than expected as the price of imports soars, and consumers start feeling the pain caused by the higher prices of imports, such as oil and other consumer goods that come from other countries.
Meanwhile, traders and investors are still betting on the yen's weakness, and many call for the USDJPY currency pair to break the 152.00 level, which recently acted as resistance and rally much higher. However, the yen might be in luck as markets price in the Fed's last aggressive rate hike in November, as many now expect the Fed to reverse course in 2023.
*This is not investment advice.
The USDJPY price chart.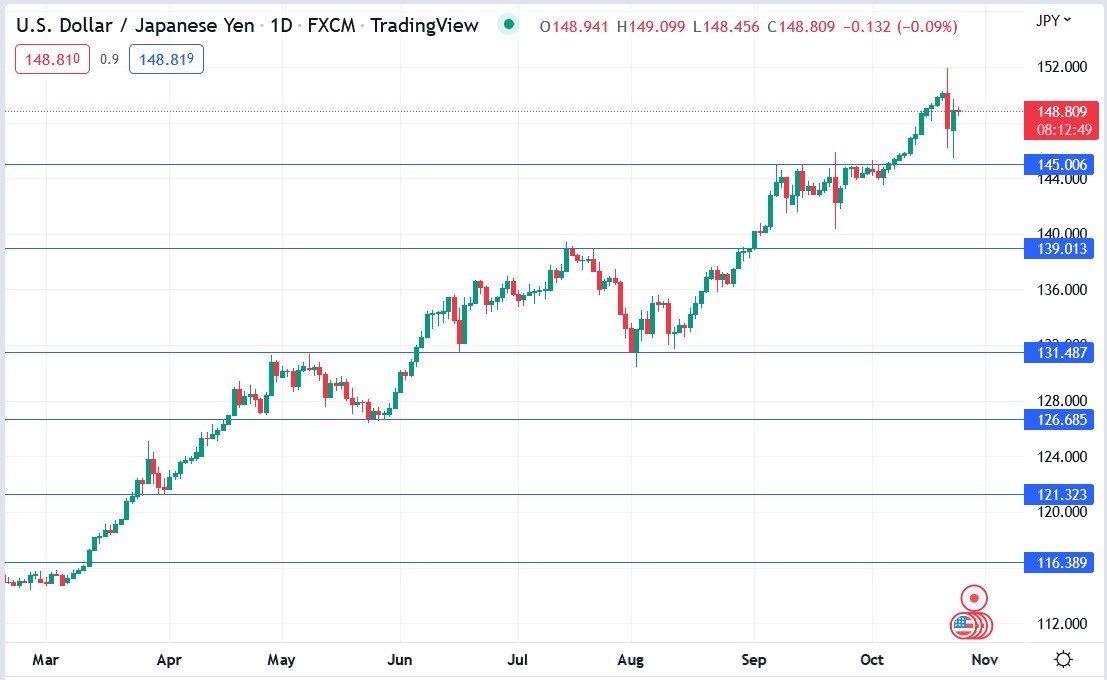 The USDJPY currency pair traded sideways for the day as the US dollar lost some ground.