Key points:
Is Cineworld going to go the way of Vue?
A debt for equity swap which wipes out those equity positions?
It's a possible outcome, but is it a necessary one?
Vue, the private equity owned cinema chain, has just wiped out the equity holders – should we regard this as a warning for Cineworld (LON: CINE) shares? The answer being yes, we should indeed take it as a warning, even if it's not a prediction for what will happen. Because if one heavily indebted cinema chain wipes out the equity in a debt restructuring then we should indeed take seriously the possibility that another heavily indebted cinema chain will do the same. It remains only a possibility, a risk, of course, but a possible value of the Cineworld equity is zero.

For Cineworld, as with Vue, there was the disaster of the lockdowns. Yes, there was some government support and rents could be delayed at least and so on. But holes were blown in revenue predictions, obviously. Vue claimed that the roaring success of movies held over would boost revenues now. This has indeed happened, as we've noted about Cineworld and Top Gun before. But for Vue at least this wasn't enough. At which point the debt owners take control of the chain and the equity looks like it's about to gain nothing.
This is an obviously possible end state for Cineworld as well. AMC could have gone this way but that time as a meme stock has led to a recapitalisation. With Cineworld there is also that takeover of Cineplex, launched just as lockdowns loomed. The courts cases over that are another possible extinction level event for Cineworld. The damages that might have to be paid as a result of trying to pull out of that deal.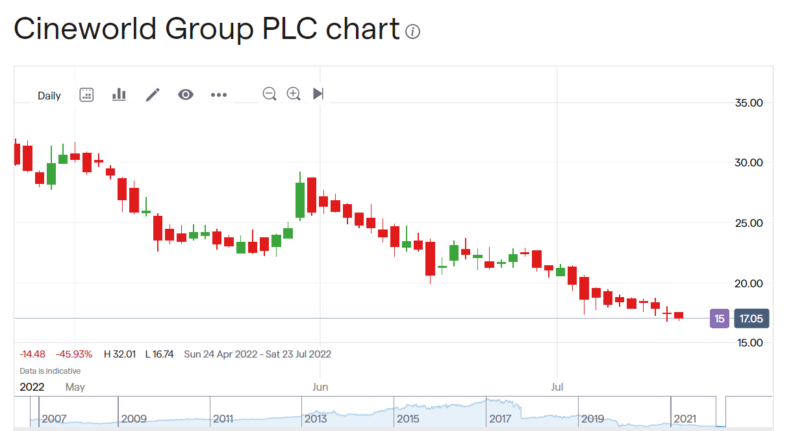 Also read: Cineworld Shares, An Overview And How To Buy.
None of the following are predictions but they are all possible paths. One is simply that the cinema business continues to boom what with Top Gun, Thor and the new Minions movies. This so boosts cashflow that the debt burden becomes supportable and then, possibly, begins to decline. It does have to be said that that's hopeful for Cineworld but there we are.
It is also possible that the court cases over Cineplex run Cineworld's way. That's also being rather hopeful.
There's the possibility of an equity raise which again makes the debt supportable. But an equity raise at the current Cineworld share price would be so dilutive as to be akin to an equity wipe out in itself. And there's little sign of Cineworld becoming the sort of meme stock that can raise new equity at a decent price.
The final option would seem to be that there's a debt for equity swap and that would between hugely dilute and entirely wipe out the current equity.
It's difficult to see other options out there for Cineworld. What this means is that the equity currently isn't, really, to be regarded as equity. Instead it's rather more of an option on the outcome. Options can be hugely profitable if called the right way. Options are also hugely more risky than standard equity. The only really firm conclusion we can come to here is that Cineworld is a heavily geared speculation, either way. Trading positions need to be based upon that.