Key points:
Cineworld shares soared 18.7% after Top Gun Maverick's debut on Friday.
Investors cheered the movie's excellent opening weekend performance.
As a result, Cineworld shares have a trading opportunity for some traders.
The Cineworld Group plc (LON: CINE) share price surged 18.7% as investors reacted to the impressive first-weekend performance of the much-awaited blockbuster movie Top Gun Maverick.

The movie, which stars Tom Cruise, was released to significant acclaim from critics and is regarded as being much better than its predecessor (Top Gun 1986), which also starred Tom Cruise.
Top Gun Maverick was supposed to be released on July 12, 2019, but was delayed as the production company (Paramount Pictures) struggled to shoot some complex action scenes. Additionally, the arrival of the COVID-19 pandemic led to further delays leading to its theatrical release in the United States on Friday, May 27, 2022.
Investors were pleased to see that the movie grossed $124 million on its first weekend as moviegoers enjoyed it, making it the eighth-highest grossing film of 2022. As the world's second-largest movie theatre operator, Cineworld is set to benefit significantly from movies such as Top Gun Maverick that do well at the Box Office.
Over the past two years, investor confidence in the movie theatre business has returned after moviegoers returned to theatres after lifting most of the COVID-19 restrictions. Top Gun Maverick's excellent performance is further proof that the desire to watch new movies in traditional film theatres is still high.
Looking at Cineworld's daily chart below, we can see that the company's share price has formed a bottoming pattern and has risen above a crucial resistance level at 27.50p and could be headed higher if the price remains above this key level.
Cineworld still faces many challenges, including the recent C$1.23 billion ($957 million) damages award to Cineplex and its massive debt burden of $8.9 billion. In addition, the company is currently at risk of default on its debts,w which could lead to bankruptcy proceedings against it if its creditors do not extend the payment deadlines.
Meanwhile, aggressive investors may buy CINE shares if they hold above 27.50p for a few days. However, dropping back to the 22.2p support level could present another buying opportunity if prices remain above it.
*This is not investment advice. Always do your due diligence before making investment decisions.
Cineworld share price.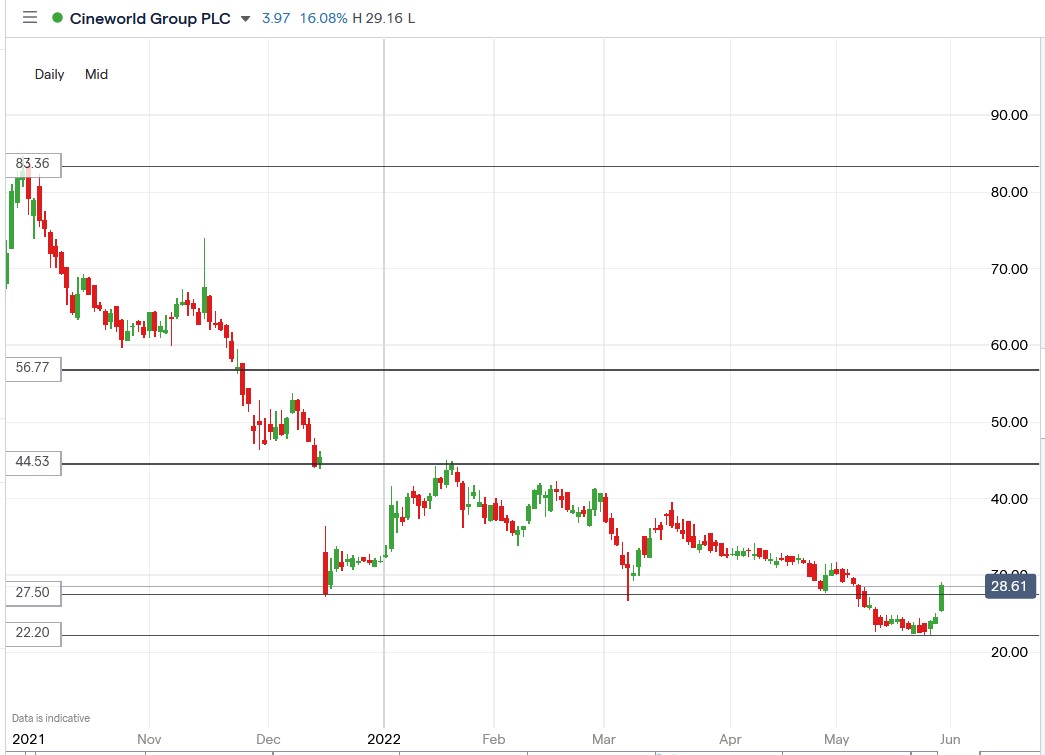 Cineworld shares soared 18.74% to trade at 29.14p, rising from Friday's closing price of 24.54p.