Key points:
The Fevertree share price crashed 32.5% on lower profit guidance.
Investors ignored the mostly positive H1 2022 report as revenues grew.
Today's selloff seems like a market overreaction.
The Fevertree Drinks PLC (LON: FEVR) share price crashed 32.5% after releasing its half-year trading update showing that its revenues grew in all the geographical regions it operates. Still, its profit margins declined due to higher costs and logistics.

Also read: Best Breakout Stocks To Buy Right Now.
Investors ignored the company's impressive revenue growth as its UK revenues surged 6% to £53.5 million from £50.3 million in H1 2022, and its European operations also recorded a 31% surge to £52.4 million from £41.3 million last year.
Yet, the market was largely unimpressed by the revenue growth the premium drink mixers company achieved. Instead, investors focused on Fevertree's announcement that its gross margins would shrink to 37% and its pretax profit would fall to 14%, which are still decent numbers.
Fevertree reassured investors that it has a solid summer promotional programme to capitalise on the expected surge in demand for its products. As a result, the company continues establishing itself as a market leader in the premium drink mixers industry.
Today's selloff seems like an overreaction from investors since Fevertree has not sunk into losses. It reported higher revenues. The only negative in today's results was the lower profit margins due to higher logistics and other cost headwinds.
Fevertree noted that while its Off-trade sales in the UK slowed down amid a rebalancing, demand in the United States remained pretty intense, as evidenced by an 11% surge in US revenues.
The company noted that the growth recorded in its European business was driven by surgent demand in Southern European countries, with its off-trade business growing significantly. Progress in the rest of the world (ROW) was also commendable as ROW revenues surged 7% compared to last year despite the high comparables.
Overall, today's selloff in Fevertreee's share price seems like a massive overreaction from my point of view, given the company's strong fundamentals. As a result, I would buy FEVR shares after today's decline.
*This is not investment advice. Always do your due diligence before making investment decisions.
Fevertree share price.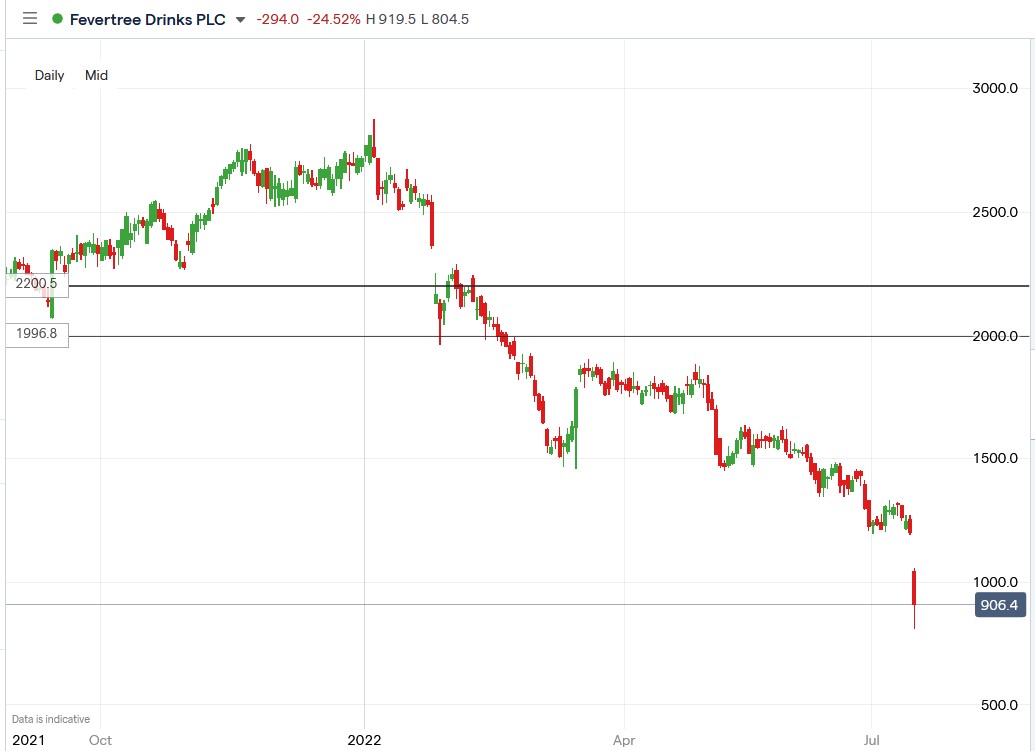 The Fevertree share price plunged 32.5% to trade at 809.6p, falling from Thursday's closing price of 1199.5p.