Key points:
Despite no news, the UK Oil & Gas (UKOG) share price rallied 27.5%.
Today's rally adds to yesterday's rally as buyers push prices higher.
Does Liz Truss' appointment have anything to do with the rally?
The UK Oil & Gas PLC (LON: UKOG) share price surged 27.5% today, adding to yesterday's 15.94% despite the lack of news releases from the oil and gas company. The last significant announcement from the company was on 15 August 2022, when the Court of Appeal upheld the planning permission granted to it by the Surrey County Council.

The oil and gas company noted that five judges and the Court of Appeal had dismissed the challenge by Finch on behalf of the Weald Action Group (Finch et al.), saying that the award of production consent for the Horse Hill project by the Surrey County Council was legal.
Also read: The Best Oil Stocks To Buy Right Now.
The company announced that it was moving full steam ahead with installing an HH-1 oil producer at Horse Hill, saying that it believes that the production permit was granted legally and that the Apex Supreme Court would uphold any further challenge by Finch et al.
Since then, UKOG has not made any major announcements, which is why the latest rally is a bit puzzling. However, given that the United Kingdom just announced its new Prime Minister, Lizz Truss, yesterday, we can link the two-day rally to the announcement of the new Prime Minister.
Investors appear confident that the government formed by Liz Truss will be favourable to UK oil and gas companies as she focuses on shoring up the country's energy supplies and resources.
The UK is facing an energy crisis triggered by high electricity costs and a shortage of oil and gas supplies, given Europe's overdependence on Russian oil and gas exports. Russia has been rationing gas supply to Europe and the UK, leading to an energy supply crisis.
Luckily for the United Kingdom, the country has significant offshore and onshore crude oil and gas resources that it can tap into, unlike some of its European neighbours that do not have such natural resources.
So, the question remains, will UKOG shares continue rising? While nobody can predict the future, the company's share price could keep rising if Liz Truss' government enacts favourable policies for the UK's oil and gas industry.
*This is not investment advice.
UKOG share price chart.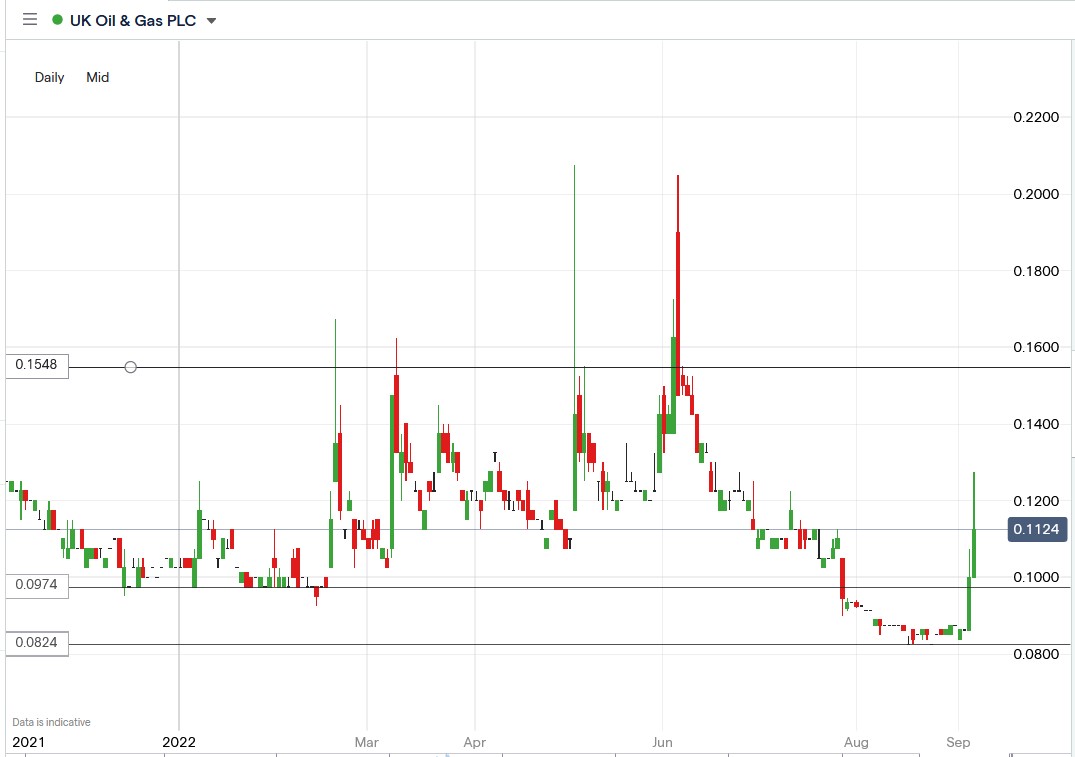 The UK Oil & Gas share price surged 27.5% to trade at 0.1275p, rising from Monday's closing price of 0.1000p.