Key points:
DWAC is down 22% premarket, DWACW 29%
This seems to be over concern about Trump's social SPAC
There's a vote today on whether to continue the experiment
Digital World Acquisition Corp (NASDAQ: DWAC) is of course the SPAC that Donld Trump's "Truth Social" is to merge with – or come to market through. The big issue today is that voting starts on whether that will even be possible. That there's a 22% fall in DWAC and a 29% in the Digital World warrants (NASDAQ: DWACW) is indicating that there's some worry about whether that vote will be won. Of course, do note that this is an entirely different vote from the midterms, and again from whatever it is that Trump is going to try to do in the 2024 Presidentials. This is a vote among the stockholders of DWAC, nothing more.

The specific issue is that there's a time limit on a SPAC. A SPAC being, recall, a shell company floated on the markets in order to be available to do a deal. Investors put in cash – $10 per share almost always – and then the company exists, with a listing and a cash pile. This then goes looking for an acquisition of a private company. Merge the two and the private company now becomes public. Investors can, once the target is identified, withdraw their original cash – that's what largely happened to Buzzfeed (NASDAQ: BZFD) when it tried this trick – most people took their money back.
There is one more feature here which is what seems to be causing the uneasiness. A SPAC only has a limited lifespan. Usually that's two years – written into the original docs is the idea that if a deal doesn't happen within two years then everyone just gets their money back. That limit is approaching but the announced deal with Trump and Truth isn't ready yet. So, the current vote is to increase that allowable timespan in order to complete the deal. It's actually four extensions, one for 3 months, then another and so on.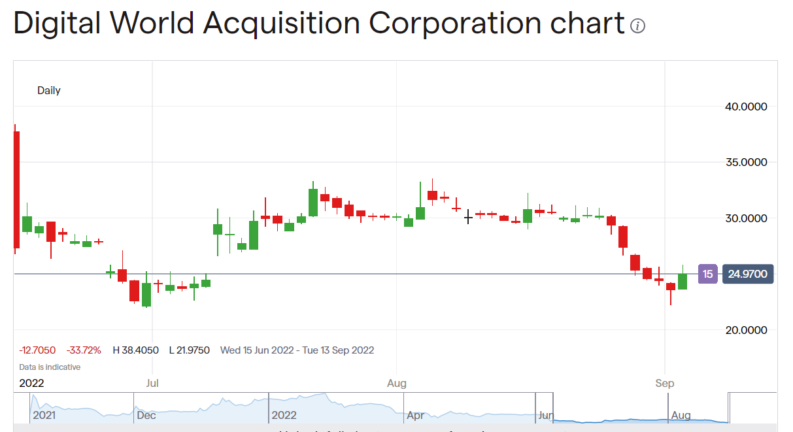 Also Read: Social Trading – How To Get Started
Added to this there's a certain worry about whether Truth Social itself is really ready to continue. There are stories of hosting bills running unpaid, of total engagement being well below hopes at around 500k daily users. It's early days yet of course but there's also a certain paucity of advertisers and thus of revenue.
As an adventure it has to be said that a new social network isn't a terrible idea. Partly simply because people keep getting thrown off Twitter. Parler seems to be surviving at least and has made it back into the Google Play Store apparently. The technology to run such network is now known, the source code to run one available on GitHub.
The big thing though is having some star attraction or reason as to why people will move across. After all, it's only when there's a crowd there that it actually becomes social media. That was the big – the one big – thing Trump might have brought to this party. It's also the likely determinant of long term success or not – whether he does bring that crowd.
The specific movements in DWAC today do seem to be tied in with the vote on whether to continue the SPAC or not. In the medium term it's much more about whether Trump can deliver that crowd?