Key points:
Vast Resources now have actual processing plants open
This is a significant derisking of the company's shares
When, even if, will they reflect this?
It's possible to think that Vast Resources (LON: VAST) are, or should be considered to be, undervalued. It's even possible to think of a few reasons why this would be as well. For the recent corporate history has been perhaps a little more tempestuous than we as investors would like. But that then offers us a trading opportunity. If other investors are put off by that turmoil then perhaps VAST is in fact undervalued as against objective considerations?

This is indeed possible but it's something that does need to be properly tested. For example, we could look at events at Baita Plai and note that there's actual revenue here. We are not in the world of a junior miner desperately searching for something worth mining. Instead, there's a resource, a plant, operations and production. Similarly, the news release today is about the Takob Processing Project. Vast will receive a 12.5% royalty on non-ferrous production there. These operations do make Vast Resources different from most of the other junior miners on the stock exchange.
On the other hand, we can play that difference back the other way around. There's not the potential glory of making some vast strike either. For the sorts of projects that Vast looks at are these simpler ones. Precisely because the company looks at specific resources and finances/builds the process to extract there's not that likelihood – or possibility – of the world changing strike upon a Global Tier 1 resource.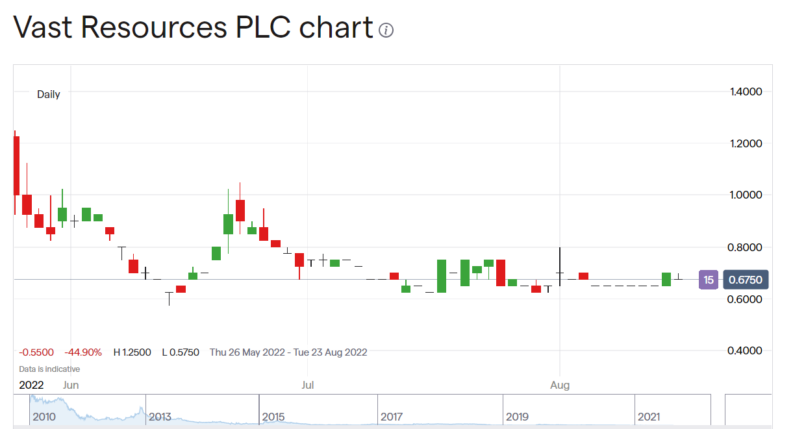 Also Read: The Best Copper and Mining Stocks to Watch in 2022
If we buy all of that – and it's close enough to the basics that it's a working thesis – then we should be valuing Vast Resources on likely numbers for output, not whatever might be found by exploration. The reason the VAST shares seem to languish below such a valuation is that there are so many more of them than there used to be. This is a result of the little contretempts with Atlas of course. Of course a company needs capital and precisely that Vast Resources was building processing plant, not exploring for possible deposits, meant that it was possible to raise that through debt. Unfortunately it was convertible debt which then converted – diluting the previous shareholders considerably. This is the likely reason for the low rating.
The thing is, that issue has now gone away. The debt is refinanced without the conversion option. The two plants are either producing or on the verge of it. We have lost both the overhang and are looking forward to a period of revenues. Of course, there's still risk – not all processing plants work exactly as designed. But we do seem to have been alleviated ot those two major risks.
It's possible, but only possible, that this derisking, both of the capital structure and of the production lines, will lead to a rerating of VAST shares. Long term shareholders will welcome this as they're 90% down over the past year. Maybe it will be possible to ride the recovery?