Chinese EV company Xpeng Inc – ADR (NYSE: XPEV) released its quarterly delivery numbers today, which were lower than expected as the global EV sector struggles. The company delivered 18,230 vehicles, 17.9% lower than the 22,204 EVs in Q4 2022.
---
YOUR CAPITAL IS AT RISK. 81% OF RETAIL CFD ACCOUNTS LOSE MONEY.
---
The delivery figures were much more alarming when compared to the 34,561 vehicles the company sold in Q1 2022. The lower delivery figures come in the face of steep price discounts by industry leader Tesla, leaving many of its competitors reeling to catch up.
Top Broker Recommendation
YOUR CAPITAL IS AT RISK. 68% OF RETAIL CFD ACCOUNTS LOSE MONEY
XPeng generated total revenues of RMB4.03 billion (US$0.59 billion) during the quarter, marking a significant 45.9% decline compared to Q1 2022. However, the decline was much smaller at 21.5% compared to Q4 2022 due to the slightly higher delivery numbers.
There was a significant decline in the company's gross margins, which fell to 1.7% in Q1 2023 compared to 12.2% in a similar period last year and 8.7% in Q4 2022. The lower margins were driven by negative vehicle margin, gross profit/loss as a percentage of the vehicle sale price, which was -2.5%.
XPeng made a net loss of RMB2.34 billion (US$0.34 billion) during Q1 2022, compared to an RMB1.70 billion profit during a similar period last year.
These results provide further evidence that the EV industry in China is slowing after years of growth. Other companies like BYD and Nio have also reported slowing sales growth recently.
Mr He Xiaopeng, Chairman and CEO of XPENG, said: "During the first quarter of 2023, I took action to make changes to our strategy, organizational structure and senior management team decisively. I am fully confident in taking our Company into a virtuous cycle, driving product sales growth, team morale, customer satisfaction and brand reputation over the next few quarters,"
Adding:
"G6, the first production model built on XPENG's next-generation technology architecture SEPA2.0, will be officially launched in June 2023. I believe the G6 will emerge as one of the most popular, best-selling models in China's NEV SUV market segment with a price range between RMB200,000 to RMB300,000."
*This is not investment advice.
XPeng stock price.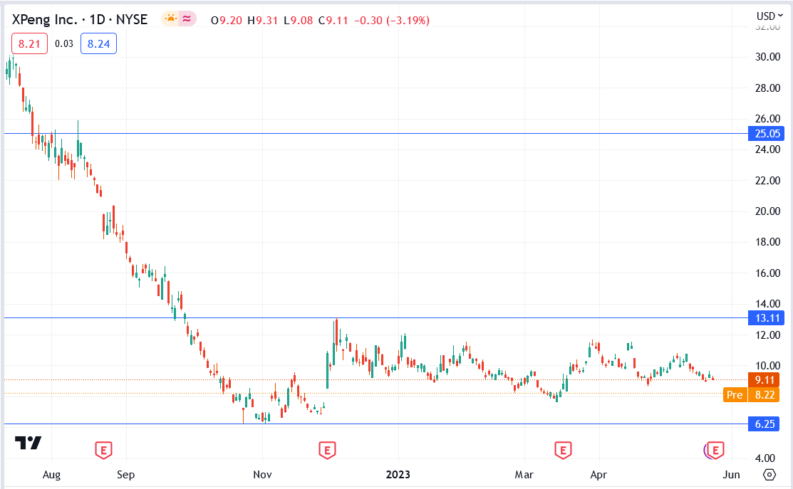 XPeng stock price fell 9.77% to trade at $8.22, falling from Tuesday's closing price of $9.11.
---
YOUR CAPITAL IS AT RISK. 81% OF RETAIL CFD ACCOUNTS LOSE MONEY.
---