500Investments is a world-renowned financial services provider offering a wide range of investment products, including forex, stocks, commodities, indices, and cryptocurrencies. Our review team noted that the broker uses the same level of encryption technology as international banks and online retailers, putting security among its most important priorities.
The company's primary goal is to unleash your trading potential through the use of cutting-edge technology and financial proficiency. That vision is built on the foundation of mutual trust between itself and the clients. It is striving to improve features and services continuously. Read more as we review 500Investments.
500Investments Review Navigation
#

500Investments Forex Review
| | | | |
| --- | --- | --- | --- |
| Min Deposit | App Support | Max Leverage | Trading Fees |
| $250 | Mid | 1:400 | Low |
When it came to forex trading, our review team was pleased to find that the 500Investments trading products are diverse and cover more than 50 different currency pairs, ranging from majors, minors, and exotics. You can trade popular pairs like EUR/USD or GBPUSD, as well as less liquid pairs like EUR/NOK, USD/PLN, or USD/MXN.
The broker has many different FX instruments, so that should provide you with enough options when looking for opportunities in the forex market. Currencies are volatile again in 2020 and traders will benefit from a diverse trading offer.
The forex trading costs with this broker are mostly in line with the market averages. 500Investments has fixed spreads for FX contracts and offers 0 Commission for $1m trading volume. At the same time, trading costs will depend on the account type chosen by each customer. Basic and Silver account holders benefit from industry-leading prices, while gold and platinum account holders will have active trader prices. Only Diamond accounts will benefit from VIP prices.
FX trading is available with up to 1:400 leverage. At the same time, you should not forget the overnight swap, applying when you hold a position past midnight.
#1

500Investments CFD Review
| | | | |
| --- | --- | --- | --- |
| Min Deposit | App Support | Max Leverage | Trading Fees |
| $250 | Mid | 1:100 | Low |
Commodity prices are very active and 500Investments covers 18 different instruments. If you want to trade gold, silver, oil, copper, natural gas, wheat, coffee, or other popular commodities, this is the broker to choose. The maximum leverage is 1:100 and spreads are competitive. You also need to be aware of the expiration dates for each contract.
#2

500Investments Stocks Review
| | | | |
| --- | --- | --- | --- |
| Min Deposit | App Support | Max Leverage | Trading Fees |
| $250 | Mid | 1:100 | Mid |
During our review, we've found 500Investments covers hundreds of different instruments based on global stocks. You can trade stocks from the US, Germany, Canada, Australia, and many other big countries.
If you are interested in trading Apple, Google, Alibaba, Honda Motors, United Health, and shares of other popular companies, this broker makes sure there are enough instruments to satisfy the demand. With so many stocks available, it is easier to diversify and build a balanced portfolio, so the risk won't be concentrated in a single trade.
#3

500Investments Social Trading Review
| | | | |
| --- | --- | --- | --- |
| Min Deposit | App Support | Max Leverage | Trading Fees |
| $250 | Mid | 1:400 | Mid |
One of the many features integrated into 500Investments' proprietary trading platform is a social trading facility. Social trading, also known as copy trading, lets you follow prominent traders on the platform and to essentially copy or match their trading strategy with your own investment account. This is a very popular feature these days and now comes as standard on most platforms. While not quite as full-featured as some of the dedicated social trading platforms out there, the version offered by 500Investments offers just enough functionality to meet your basic needs. If you want something a little bit more robust when it comes to social trading, you might be better off with a dedicated platform.
#4

500Investments Crypto Review
| | | | |
| --- | --- | --- | --- |
| Min Deposit | App Support | Max Leverage | Trading Fees |
| $250 | Few | 1:20 | Mid |
As with most other platforms these days, 500Investments has gradually expanded into the cryptocurrency trading scene, and now all trading accounts have instant access to trade cryptocurrency CFDs on the live markets. By conducting a this 500Investments cryptocurrency review, we have found that it provides access to a large range of cryptocurrency-related CFDs, including both crypto-to-fiat and crypto-to-crypto contracts. The majority of the major cryptocurrencies are covered, which gives you access to trade CFDs on bitcoin, ether, litecoin, XRP, ethereum classic, dash and a number of other tokens and coins.
What did our traders think after reviewing the critical criteria?
Fees
500Investments is committed to providing a commission-free environment. That is why customers pay 0 Commission for the first $1m trading volume. Deposits are free of charge, while only withdrawals are subject to a fee.
The broker is fully transparent and provides information on the fee structure on its website. Feel free to check for more details by searching the page or the terms and conditions document. This is a positive point for the company since you will be well informed before opening an account.
Account Types
This 500Investments review uncovers a diverse offer when it comes to account types. You can choose between Basic, Silver, Gold, Platinum, and Diamond accounts, each with a different set of features. You can also trade on a demo account, to become familiar with the trading process or to test different strategies. As such, 500Investments has found the perfect combination to satisfy different types of traders, depending on their finances.
Platforms
Speaking of the platform, the broker is offering access to proprietary web-based trading software, compatible with any device, as long as it comes with a modern browser. The platform integrates many usual and personalised features such as social trading, price alerts, trading reports and one-click trading.
TraderSoft is the 500Investments mobile app designed for both Android and iOS devices. It gives the freedom and flexibility needed to trade effectively in a volatile market, downscaling perfectly to a smaller screen so functionality and performance won't be lost.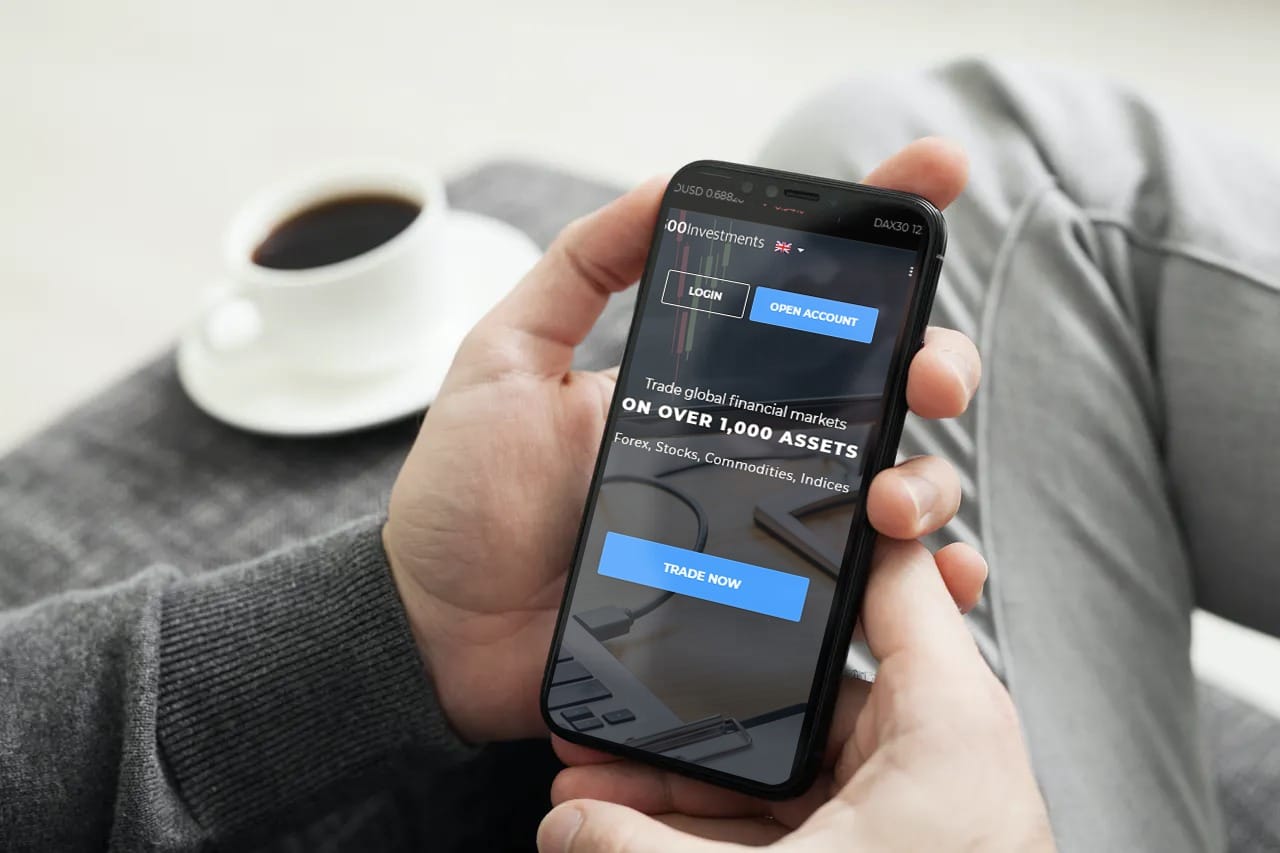 Usability
The trading offers designed by 500Investments are designed to suit the needs of all traders, including absolute beginners. That is why the platform comes with a user-friendly interface. There is also plenty of free information for customers wanting to use the services or to learn how to trade. The broker succeeds in making trading available for the masses. Everything is intuitive and simple, which means there's no advanced knowledge required to start.
Customer Support
500Investments provides three email addresses on its website to stay in close touch with customers — finance, support, and compliance. At the same time, traders wanting to get in touch with a representative can do so via a mobile phone number. There's no live chat feature, but there is enough to ensure smooth communication between customers and the company.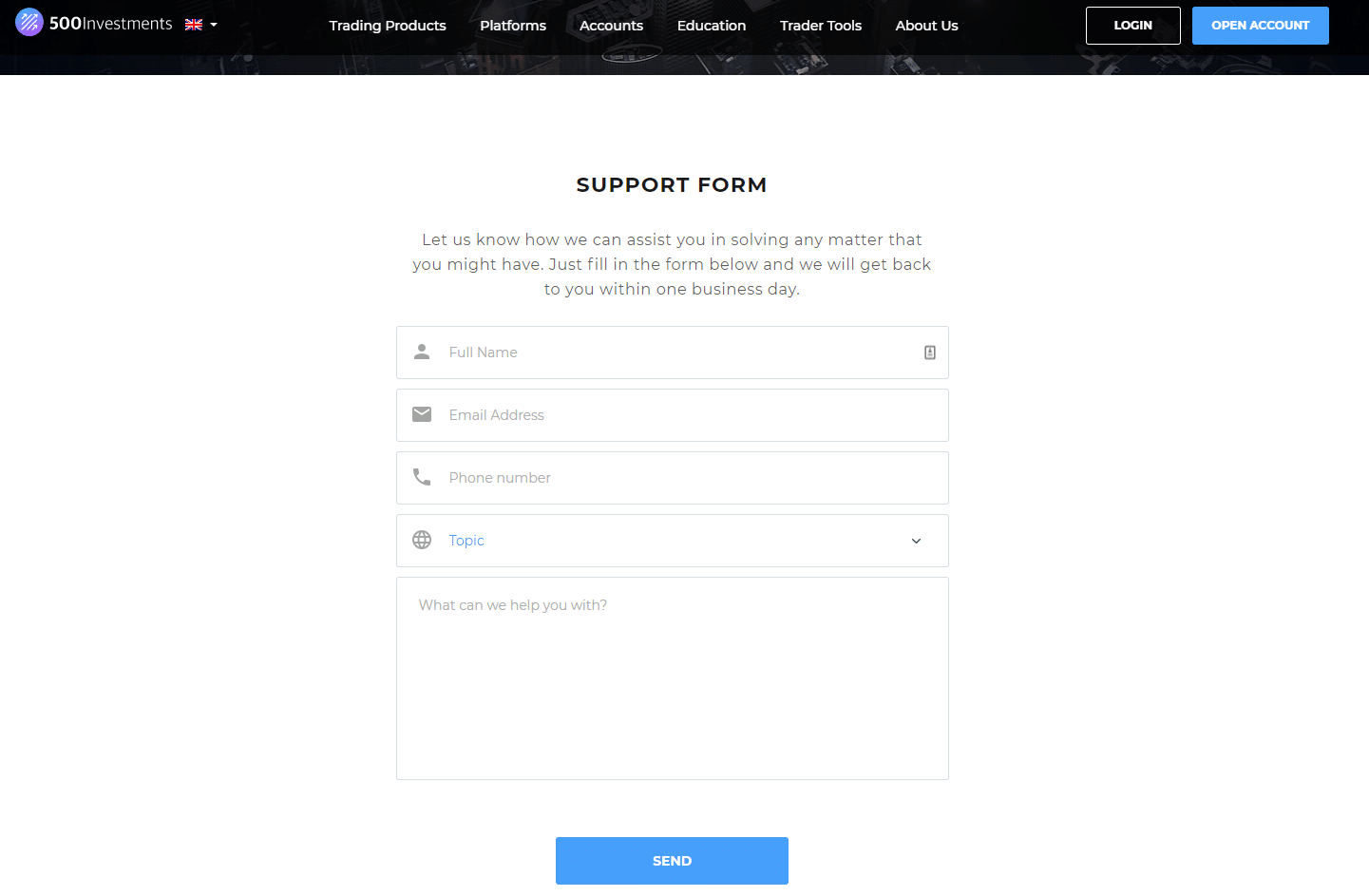 Payment Methods
Our review was pleased to find that traders can make deposits via credit/debit cards. At the same time, bank wire transfers and BPay are supported. The minimum deposit via credit card is 250 in USD/EUR/GBP, and there is no fee associated.
The same methods can be used for withdrawals. The minimum withdrawal amount is $100, and the company promises to process all withdrawals within seven business days.
Card Payments: 500Investments accept both credit and debit card payments when topping up your account. You should note, however, that while 500Investments might not charge fees on deposits or withdrawals using this method, your card carrier may apply additional charges.
Bank Wire Transfer: 500Investments accepts both domestic and international bank transfers. It's important to note that your bank may apply additional charges, with transfers taking between 3–4 business days to process in full.
E-Wallets: 500Investments provides support for a number of electronic payment and e-wallet solutions, including BPay. There may be a charge associated with this method depending on the e-payment provider you use, although this option is the fastest method available.
Best Offers
When it comes to trading bonuses, our review team was pleased to find 500Investments is providing sign-up bonuses to give new customers an extra boost to their trading balance. You must note, however, that trading bonuses are limited in time and are subject to terms and conditions.
Regulation and Deposit Protection
One of the areas 500Investments could do with some improvement is in making its regulatory information readily available. While we have no doubt that it is fully above board and takes customer protection very seriously, this information was quite difficult to find. Going forward, it would be good to see 500Investments put this information in a more central location. It is registered in St. Vincent and the Grenadines (SVG), a well-known offshore zone. However, it isn't clear what financial regulator 500Investments comes under the jurisdiction of.
Awards
As a broker that is was only recently set up — being founded in 2019 — we can't find too much information about previous industry awards it has won. We should remember, however, that this isn't necessarily a major issue as awards are only an indicator of the quality of the service on offer. As such, rather than only looking at how many industry awards 500Investments has won, we should focus on the quality of service offered.
Our review concludes that 500Investments is an online trading brand providing access to a wide range of trading functionalities. The broker covers 1,000+ different assets, has built a proprietary platform and an overall trading offer designed to satisfy the needs of traders from all around the world. Except for residents in the US and Canada, anyone can open an account and start trading with 500Investments. This broker represents an option for traders looking for enhanced trading capabilities.