Test Message
Founded in 2018, AdroFx is a relatively new forex broker on the global scene. Its headquarters are in the UK, and its primary licensing agencies are the Vanuatu Financial Services Commission (VFSC) and the Financial Services Authority (FSA) in Saint Vincent and the Grenadines.
Leverage tends to be at higher levels, with AdroFx offering 1:500, and bonus plans can proliferate the landscape. For example, there is currently a 100% sign-up bonus offering, and there are also seasonal contests and promotions from time to time.
AdroFx also offers a wide range of trading instruments; a variety of trading platforms, which we will cover later, including MetaTrader 4 (MT4); a broad-based trading library of educational materials; tight spreads and no commissions; and your deposit funds are segregated in separate bank accounts. All data, both personal and trading related, are encrypted, such that privacy is never an issue.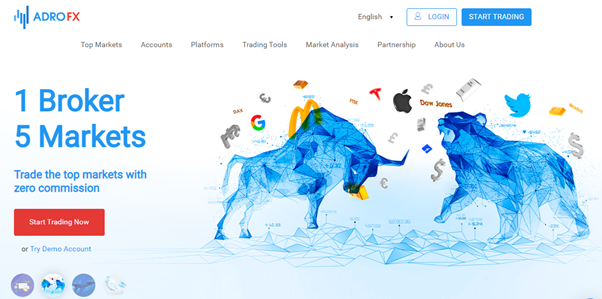 This broker provides a free demo account and also four individualised account classifications to meet the needs of a discriminating client profile. All trading in forex, stocks, crypto, indices and spot medals are via contracts for difference (CFDs). Current bans by the FCA in the UK and ESMA in Europe related to retail customers trading CFDs do not apply to this broker. Minimum spreads for a Premium account for the 'EUR/USD' currency pair are as low as 0.4 pips but are 1.4 and 2.4 pips for Standard and Micro accounts.
Forex traders who prefer not to be restricted by overly protective regulatory agencies have sought out forex brokers in more lenient jurisdictions such as Vanuatu, Saint Vincent and the Grenadines. AdroFx is a new entrant in this field with a team of professionals with 60+ years of experience in financial markets, banking, and fintech. The firm is global in nature and has 100+ employees to serve your interests.
AdroFx.com Review Navigation
#

Forex
| | | | |
| --- | --- | --- | --- |
| Min Deposit | App Support | Max Leverage | Trading Fees |
| $25 | Good | 1:500 | Low |
This firm offers 60+ currency pairs for CFD trading. While the pairings are primarily major currencies, they do include a few minor ones. These minor ones include the Turkish lira (TRY), the Mexican peso (MXN), the Hungarian forint (HUF), the South Africa rand (ZAR) and the Polish złoty (PLN). Leverage of up to 1:500 is offered on all account types, but the amount may vary by your jurisdiction.
#1

Stocks
| | | | |
| --- | --- | --- | --- |
| Min Deposit | App Support | Max Leverage | Trading Fees |
| $100 | Good | 1:500 | Mid |
AdroFx offers a limited portfolio of corporate stocks, some 42 as of April 2022. The assets, however, are focused on the most popular shares such as Apple, Google, Facebook, Amazon and Coca-Cola. The offerings at this time appear to be limited to the New York Stock Exchange and the Nasdaq. Both blue chips and high-tech stocks are presented. Micro accounts cannot trade stocks. Leverage of up to 1:500 is offered on all account types, but the amount may vary by your jurisdiction.
#2

Social Trading
| | | | |
| --- | --- | --- | --- |
| Min Deposit | App Support | Max Leverage | Trading Fees |
| $100 | Good | 1:500 | Mid |
In order to access the social trading feature offered by AdroFx, the trader must use its Allpips trading platform. The community includes thousands of participants, and experts can be selected for each of the five tradable markets: forex, stocks, crypto, metals and indices. You also control how you participate, whether it is manual copying, semi-automated or fully automated. A registration process is the first step. Leverage of up to 1:500 is offered on all account types, but the amount may vary by your jurisdiction.
#3

Crypto
| | | | |
| --- | --- | --- | --- |
| Min Deposit | App Support | Max Leverage | Trading Fees |
| $100 | Regular | 1:500 | Mid |
AdroFx does offer CFD trading with tight spreads and quick execution for cryptocurrencies, and the selection extends to four tokens at the moment: Bitcoin, Ethereum, Ripple and Litecoin. Micro accounts cannot trade in crypto. Leverage of up to 1:500 is offered on all account types, but the amount may vary by your jurisdiction.
What did our traders think after reviewing the key criteria?
AdroFx Fees
Spreads are tight, and there are no commissions.  Still, the quoted averages on the website are also tied to your account classification, which depends upon your deposit amount upon initial funding. For the 'EUR/USD' currency pair, the Pro account can be as low as 0.3 pips, but, a 0.4 pip spread is the average for the Premium account. For the Standard and Micro accounts, the average spreads rise to 1.2 and 2.0 pips, respectively.
There are no fees that pertain to deposits or withdrawals, as long as there have been no inactivity fees, account abuse or failure to meet bonus commitments. There are inactivity fees of €/$/£5 that apply after six months. The company reserves the right to make these decisions about your account behaviour before it considers collecting additional fees.
Account Types
AdroFx offers 10 account categories, and a free demo account, four linked to the Allpips platform and six to the MT4 platform.
The Allpips accounts are:
Crypto – this will appeal to crypto traders and can be funded with either Ethereum or Bitcoin with a minimum deposit of $100.
Fiat – this is a similar account to the Crypto with a minimum deposit of $100, but it can only be funded with fiat currency.
Both the Crypto and Fiat accounts are suitable for beginner traders or for those who would like to take advantage of social or copy trading with zero commission.
The final two accounts are:
The Cent requires a $25 minimum deposit. Both accounts are suitable for those new to trading, particularly if they wish to take advantage of social or copy trading.
In addition, the four accounts on the MT4 platform are:
Micro
Standard
Premium
Pro
Maximum leverage is the same for each category for all accounts, though the amount may be adjusted depending upon your legal jurisdiction. The Micro account is for beginners and requires only a $25 minimum deposit, but it is limited to trading forex, gold and silver CFDs, and spreads tend to be higher.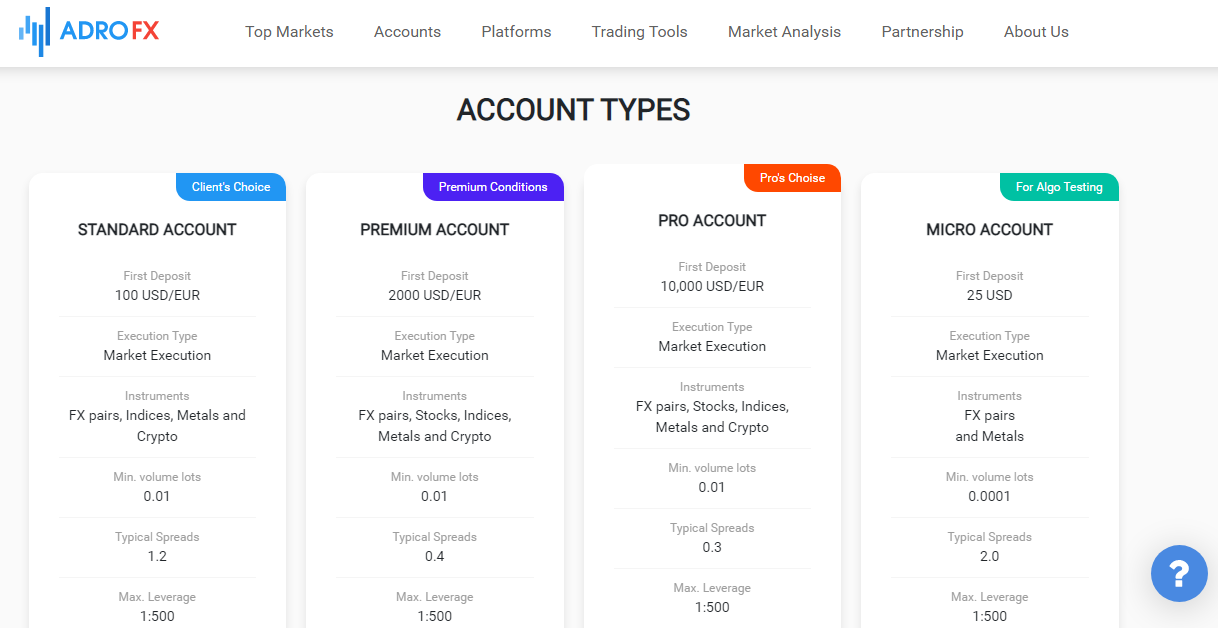 The Standard and Premium accounts are designed for the average trader, have minimum deposits of $/€100 and $/€2,000, and access to the entire trading portfolio. Minimum volume trades are 0.01 lots, and typical spreads range from 1.2 pips for the Premium account to 0.4 pips for Standard account holders. The Pro account, which requires a deposit of $/€10,000, is the top of the line designed for experienced traders.
Platforms
The Platform tab on the firm's website details six separate trading platform options, which include MT4 products and customised Allpips software systems for social trading and direct web access functions:
Social Trading Allpips: This platform is offered as the gateway to the broker's social trading offering. AdroFx has assembled a large community that participates in copy trading. There are three modes of operation, from manual to semi-automatic to completely automatic, where you choose your experts with strategies that are acceptable to you.  Then the system replicates trades automatically on your behalf.
Web Platform Allpips: This access service is direct from the internet cloud with no need for downloads or software updates. The technology works on all devices and can access all trading products with one-click trading.
MT4 Desktop: The most popular trading platform in forex trading is the standard issue for AdroFx. The package includes 50 indicators, graphic analysis tools, algorithmic trading, one-click trading and access to the MT4 community.
MT4 for iOS: Are you a devoted Apple device user? You can go straight to the Apple App Store and download the applicable software for your iPhone or iPad.
MT4 for Android: If you have a Samsung product, your Android phone or tablet can be easily set up to trade with AdroFx with one visit to the Google Play store. The features mimic its parent version, but the number of indicators has been limited to the 30 most popular. The software will direct you to log into your account with AdroFx, and then you are ready to trade anywhere, at any time, as long as you have an internet connection.
MT4 Multiterminal: Do you have multiple accounts and want to issue trading orders in a coordinated fashion? MT4's multiterminal approach will allow you to manage multiple accounts simultaneously.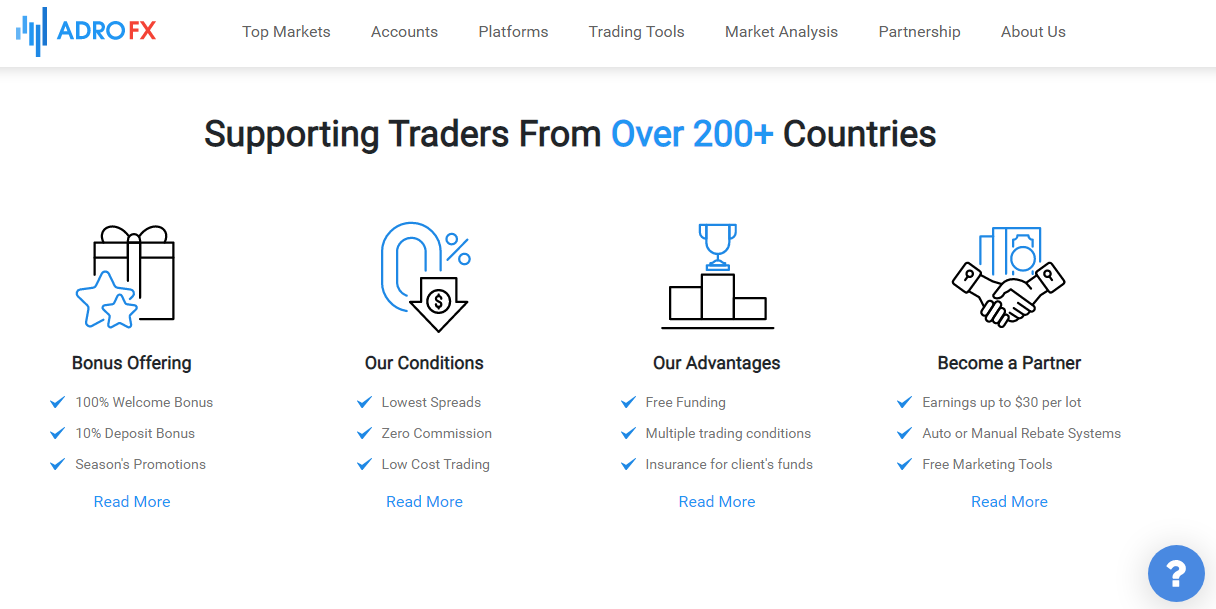 Usability
Whether you prefer to use the MT4 platforms offered as standard or wish to try out the broker's proprietary Allpips software, you will find a straightforward approach to trading in both cases. Due to top-tier liquidity providers, one-click trading is a given, and execution speeds are quick. MT4's track record for performance and ease of access to information has been an industry hallmark, but Allpips is also worth a try, especially if social trading is an interest of yours. This direct web access platform is easy to learn and uncomplicated.
Customer Support
Customer service is available 24/5 and is offered through three main channels. Support can be accessed via email, a dedicated UK telephone number (+44 203 504 2223), or through live chat. However, the live chat service must first be reached by completing an email form.
Payment Methods
AdroFx has assembled over nine different payment methods for your use, depending upon your situation, local banking support, and availability in your resident location. A standard wire transfer from your bank may delay the receipt of your proceeds for a day or two, but the other payment schemes are there to permit instant credit within an hour. Payment intermediaries include Skrill, Neteller, STICPAY, Payeer, and more.
Withdrawal requests will be processed within 24 hours of submission, and there will generally be no charges, except under certain conditions. Each payment intermediary has a minimum. If you withdraw less, you may be subject to a 3% fee. A fee will also apply if your account has been inactive for six months, which is charged at $5.
Best Offers
AdroFx operates out of a jurisdiction that has chosen not to enforce severe curbs on marketing programmes designed to attract and retain loyal customers. For this reason, the firm has various promotional programmes from time to time. Currently, there is an automatic extension of an additional 30% bonus for any deposit recorded to your account for this broker. This amount is in addition to a 100% bonus for opening a new account. Lastly, AdroFx has a 'Refer a Friend' programme and also has various trading competitions on occasion.
Regulation and Deposit Protection
AdroFx is licensed by and complies with the regulations published by the Vanuatu Financial Services Commission (VFSC) and the Financial Services Authority (FSA) in Saint Vincent and the Grenadines. Customer deposits are also segregated in separate bank accounts, as per international standards.
Awards
AdroFx is a relatively new broker with only three years of experience under its belt. As such, it has yet to win any industry awards.