Fees
Trader Rating
Similar to other brokers in the UK, AJ Bell Youinvest offers a fee structure that is dependent on the number of trades placed the previous month. For 0 to 9 traded stocks, investment trusts, gilts, and bonds, there is a £9.95 charge per trade. However, the fee falls to £4.95 per trade if you make ten or more trades in the previous month.
The broker charges a very low £1.50 per trade for funds and unit trusts. Asides from the trading fee, if you have a SIPP or ISA account, there is a 0.25% per year charge on the shareholdings.
There is a maximum custody charge of £7.50 per quarter on Dealing and ISA accounts, while SIPP accounts have a maximum fee of £25.00.
Charges for holding funds are different depending on the number of funds you have with them. These charges can vary from 0.25% for £0 to £250,000, 0.10% for holdings of £250,000 to £1 million, and 0.05% for £1 million to £2 million.
There is no charge for holding funds over £2 million, which is the industry standard.
Account Types
Trader Rating
AJ Bell Youinvest has four different account types, with each one tailored to suit the client's needs and goals. The types are:
Dealing Account: This can only be opened and operated by a person above the age of 18. It has no limit on its annual savings. It provides the opportunity to invest in a full range of funds, shares, bonds, and trackers. You can access your funds at any time. However, this account is usually subject to capital gains tax.
Individual Savings Account (ISA): Again, you can only open this account if you are over the age of 18. It has a maximum annual saving limit of £20,000, and there is zero government or employer contribution. You can access your funds at any point in time.
Self-Invested Personal Pension (SIPP): This can be opened and operated by any age group. It has a maximum deposit of £40,000 per year with a 20% tax relief, which is equivalent to a 25% bonus. Higher rates of tax relief can be accessed and claimed separately.
Depending on individual employers, there can be employer top-up on your SIPP account. Owners of these accounts can invest in a full range of funds, shares, bonds, and trackers. It is 25% tax-free. However, it is still subject to income tax, and you cannot access the funds until the age of 55, which will increase to 57 by the year 2028. Exceptions are, however, made in cases of ill health.
Junior ISA: It can only be operated and opened by people between the ages of 18 and 39. The limit is £4000 yearly, but all ISAs have a general limit of £20,000. It enjoys a 25% bonus, which is a maximum of £1000, no employer top-up, and you can invest in a full range of funds, shares, bonds, and trackers. It attracts an early penalty of 25% if withdrawn for any other reasons apart from to buy your first house, retirement at 60 years old, or in cases of a terminal illness.
Platforms
Trader Rating
The company's platforms bear a lot of similarities to other UK online investment platforms in terms of functionality. It is data-driven and has a tab for viewing charts, performance, key ratios, financials, sentiment, and news.
In terms of its user interface, it is one of the best ETF platforms available.
The charting tools for their platforms are above average, and they offer ten different technical analysis indicators. However, they do not provide the ability to save an individual chart or a chart template.
The AJ Bell Youinvest mobile application is impressive, with great functionality. It is easy to use, and well-designed for use on both iOS and Android devices.
However, the one major disappointment in the mobile app is the absence of a technical analysis option.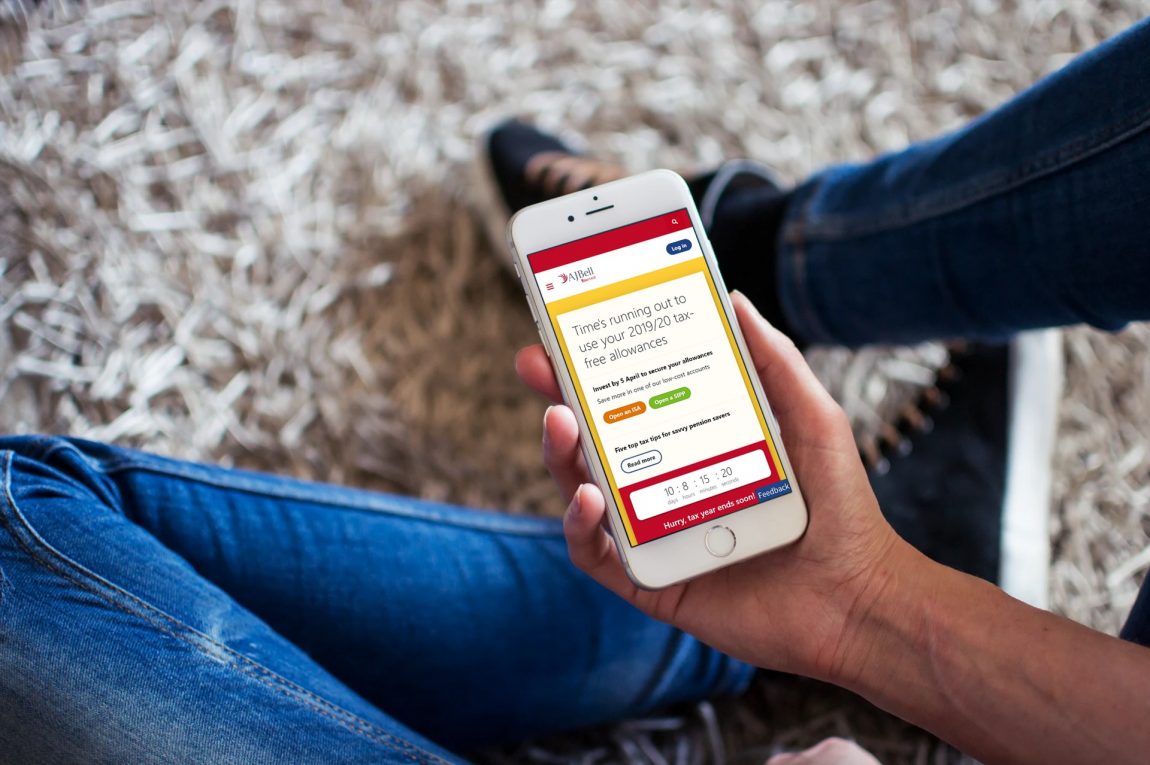 There is also the option of synchronising your platform to Google Assistant or Amazon Alexa to help provide a quick and detailed summary of your account.
Usability
Trader Rating
The homepage is very aesthetically pleasing upon first impressions. Overall the website is very colourful and full of excellent high-quality pictures.
The slider banner at the top of the page automatically slides through three well-designed slides with matching colours and imagery.
Generally, the webpage background is white with black text, but the headings and buttons stand out in red. The footer area has a white background with black and navy blue font.
The overall design is functional and looks efficient.
The current navigation menu they have is a useful tool and helps to easily access and search for the pages you need on the site.
Relevant information links like risk warnings, regulatory info, FAQs, Charges & Fees, etc., are arranged on the footer menu.
Testing the website on a mobile phone produced excellent results. All the columns were mobile optimised, enhancing legibility. However, the pictures that accompanied the three-slider banner were gone leaving only the written messages.
Customer Support
Trader Rating
AJ Bell Youinvest has different email addresses for various purposes, and if it pertains to customer services, the official email is enquiry@youinvest.co.uk.
For dealing with services, their email is dealingservices@youinvest.co.uk, and for transfer inquiries, the email is transfers@youinvest.co.uk.
They also provide the option of contacting them via online webchat, which is available from 8 am to 5 pm daily during weekdays.
The broker uses a secure messaging function when registered users contact them via the online form available on their website. Please note that this can only be accessed by logging in.
The company also has a telephone number that you can contact them on if you need help. Their customer service phone number is +44 (0) 345 5432 600, and it is available from 8 am to 5:00 pm (Monday– Friday).
For dealing services, call +44 (0) 345 3733 479, available from 8 am to 7 pm (Monday – Friday).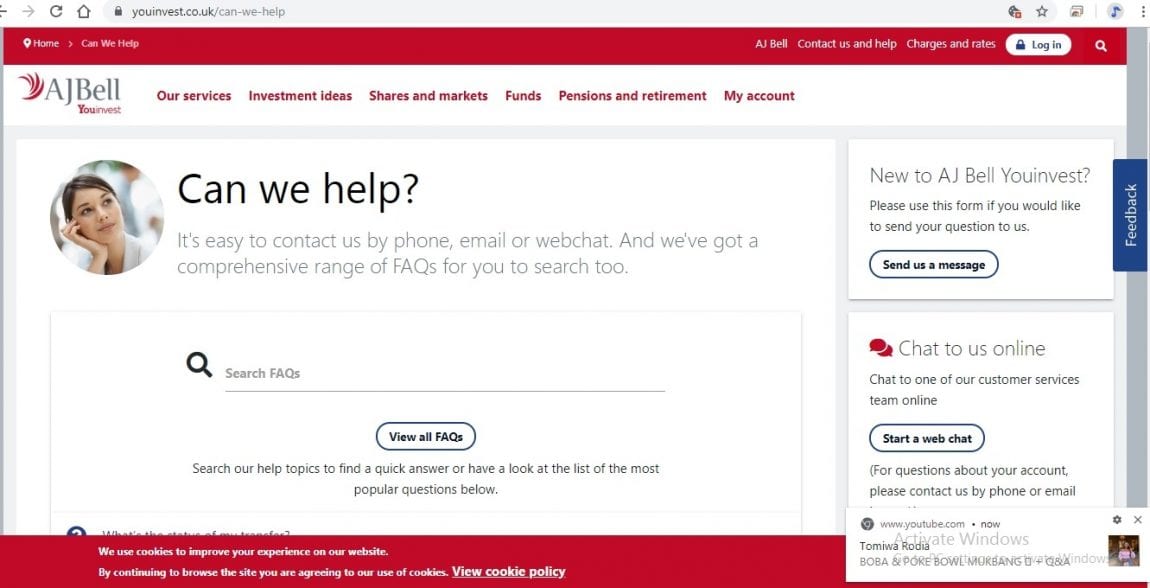 Payment Method
Trader Rating
The funding methods available are a bit restricted and are limited to only debit cards, bank wire transfers and personal cheques. Debit cards are usually instant, while cheques can take up to five working days to clear. There is also the possibility of setting up regular payments using direct debit. It might be more convenient for quite a number of their users if they offered some online payment solutions such as PayPal, Skrill, or Neteller.
Card Types: AJ Bell Youinvest states that the fastest way of funding your account is through Credit/Debit cards because the transactions are instant and reflect in your account immediately. The transaction limits are not defined, but there are no charges. This method is only suitable for deposits.
Bank Wire Transfer: You can use this method for both deposits and withdrawals. There are no charges for deposits and withdrawals using this method. Generally, it takes three working days to complete. There are no limits to bank transactions, but there is a minimum of £25 deposit required. The investor's bank will also collect transaction fees.
Cheque: The company accepts deposits via cheque as a means of funding your account. The processing time for a cheque is five business days, the minimum amount you can deposit is £25, while there is no maximum amount. They charge no fees for this method.
Best Offers
Trader Rating
AJ Bell Youinvest does not provide a demo account for practice purposes; however, the mobile apps are free to download and use. There is also an incentive for frequent traders because if you make up to 10 trades in a month, the following month, will see the trading fee drastically reduced from £9.95 to £4.95.
If your account balance is up to £4,000 or more, you will get access to their shares magazine online for free. The magazine covers:
Smart ideas on new investments
Expert analysis that could help you grow your wealth
Practical advice on personal finance issues
In-depth reporting on the events that move the markets
Breaking financial news
Regulations, Deposits & Protections
Trader Rating
AJ Bell Securities Ltd. is the owner and operator of AJ Bell Youinvest, which is a member of the London Stock Exchange. The company is authorised and regulated by the Financial Conduct Authority (FCA) no. 155593. So, they comply with the standards and regulations stipulated by the FCA.
They have website encryption with industry-standard security measures, which make sure that a client's data like passwords, credit card details, etc., are kept safe. The encryption also helps to ensure that hackers will not steal the data during internet transmission from the browser to the server.
The company has also complied with FCA regulation, which demands that they segregate clients funds from their own, protecting the client in case of broker bankruptcy.
Awards
Trader Rating
AJ Bell Youinvest won the award for the:
The company was awarded "Best Direct Platform 2018". It was given by "Platforum", a renowned UK investment research firm full of professional and seasoned analysts.
They won The Sunday Times "Best 100 Companies to Work for in 2018".
They received the "ADVFN international Financial Award" for 2018. ADVFN is a financial market website founded in the UK but has expanded to 10 countries. They provide online data services like news, analysis, charts, futures, etc., to investors.