Ayondo is a financial trading technologies company founded in 2008. Since being created, they have been able to achieve recognition in the field, earning them various awards. The company is based in Frankfurt, Germany, but they have grown significantly and now provide services in 195 different countries around the world.
In 2013, they were listed among the world's top 50 financial technology companies, in the FinTech 50. Their innovations have helped bring the world's financial markets to people around the globe.
On 26th March 2018, the company celebrated its achievement of becoming the first FinTech Company to be listed on Singapore's Stock Exchange (SGX).
They offer an excellent range of assets to trade and have a well-organised website that is easy to use.
AskTraders Broker of the Month
FXTM (trading under ForexTime Limited) is a multi-award-winning, leading Forex and CFD broker. Regulated by several financial authorities, including the top-tier Financial Conduct Authority (FCA) in the UK, FXTM not only provides a safe and secure place to trade but an industry-leading experience for traders of all levels. You can get started with just £100 or practice for free in a demo account
With the Ayondo social trading platform, those new to CFD trading and spread betting can choose their risk level and learn while copying more experienced traders.
The broker accepts traders from Australia, Thailand, United Kingdom, South Africa, Singapore, Hong Kong, India, France, Germany, Norway, Sweden, Italy, Denmark, United Arab Emirates, Saudi Arabia, Luxembourg, Qatar, and several other countries.
Unfortunately, traders from the United States and Canada are unable to join the platform.
Fees
Trader Rating
Ayondo's model is based on that of a market maker, meaning they take the majority of their fees from the spread between the buy and sell price.
There is no inactivity fee on the platform, which is unlike many brokers. The company also offers a 'Swap Free Account,' so you do not have to pay to hold a position overnight. Rollover costs are also only 50 per cent of standard spread costs, another great feature of the platform.
There is a charge of 2.5% p.a. on overnight rollover, and long positions will also attract financing charges.
The social trading aspect of the platform can also incur fees. You will have to pay a follower fee, depending on the remuneration model your Top Trader has selected. It could include up to a 25% performance fee, plus a 1% management fee.
Spreads are as low as 0.1 for the U.S. Volatility Index (VIX) but can be as high as 40 for the China 50 Futures. However, most spreads are closer to the lower end of the spectrum.
The spread for EUR/USD starts at 0.8 pips with the GBPUSD spread beginning at 1.1 pips. Share spreads are as low as 0.1% Var, and commodities begin at 0.01 points.
Leverage of up to 200:1 is permitted for traders outside the U.K. and E.U., but the company will enable you to adjust this to a level you are comfortable with.
Account types
Trader Rating
The company offers the option of opening either a demo or a live account.
LIVE ACCOUNT
It is a straightforward process to open a live account with the company. You can trade CFDs, spread bet, or you can generate revenue from other traders copying your trades.
To be able to open a live account, you will need to provide the broker with a form of government I.D., in the way of a scanned copy of your passport, or driving license. You will also need to provide them with a recent utility bill or bank statement that shows proof of your address.
A standard practice amongst most brokers nowadays is to make sure that you have enough knowledge to be able to enter the trading world. So, they will ask a few questions to determine the level of trading experience you possess before opening your account.
You should, however, be aware that there are different trading levels you will pass through. Each level has various benefits attached to it. When you have more than £500 in your account, you will receive a Money Trader's Badge.
DEMO ACCOUNT
The demo is perfect for a beginner who is not familiar with how the market works. It allows for practice without actually risking money. You can also familiarise yourself with the broker and begin to understand the markets you want to be trading.
Your demo login details will provide you with access to a wide range of features. One of these includes viewing the performance of a vast number of traders. Note that the demo is only functional for 21 days.
Platforms
Trader Rating
Ayondo Market's TradeHub live platform is functional and easy to get to grips with. They also offer various settings to help customise the platform to suit each user. The platform combines a friendly and straightforward interface, along with quick execution and the sophisticated technology that traders crave.
The design is simplified, so you can focus on what you want, with filters to guide you. To make the platform even more helpful, it includes not only state-of-the-art indicators and charts but also one-click trading from those charts.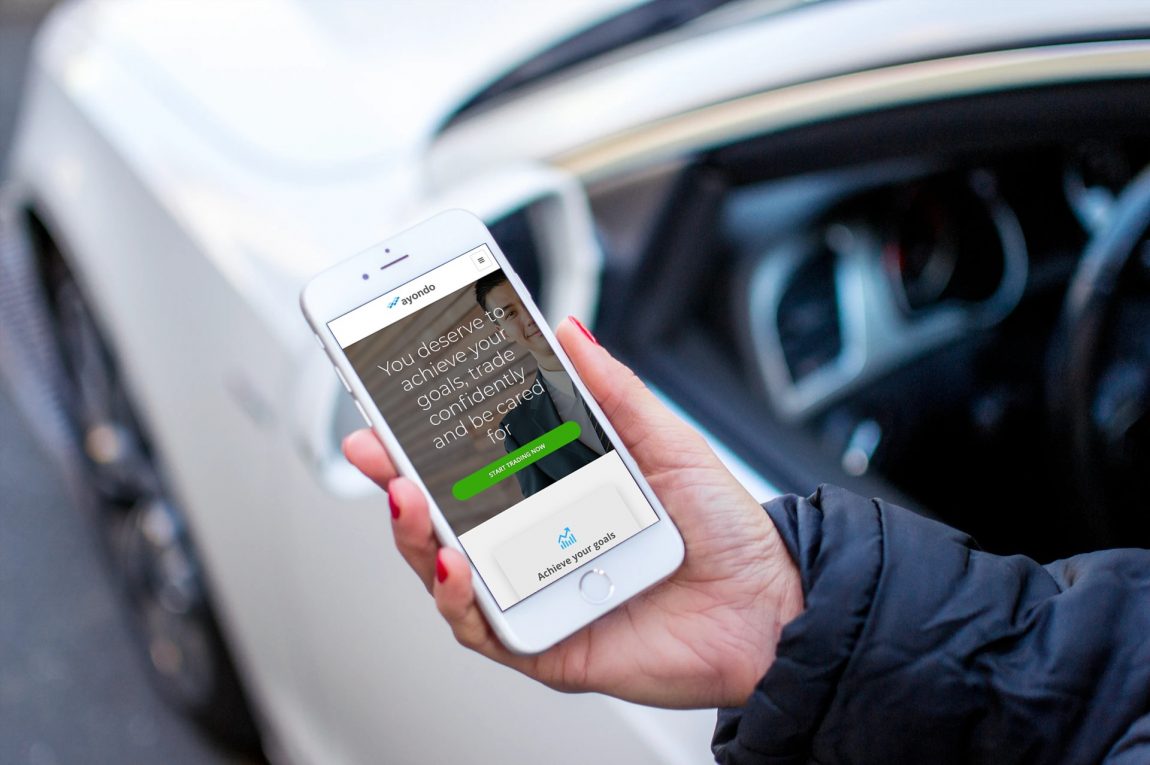 You can access TradeHub from anywhere, including on mobile devices. You can download the TradeHub application for free for your Android or iOS device.
Overall, its platform is perfect for beginners and traders who are accustomed to the MetaTrader 4 (MT4) and MetaTrader 5 (MT5) systems.
After searching online, we found that reviews of the apps were mainly positive. You have access to all of the features that are available on the laptop or desktop version of the platform. It is a great tool to have when you are on the move.
The web-based platform includes 13 chart types and more than 170 studies, it works on mobile devices and is customisable and browser-based without the need to download.
Usability
Trader Rating
They have a well-organised website, giving you the information that you need. There is a main menu on top of the page with categories for "Trading," "Learn," "PRO," "About," and "Contact."
Clicking on any of these links will take you to the relevant page, where you will find sub-pages listed both at the top, just below the main navigation bar, and on the left side of the screen. This organisational method is intuitive for finding information without wasting time or getting confused.
The overall design of social trading part of the platform is professional, with lovely use of white, light blue, and black. The website is available in six different languages to appeal to a broader audience.
Customer Support
Trader Rating
The company goes above and beyond to provide adequate support for their clients. You can contact customer service via live chat, email or phone. You can also make a client service request at any point and have it dealt with the following business day.
Traders in Frankfurt, London, and Singapore have the advantage of physical service desks. There are personalised guided tours available on the platform given by one of the teams of experts.
In addition to online trading 24 hours a day, there is even the option of phone trading, which is rare in modern trading brokerages.
The company also offers "TeamViewer," which is remote access support to speed up troubleshooting processes. Additionally, they have numerous tools that are likely to provide traders with answers to questions before they have to contact support. There is an entire learning section that includes user manuals and an FAQ section that has the right amount of detail, plus a glossary.
Support is available in the following languages: English, German, Spanish, Chinese, and Arabic.
Payment Methods
Trader Rating
Ayondo does not offer a wide range of options for users to deposit or withdraw funds. It provides the basic methods, and this is one area that the company lacks in.
You can deposit money into your account using your credit or debit card, which will give you immediate access to the funds. There is no fee for deposits using this method unless your credit or debit card was issued outside the EEA, in which case there is a 1.75 percent transaction fee.
You are only able to withdraw money via the same method that you used to deposit them in. The preferred method is always a debit/credit card. However, processing a withdrawal can take up to five business days.
Best Offers
Trader Rating
Ayondo regularly runs a range of welcome bonuses and offers which sometimes include 25% cashback deals. However, the company does not have a refer a friend scheme.
Those who do not have a social trading or demo account can take advantage of the portfolio simulator to get a feel of Top Traders' portfolios.
Once you sign-up, you also get access to the charting package mentioned earlier in the TradeHub platform.
At any given time, you can also view upcoming webinars that you may want to attend. They cover a range of topics, such as social trading, general trading, and more.
Regulations, Deposits and Protections
Trader Rating
Due to an increase in scams and hacking, it's essential to check the safety and security of your data. Fortunately, the answer is yes.
The full company name, Ayondo markets Limited, is regulated and authorised by the FCA, Financial Conduct Authority, within the U.K under the registration number 184333. There is also Ayondo portfolio management GmbH, which the German Financial Supervisory Authority, BaFin, regulates, and authorises.
In addition to the standard FSCS coverage, their social trading platform provides clients with free extra insurance of up to £1 million per client.
The company has multiple offices globally, in London, Frankfurt, Singapore, Madrid, Barcelona, and ZUG, Switzerland. Additionally, the company is listed on the Singapore Stock Exchange.
Awards
Trader Rating
In 2013, the company made the FinTech 50 list, which is the world's top 50 companies in the field of financial technology. In 2016, Ayondo won the award for the "Best Social Trading Platform" from the 17th MENA FFXPO (International Financial Forum & Expo) in Dubai.
That same year, it earned the ADVFN International Financial Award for the "Best Social Trading Platform." The awards continued in 2017, with Broker-Wahl honouring the CFO and the platform winning the title of "Best Forex Social Trading Broker" from the U.K. Forex Awards.
Based on the number of honours for their Social Trading platform, it is clear that independent parties, as well as reviewers, appreciate all that the platform has to offer. They have a well-organised platform that is filled with features, providing options for both web-based and mobile versions and support for numerous languages.