Is an online investment company that is based in what many consider to be the global financial capital of the world, New York City. This review examines whether traders/investors should consider the company as a tool to help manage their money. For those who might be unaware,
The company was founded by two individuals in 2008. Jon Stein is a Columbia MBA graduate, and Eli Broverman was a Google software engineer prior to launching Betterment. The company has received funding from notable investors such as Bessemer Venture Partners and Menlo Ventures. Bessemer Venture Partners has invested in high-profile IPOs like Yelped, Linkedin, and Skype. Menlo Ventures has invested in over 400 companies such as Uber, Gilead Sciences, and Roku, Inc.
Betterment Review Navigation
#1

ETF Review
| | |
| --- | --- |
| Max Leverage | Trading Fees |
| 1:30 | Mid |
Betterment is focused on ETF trading – but here's the issue: if you are interested in hands-on investing, isn't the platform for you. The robo-advisor will actually pick ETFs based on the questions you answer and the assets that you wish to allocate. Ultimately, is focused on stocks and bonds. The entire platform is designed to customize portfolios according to your needs and preferences.
Also is a registered investment advisor as well as a broker-dealer. The company has been quite successful, and currently has billions under management. As of April 2019, had over $16 billion assets under management (AUM). The platform offers automated investing options, and is often categorized as a "robo-advisor."
Broker offers much more than many other management platforms. Specifically, offers more than guided investing and offers cash management and retirement planning, as well. They are also a fiduciary, which means that they go out of their way to avoid conflict of interest.
What did our traders think after reviewing the key criteria?
Fees
Betterment fees are quite competitive. The platform offers .25% for the standard account. If you choose to opt for the  Premium account, this charge goes up to .4%. If you are a wealthy investor, you might be satisfied to know that accounts with over $2 million can get lower fees.
Account Types
There is a drawback – and it's the fact that it doesn't allow for direct indexing. This means that investors cannot purchase individual securities, which is one of the reasons Betterment might not make sense for those who want to be hands-on with managing their money. This Betterment review found that the lack of variety with respect to account types might be the biggest "negative" of the platform.
Socially Responsible Portfolio
More investors than ever are interested in investing in companies that align with their particular set of values and ethics. This review finds that now allows for this, which is a great option for traders who care about the social impact of their investments.
BlackRock Target Income Portfolio
This portfolio offers automated low-risk investing, which is ideal for those who are conservative with respect to investing and have a tremendous amount of money to be managed. If you are close to retiring, for example – this might be a logical choice for you.
Smart Beta Portfolio
This portfolio is interesting because it offers a higher risk but higher reward. This might be a solid choice for younger traders with disposable income who are hoping for higher returns.
Premium Account
Min Deposit: $100,000
Trading Fees: Medium
Trader Support: Good
Why choose a Premium Account? The answer is simple – you get access to financial advisors that can help guide your investment. If you are an investor that is interested in advice – this might be the platform for you. Unfortunately, this is only available to those who are willing to fund their account with a $100,000 minimum.
Platforms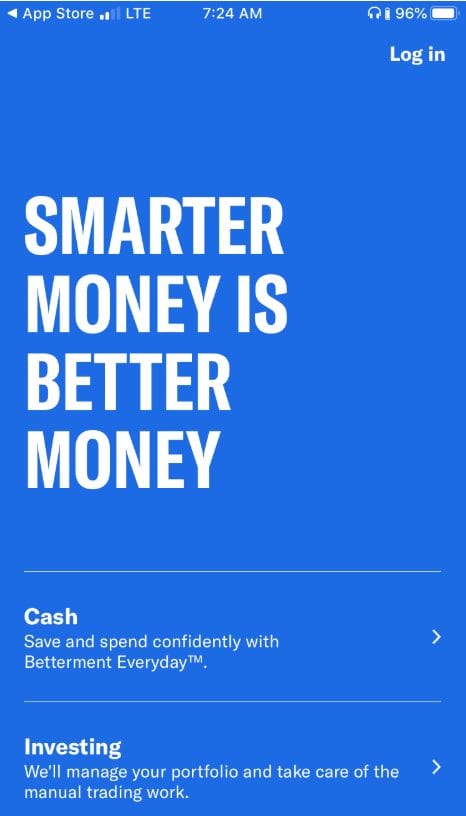 The Betterment website has a blue and white theme, and is very easy to use and navigate. The sections are clear, and users should have no problem finding whatever they are looking for. This Betterment review found that the website is easy to use even if traders/investors are not particularly tech-savvy. The website also offers a tremendous amount of information, for those who might have questions and/or concerns.
The app is clean, intuitive, and easy to navigate. It is extremely modern, sleek, and convenient. In fact, the average customer rating for the iOs app is 4.8/5, out of over 18,000 reviews.
Both the website and app are extremely easy to navigate, and they both also offer a significant amount of information. Many users praise both aspects of the platform.
Usability
There are many well-designed websites out there for money management platforms, but is extremely easy to use. The top tab offers straightforward information on "cash" and "investing" and a clear section for FAQs is available, as well.
The main page spells out the features quite clearly, and appeals to those who might have different goals for their financial future. The bottom of the website also clearly separates information, based on those who might want more education or information regarding investing. Both the Betterment website and app are extremely easy to use and navigate.
Customer Support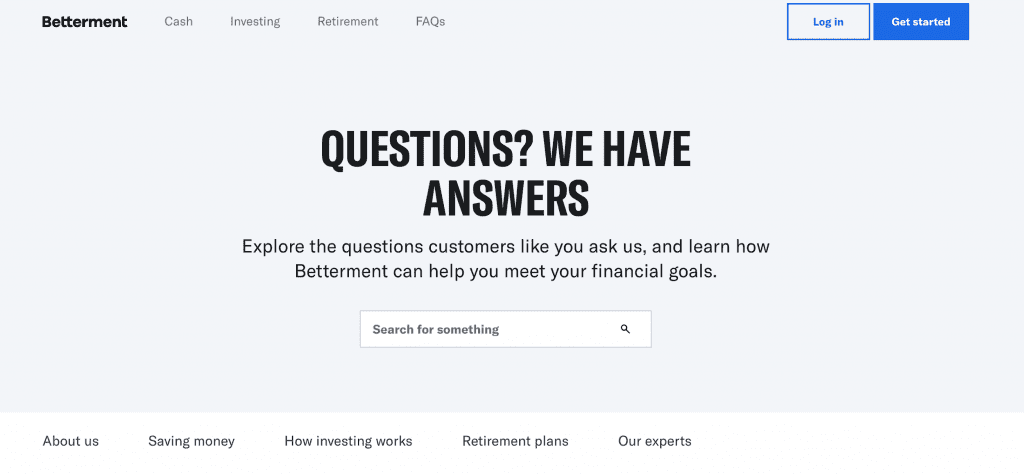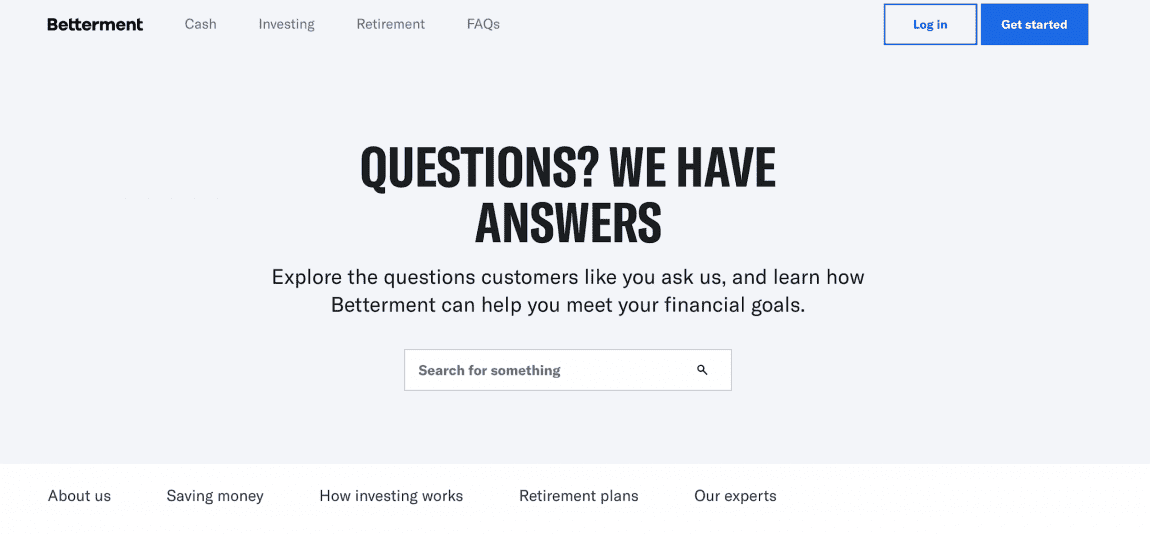 There are many financial companies and platforms that allow traders/investors the opportunity to invest in a meaningful way, and many of them are easy to learn. However, the truth is that many of these companies are noticeably lacking when it comes to customer support. For example, many of them only offer customer support on certain hours during weekdays. In this review, we find that the customer support is available 7 days a week, which is a huge plus for the platform.
If you wish to contact advisors for an unlimited amount of time, you will have to pay for a premium account. This seems quite reasonable. This Betterment review also finds the FAQ section quite informative, and covers many of the questions that customers might have. Instead of searching through sections and articles; investors can type in questions in a search box to find the answers that they need. There is also an informative section that breaks down the company, how it works, the fees involved, and how the platform operates as a whole.
Payment Methods
Some investors like to use platforms that offer a plethora of payment methods. Unfortunately, Betterment does fall short in this particular case. You must use an electronic transfer through an ACH, but no personal checks are actually used to fund the platform. This method is often preferred, but the truth is that credit cards and debit cards are not allowed. Some may find this frustrating. It also might take additional time if your wire transfer exceeds $300,000. A withdrawal usually takes 4-5 days.
However, broker does claim that you will soon be able to fund accounts directly through checking accounts. The company claims that this feature is coming soon. This review's trader rating for payment methods would be different if this feature was available now. Apparently, coming out with a debit card, as well. The company will offer a debit card where all ATM fees are reimbursed, and there will also not be any overdraft or other checking fees.
Best Offers
This review found that Betterment has a tremendous amount of information that could benefit traders at all levels. One of the great things about the website is that it helps investors find information for particular goals. For example, you can read about how you might want to invest if you want to make a major purchase, such as a home. In addition, there is information regarding investing for a safety net and/or retirement.
In this review, we found that the beauty of the information provided is that it is tailored directly for you. The website asks questions about your age and annual income, and returns information that might make the most sense for your portfolio. You will then get some kind of recommendations on what type of account you should open, and where you should invest. In terms of education and research, is WAY ahead of the competition.
Additional Offers
Trader Rating: 4,5/5
There are plenty of promotions for many platforms to lure investors away from the competition, but many of the offers aren't exactly that exciting. This review finds that Betterment offers some incredible offers and promotions, which might be the reason that it now has billions under management. In fact, you can get your money managed for free if you deposit $15,000 within the first 45 days of signing up. If you deposit more money, you can get your money managed for free – for up to a year! This is rare to see in the robo-advisor sector.
You can also benefit from referrals. You can get your money managed for free for a month if a referral funds their account, and the referral gets three months for free. In addition, you can get an extra free year off of three referrals. The only reason that the trader rating here is a 9/10 instead of a 10/10 is because this Betterment review found that Betterment does not offer a demo account of any kind.
There are many other platforms that don't offer any sort of charitable options. This review found that it's actually possible to donate shares to charity DIRECTLY from your account. This is quite a feature that should not be ignored, and is an example of how offers much more than many other platforms.
Regulation and Deposit Protection
The brokerage services are completely protected through their Securities. Those Securities is registered with the Securities and Exchange Commission as a broker-dealer, otherwise known as the SEC. The SEC is considered to be the primary agency when it comes to regulating securities in the United States. That isn't all – as Securiites are also a member of both FINRA and SIPC.
If some kind of attack were to take place, investors are protected up to $500,000. Checking is insured up to $250,000, as Betterment is insured by the FDIC, as well. That's not all – Cash Reserve offers insurance up to $1,000,000. This review finds this to me much more protection than most, and is clearly focused on operating within regulations.
Awards
This Betterment review is largely positive, but AskTraders is not the only one with great things to say about the platform. Since its inception, has garnered a significant amount of positive reviews and awards that have cemented and legitimized its spot in the robo-advisor sector.
Broker has featured in some of the most well-known financial outlets in the world, including Wall Street Journal, Forbes, and the New York Times. The platform also won the 2017 Bezinga Fintech Award for best robo-advisor, as well. In addition, Also won a 2016 Wealth Management Award, and was included in the 2019 Investopedia list of best robo-advisors.
This  review found a whole lot of positives with respect to the platform. If you have goals in mind, and don't mind a hands-off investing approach, Betterment might just be the platform for you. You can create an account for free, and the low fees and wealth of information can prove this to be a great choice. There are also additional benefits to those who want to fund their account with a certain amount of money. The customer support is also available 7 days a week. However, there are some drawbacks for those who want more investing options.
Betterment FAQs
To begin with, Betterment and Vanguard appeal to different segments of investors: Betterment with its low deposit and fund management fees is more suitable to the small investor. In contrast, Vanguard targets the wealthy investor. Next, Vanguard has its own funds while Betterment does not. Lastly, the Vanguard Personal Advisor is much bigger than that of Betterment in terms of AUM. Overall, Vanguard is superior in its niche, while Betterment is better suited for the small to medium sized investor.