The continued advancement of smartphone technology has allowed traders to harness the power of desktop trading platforms on their mobile devices. Provided by the industry's foremost brokers, many of the best mobile trading apps on the market are packed full of advanced features, including technical analysis tools, price alert notifications and more, allowing traders to monitor their portfolios on the move.
---
YOUR CAPITAL IS AT RISK. 81% OF RETAIL CFD ACCOUNTS LOSE MONEY.
---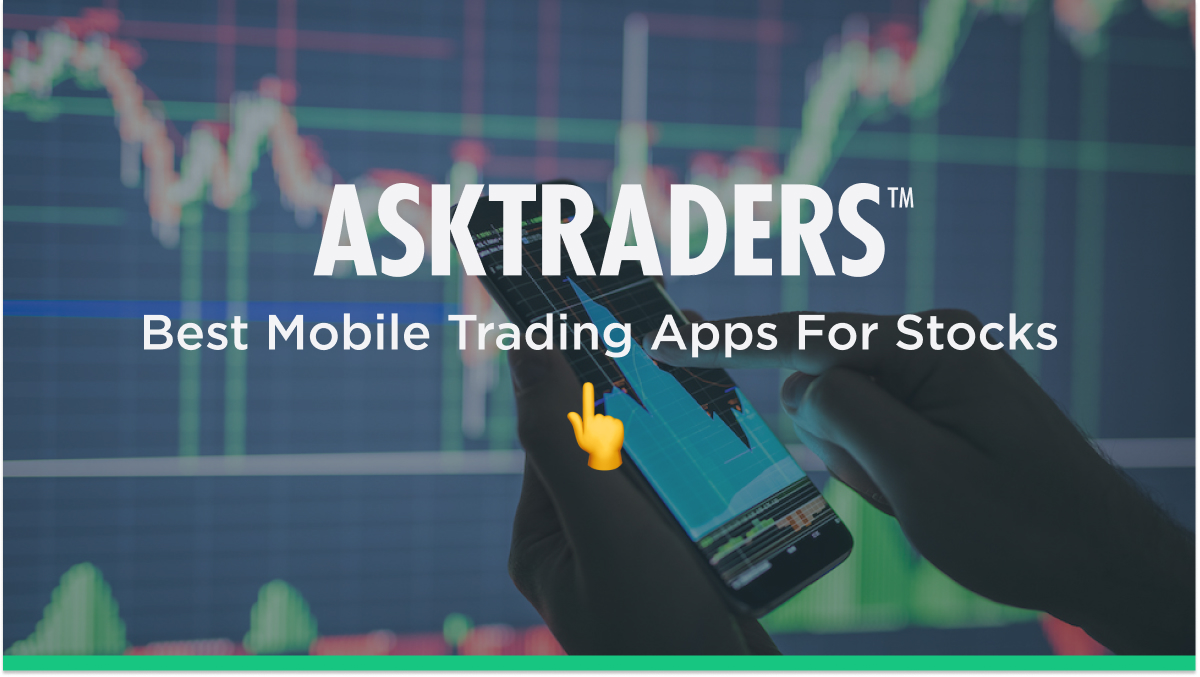 Our list of the best mobile trading apps for stocks considers the user experience, platform functionality, markets available, and fees and commissions. The apps featured that make the grade here are all multi-asset brokers. They offer an excellent mobile stock trading service but also the option to trade other sectors such as forex, cryptocurrencies and commodities from the same account.
BEST MOBILE STOCK TRADING APPS COMPARISON
Now, let's look at the best mobile stock trading apps compared to available features for traders.
| Broker | Price and Stock Updates | Advanced Analysis Tools | Customer Support | Supported Mobile Devices |
| --- | --- | --- | --- | --- |
| eToro | Yes | Some | Good | iOS, Android |
| Admirals | Yes | Yes | Good | iOS, Android |
| Tickmill | Yes | Yes | Good | iOS, Android |
| Plus500 | Yes | Yes | Excellent | iOS, Android |
| IG | Yes | Yes | Excellent | iOS, Android |
| FXTM | Yes | Yes | Good | iOS, Android |
eToro's Mobile Trading App: Investing Made Easy
eToro's distinctive and exceptionally user-friendly mobile app partly explains why the broker now has a staggering 20 million registered users. That popularity can also be put down to the way the app supports copy trading and self-trading from the same account, which means traders can seamlessly incorporate the ideas of others into their strategies.
The range of markets available at eToro is also impressive. Clients can navigate through more than 2,000 international stock markets and book trades, safe in the knowledge that eToro's fees and commissions are competitive and easy to understand. There is no risk of feeling short-changed on a transaction and there are no additional charges for taking the Copy Trade route.
eToro Mobile App: Features and Advantages
Market-leading Copy Trading service – ideal for those looking to leverage off the ideas of others
Easy-to-use platform
Choose from 2,000 stocks listed on 17 exchanges
Strong regulatory framework and licences from Tier-1 authorities
Competitive pricing and no extra charges for Copy Trading services
Crypto markets are also offered
Two-stage authorisation and high-spec encryption ensure client security
eToro's app is an obvious choice for those who are new to trading or looking for a low-maintenance way of getting exposure to the stock markets. The app was developed in-house and comes with a range of handy unique features. Some of the technical analysis tools aren't quite as advanced as those found at other brokers, but the service is ideal for those looking to trade using a handheld device.
---
YOUR CAPITAL IS AT RISK. 81% OF RETAIL CFD ACCOUNTS LOSE MONEY.
---
Admirals Mobile Trading App: Impressive Education And Research Packages
If you're looking for a mobile app that has been designed to offer clients optimal support, then Admirals could be for you. Wherever you are, you can access the broker's free trading podcasts, which offer previews of upcoming big news events, and live trading videos that offer an over-the-shoulder style trading experience.
Admirals clients looking to trade stocks do so through the broker's in-house app or through the highly regarded MetaTrader MT platform.
With a user-friendly interface, ideally customised and designed for the smaller screen, Admirals' app allows for real-time trading across the broker's product offerings – from ETFs to bonds, commodities, CFDs, stocks and forex.
Having been available on handheld devices for years, those choosing to use the the MT4 app do so with a platform has already been user-tested by millions of traders. It's robust, reliable, and packed full of powerful software indicators.
Admirals Trading App: Features and Advantages
Excellent educational and support package
Competitive spreads and low minimum opening balance requirement
Trusted broker with more than 20 years trading history, formerly known as Admiral Markets.
Commission free trading
Free real-time charts, market news, and high-quality research, including Dow Jones Premium News service
Premium Analytics software package incorporates AI into trading strategies
With 200 stocks on offer, Admirals covers all the big names. Those looking to invest in smaller cap stocks might struggle with the range of markets, but the Admirals approach is about not spreading their service too thinly. That can work for traders too, and the support services the broker offers provide a great route into trading the stocks which are making the news.
Tickmill Mobile Trading App: High-Performance Trading
The Tickmill trading platform is highly regarded in the online trading community. It's known for providing super-fast, top quality trade execution in the forex markets, and the broker has moved to extend that to global equity markets as well.
There are no commissions, leverage of up to 1:20, and trade execution speeds as low as 0.15 seconds. Based on the ever-popular MT5 platform, the Tickmill trading experience is institution-grade with VIP accounts available to those looking to take their trading up to another level.
Crucially, the Tickmill app allows users to access charts, economic calendars, monitor their wallets and account, and deposit and withdraw funds, amongst its features.
Tickmill Trading App: Features and Advantages
Fast, reliable, cost-effective trade execution
Easy account opening process
Features of the desktop platform have transferred well to the smaller screen
Well regulated, including being licensed by the FCA.
Pioneering technology and dedicated customer support
The Tickmill mobile app allows its traders to take full advantage of its app platform and doesn't impose restrictions on the types of strategies that can be applied. It accommodates day traders looking to run scalping strategies as well as investors with a longer-term approach. The total number of stocks available to trade is enough for most traders, especially those who are happy to trade off total number of markets available against gaining access to high-quality trade execution.
Plus500 Mobile Trading App: User-Friendly Platform
The intuitive functionality of the Plus500 mobile app means that traders can easily find and trade more than 2,800 stocks. Whether you're looking to trade cannabis shares or are targeting shares in Tesla, Amazon or Coinbase, for example, Plus 500 can help you take on a position.
To ensure clients can easily navigate the thousands of different stocks available, Plus500 has created a mobile app, which is unfussy and effective – ideal for those looking to make a quick decision and react immediately to market events.
Plus500 Mobile App: Features and Advantages
More than 2,800 stocks to choose from and a wide range of other asset groups
Simple, robust, user interface for effective trading
Sentiment monitor offers a deeper view of the market mood
Proprietary platform designed with handheld devices in mind
Real-time alerts
24/7 Multi-lingual customer support
The Plus 500 mobile app is ideal for traders who are just starting out or who value the benefits of simple and effective functionality, which allows them to trade where they want, when they want. The broker's inactivity fee of $10 per month is activated after three months which is something to be aware of, but active traders will be able to easily avoid that charge.
IG Mobile Trading App: Setting The Benchmark For The Industry
Broker IG has been operating in the market since the 1970s and still leads the way thanks to its continued appetite for pushing boundaries. This approach extends to its in-house designed mobile app, which has a clean and appealing aesthetic and supports a wide range of tools designed to give traders what they need to trade the markets on the move.
The number of markets offered by IG is also ground-breaking with more than 18,000 different markets available to trade. If you're looking to unearth an undervalued growth stock, or trade names in emerging markets, IG's app is where you'll be able to do just that.
IG Mobile Trading App: Features and Advantages
More than 18,000 markets available, including shares, forex, indices, ETFs and commodities and spread betting in multiple asset groups
Trusted broker with a strong track record and regulatory approval from Tier-1 authorities
No inactivity fee for 24 months
Functionality of mobile app suited and geared towards intermediate traders
Deposit and withdraw on the move
With the backing of accolades from the ADVFN International Financial Awards, including 2022's 'Best Multi Platform Provider', 'Best Platform for the Active Trader', and ADVFN's 'Best Finance App' award 2021, traders can be sure of an excellent trading experience.
Combined with full dealing functionality, full-screen charts, the ability deposit and withdraw, and activate real-time alerts, IG's mobile app unlocks all the benefits of its trading platform on the move.
FXTM Mobile Trading App: An Emphasis On Convenience
Another mobile trading app that has been making waves in the online trading circuit is that of FXTM (ForexTime), named 'FXTM Trader'. FXTM's app gives traders access to all the trading tools and analysis associated with the desktop version of the platform, ensuring they are fully equipped to enter into the markets.
With a choice of over 250 instruments, live currency rates and a trading dashboard, traders can also access MyFXTM – enabling deposits, withdrawals and the ability to open and close positions in a matter of seconds and on the move.
FXTM Mobile Trading App: Features and Advantages
A straightforward trading experience with an emphasis on convenience
Strong in research and educational materials
Well-regulated and trustworthy
Choose from several different types of account to find a best fit
Ability to contact the customer support team from the app
Customisable news feeds
Built-in trading platform
The ForexTime mobile trading experience is very much about convenience. From opening an account to booking your first trade takes minutes to do and can all be done using a handheld device. Once live, it's possible to create personal portfolios, learn new trading strategies, and get minute-by-minute updates on current news and market analysis.
What Are The Benefits Of Trading Apps?
In today's fast-paced world, stock trading has become a part of everyday business. Fortunately, brokers have kept up with the pace of change and their apps now include innovative trading tools, many of which are bespoke. While these apps help traders find an edge, by and large, they still manage to keep the trading experience one that is simple and straightforward.
Not only do brokers provide traders with state of the art trade execution, but they also ensure a range of additional services as well. Some traders may still prefer trading using desktop devices, but the progress made in terms of app technology means trading using applications provides a convenient, on-the-move alternative with many of the traits and features of desk-based trading.
The real benefit of mobile trading apps and the reason for their popularity is that they allow traders to keep on top of their positions. The fact that leading brokers have embraced that shift and created high-quality apps makes trading easier and better.
---
YOUR CAPITAL IS AT RISK. 81% OF RETAIL CFD ACCOUNTS LOSE MONEY.
---
How To Choose A Mobile Trading App?
The choice of the best trading app can come down to a number of factors, including your preferred broker platform, your mobile device and preferred operating system. All of the above brokers offer apps to those using Android or iOS operating systems. However, the open-source nature of Android and the potential for bugs and hacks might result in some leaning towards using the iOS option.
In terms of user functionality, the brokers in our list of the best mobile trading apps have all reacted to client needs and invested heavily in their apps. As a result, they make the best job of ensuring all the features available on desktop platforms carry over to the smaller screen.
Crucially, the mobile apps of the top brokers are free to use. You can set up an account from scratch using a handheld device or create one on a desktop device and then download and log into the app as a second step.
Reputable brokers ensure the terms and conditions on an account will be identical, whichever device you trade through and that there are no additional costs for the added convenience of being able to trade from wherever you are.
The minimum account opening balance required by brokers varies. FXTM allows clients to open accounts with as little as $10, while IG sets the bar at $250. Trading in small size is recommended for beginners, but as skill levels build up, a larger investment is required to be able to finance a greater number of positions. Whichever route you take, it is always worth holding in mind the principles of risk management and only trading an amount of money you can afford to lose.
Final Thoughts
The progress made in mobile app trading functionality is one of the standout features of the broker sector over recent years. It's as easy to use mobile devices to set up accounts and start trading as it is to use a desktop device.
It can be difficult to keep up with the pace of change with new features continuously being brought online. That means there is room for new entrants to find their way onto our list of the best mobile trading app, but the above are currently front runners. They offer busy traders the chance to keep on top of their positions or tap into high-quality research, providing the best route into trading the markets on the move.
People Who Read This Also Viewed: