If you are an environmentally conscious trader, CedarFX might be exactly what you are looking for. For every lot traded, the broker has committed to planting 10 trees, and barely a few months after opening its doors for the first time, CedarFX has already planted 5,690 trees.
Some traders will consider this a fantastic initiative, while others might just think that its stance is something of a gimmick. In this CedarFX broker review, we will explore whether this firm offers a useful trading platform that all traders – whether they are fans of foliage or not – can take full advantage of.
It only started business in 2020, but CedarFX has grown thanks to its competitively low spreads and commission-free fee structure. As an offshore broker, it can offer levels of leverage beyond many licensed and regulated firms. However, there are some red flags that accompany such a stance, and we will explore those in more detail.
Is this the right broker for your needs? Let's find out in our CedarFX review.
CedarFX Review Navigation
#

Forex
| | | |
| --- | --- | --- |
| App Support | Max Leverage | Trading Fees |
| Mid | 1:500 | Low |
As you may have guessed from its name, CedarFX has focused on its forex trading options.
It offers clients 55 tradeable pairs, ranging from the standard majors such as EUR/USD, GBP/USD and AUD/USD to exotics and minors from around the world.
CedarFX offers a handy way to trade the powerhouse pairs and emerging markets, with no commission and low spreads.
#1

CFD
| | | |
| --- | --- | --- |
| App Support | Max Leverage | Trading Fees |
| Mid | 1:200 | Low |
You can trade CFDs in some categories with CedarFX. These include stocks and indices, precious metals such as gold and silver, gas and oil, and numerous other commodities.
#2

Stocks
| | | |
| --- | --- | --- |
| App Support | Max Leverage | Trading Fees |
| Mid | 1:20 | Low |
There are brokers out there that offer a more comprehensive selection of stocks to trade than CedarFX. However, you should still find many of your favourite options available.
The firm has focused on the major global brands, so all of the big names from Apple and Visa to Adidas and Volkswagen are listed, as are Twitter, Netflix, Ferrari, Microsoft, Bank of America, and more.
There are 63 stocks in total to trade, and you can open trades as small as 0.01 up to a maximum of 1,000 lots.
#3

Crypto
| | | | |
| --- | --- | --- | --- |
| Min Deposit | App Support | Max Leverage | Trading Fees |
| $10 | Regular | 1:100 | Low |
CedarFX has gone pretty big with its cryptocurrency offering, and at the time of writing this broker review, it had 35 digital assets available for trade.
You can trade cryptocurrency pairs such as BTC/USD, ETH/USD and TRX/USD, or instead, pit one digital coin against another – BTC/ETH, NEO/BTC, LTC/BTC, and so on.
Crypto traders can access leverage of 1:100 with CedarFX on their buy orders, which is highly generous compared to many other leading brokers.
What Did Our Traders Think After Reviewing the Key Criteria?
Fees
In essence, the level of fees you pay with CedarFX will be determined by which account type you choose to open – Eco or 0% Commission. As you have already guessed by its name, the 0% Commission account is fee-free across the board, while Eco account holders pay a 1% charge on all completed transactions. Funds raised are then ploughed back into the broker's environmental projects.
Deposits are typically free of charge unless you opt to deposit via bitcoin – here, the Bitcoin Network imposes a fee of 0.0005BTC. There are no overnight charges on non-leveraged trades and no fees for short and medium-term inactivity.
The other inherent fee charged comes in its spreads. CedarFX claims on its website to charge low spreads – as you would expect. However, at the time of writing this broker review, it was charging 0.8 pips for EUR/USD positions and 1.2 pips on GBP/USD, so the jury is out on just how low its spreads are.
Account Types
There are two different account types available at CedarFX, and while it essentially offers the same trading conditions, there is one notable difference.
The 0% Commission account is as described, with no fees charged per trading lot. The Eco account sees a flat rate of $1 commission per lot paid, which is then funnelled into its ecology programme.
Otherwise, everything else – from leverage and spreads to the MT4 trading options – is the same across the two account types, and you can open both demos and live versions of your chosen account if you wish. Hedging and scalping are allowed other than, in the case of the latter, arbitrage trading.
Sadly, CedarFX does not offer swap-free accounts.
Platforms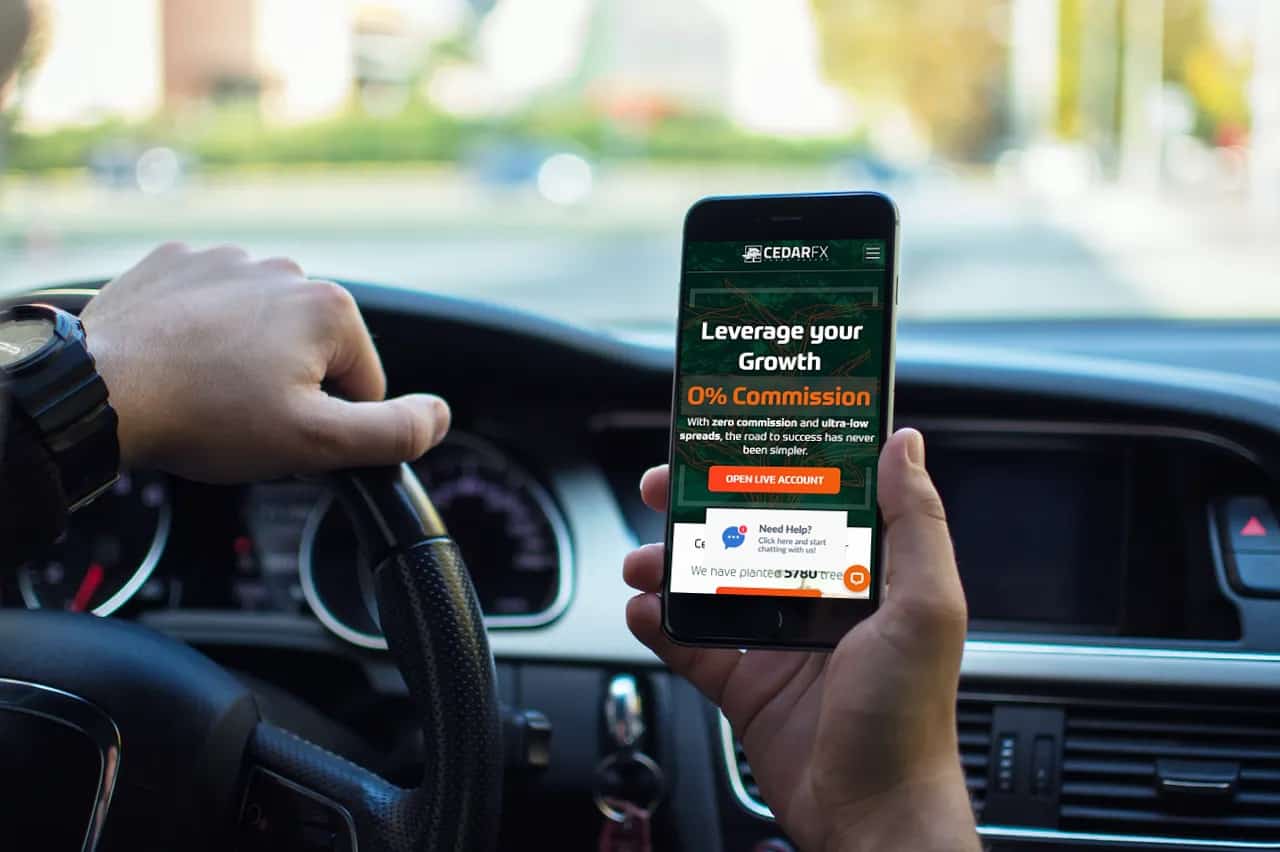 It's all very standard as far as CedarFX's trading platforms are concerned, with MT4 offered across desktop and mobile devices plus WebTrader for those who prefer not to use designated software.
Of course, we would like to see MT5 or some kind of proprietary software offered. Still, as we know, MetaTrader is the most sophisticated and reliable platform available today, and so most traders will not be disappointed.
There's no prohibition on the tools you can use either, so MT4's Expert Advisors, auto traders and other robots can be utilised.
More than 180 tradeable assets are available via CedarFX's trading platform, and you can use all of the standard charts and instruments to enjoy the insight you need to close out green positions.
Traders who prefer to use their mobile devices to open and close positions on the move will not be disappointed by either the app version of MT4 or WebTrader. You can implement all of the standard trading tactics such as stop/loss positioning, read charts and other technical indicators, and set up text message and email alerts when specific price triggers are met.
The CedarFX mobile platform is available on both Apple and Android devices, and traders can use the economic calendar and calibrate this with the calendar on their smartphones and tablets for added trading efficiency.
Usability
There are no major red flags about CedarFX's website's usability, which is clean, intuitive and easy to navigate around. The key information you need to know is clearly detailed on the main pages or in the FAQ section.
Traders already familiar with MT4 will know how easy it is to use the software. In our testing, we found the broker's customer support team to be both helpful and knowledgeable when a variety of questions were asked.
As discussed, there is considerable mobile functionality to the trading platforms that CedarFX provides access to, and both MT4 and WebTrader are incredibly efficient and 'usable' on small-screen devices.
We found it easy to deposit into our account, though it should be noted that the payment methods that the broker accepts are relatively thin on the ground – more on that shortly. Withdrawals are processed on the same day as they are actioned, which gives CedarFX a significant head start on many other brokers.
The black mark against CedarFX's name comes when we consider the research and education materials it offers its clients – or a complete lack thereof. You can search high and low for useful insights on the broker's website and you won't find them, so as we have already concluded, this really isn't a firm suited to individuals who are new to trading or going through their first formative steps.
This is a considerable lack of 'usability' on the part of CedarFX as far as assisting its clients is concerned.
Support
No negativity can be attached to CedarFX's customer support team, who are available round the clock via several different methods.
You can use the messaging system on the broker's website, or action the live chat feature – you will see the link for this displayed on the screen.
No matter where you are based in the world, you can request a call back at a time to suit you – crucially, from someone who knows about trading, rather than just an agent employed for their kind nature and clear voice!
Our queries were dealt with rapidly via live chat in all of our testing, with a slight delay via the messaging system. We had no issue when booking a call-back either.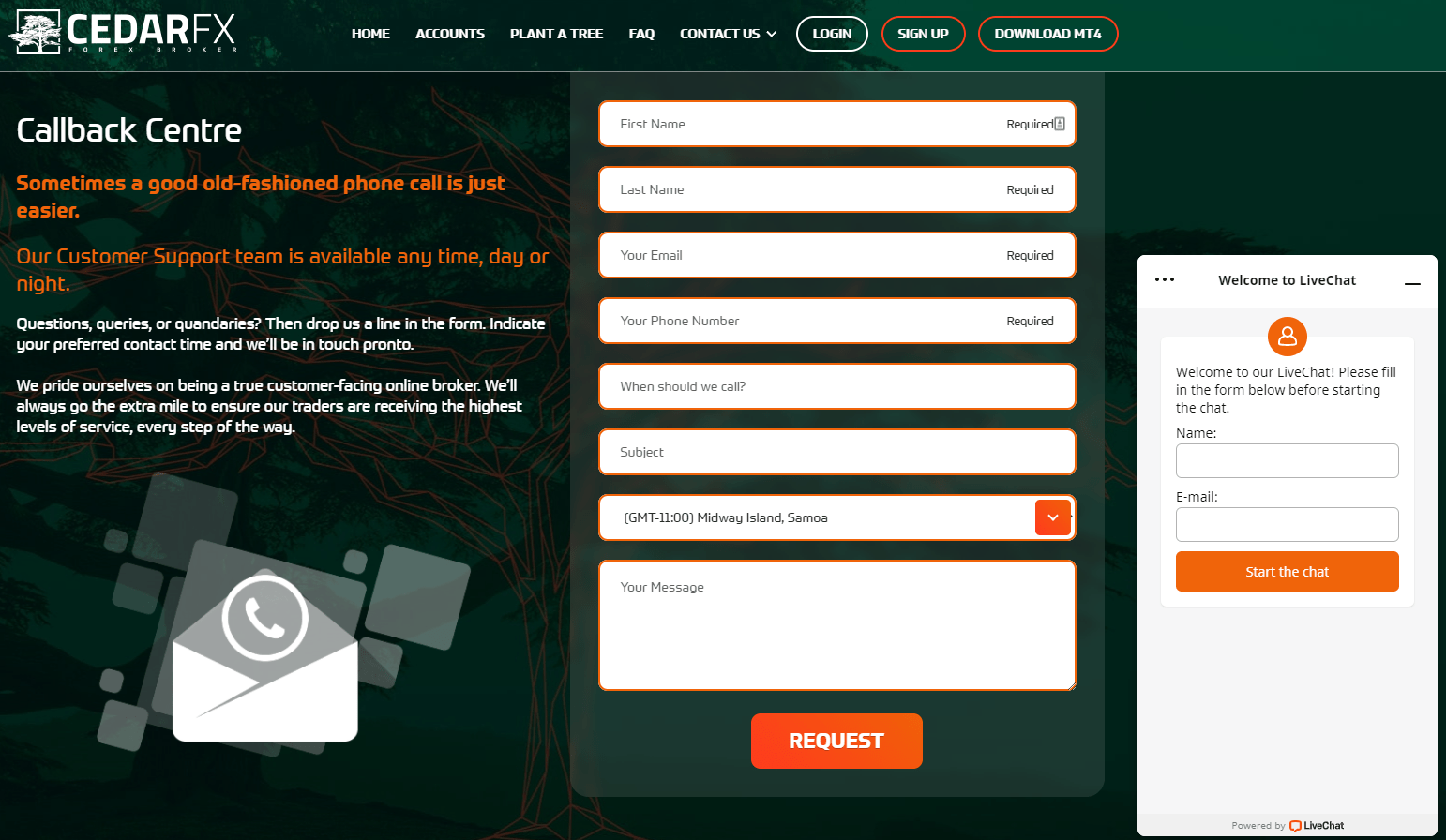 Payment Methods
One of the significant drawbacks of CedarFX is that the payment methods it accepts are on the thin side. This is mainly due to its offshore location. While it might be natural for traders to be suspicious given the firm's desire to send/receive bitcoin, this is as much for geographical reasons as it is for anything else.
When it comes to making a deposit, the good news is that CedarFX does accept some card payments via its third-party processor. However, this is limited to just Visa and Mastercard, with other card providers not supported. Also, note that you have to purchase bitcoin with your card to deposit – a hugely frustrating and time-consuming experience.
Unfortunately, you cannot make a withdrawal using your preferred card, so you will need to have an active bitcoin wallet to receive any profits you make via the broker.
You can make a wire transfer to fund your CedarFX account, but remember that this will be used to purchase bitcoin, which can then be sent to your wallet with the broker – it's a step that is essential to understand before signing up for an account with the firm. You cannot withdraw funds using bank wire transfer.
Sadly, when writing this CedarFX review, the broker did not accept e-wallet payments for either deposits or withdrawals.
As you may have gathered, CedarFX is a trading broker that revolves around deposits and withdrawals made using cryptocurrency and bitcoin.
You can deposit and withdraw using your BTC wallet. Deposit fees are tiny, and there is a low minimum deposit in place, which opens the door for traders of all budgets to get involved.
Withdrawals are processed within 24 hours, and the amount of time it takes for your funds to hit your wallet will depend on how busy the blockchain is.
For the uninitiated, bitcoin is safe, anonymous, and becoming more readily accepted at several different online stores and merchants. You can exchange your BTC for USD, GBP and other fiat currencies at many reputable sites.
Best Offers
There's not a huge amount to write here, given that CedarFX doesn't offer any bonuses or incentives for its new or existing customers.
That said, remember that if you complete a trade using your Eco account, 10 trees will be planted for every lot traded. Some ecologically minded traders will consider that a bonus in itself!
Unfortunately, there are no VIP schemes, loyalty programmes, or any other rewards for CedarFX traders.
Regulation and Deposit Protection
Now, here's the major rub: CedarFX is an offshore broker, which means that it is unlicensed and unregulated.
Based in Saint Vincent and the Grenadines, CedarFX can operate without restrictions and free of the rules and regulations that other brokers operating in recognised jurisdictions have to adhere to. The plus side is that higher leverage is available, but there are obvious downsides in the lack of accepted payment methods and the peace of mind that trading with an FCA or ASIC-approved broker brings.
This is not to insinuate that CedarFX is a scam or an unreliable broker – there is no evidence of that. However, some traders prefer to stick with regulated and licensed brokerage firms that have strict rules to follow or face some kind of punishment, which is perfectly understandable.
Should it make you feel more relaxed, all client funds are held in segregated accounts away from CedarFX's leading source of funds.
There will be experienced traders reading this who have traded with offshore and unregulated brokers in the past, and who may have had positive or negative experiences along the way.
To clarify, we have not heard any negativity about CedarFX. While trading with an unregulated broker that has been going for less than a year is an inherent risk, all we can say is that CedarFX has not been subject to any investigations or questions regarding its integrity thus far.
Awards
As mentioned, CedarFX only started trading in 2020, and so it hasn't been in operation long enough to be nominated for, or win, any major industry awards as yet.