Changelly is a non-custodial cryptocurrency exchange that allows you to trade the majority of digital coins available on the market.
A non-custodial exchange means that as a user, you will not need to put any of your funds directly onto the platform. This adds an additional layer of security into your trading…
Effectively, acting as an intermediary between traders and exchanges, with hundreds of different investment options on offer. Their goal is to make the process of trading digital currencies as seamless as possible.
The company has been operating since 2015, and it now has a dedicated user base, gaining more than a billion visitors to its website each month.
This review will take a look at where the platform stands out and what areas it could improve upon.
Changelly Review Navigation
#

Changelly Crypto Review
| | | |
| --- | --- | --- |
| Min Deposit | App Support | Max Leverage |
| £1 | 4 | 1:1 |
As you have probably already realised Changelly is a broker that is entirely dedicated to the trading of cryptocurrencies.
In total, there are more than 140 different tokens available to trade. This is a vast offering that should tick the boxes for most traders. Many similar companies are unable to provide the same range of altcoins, and so, this is a significant advantage that the company has over other platforms.
The trading interface is very intuitive and straightforward to use. All you need to do is enter how much of a given token you wish to buy and then proceed to the checkout.
There is no need to place orders on the market and worry about different variables such as slippage. The process of placing trades is all laid out for you in a very easy to understand guide. The main fiat currencies that are catered for when making your trades are the U.S. dollar and Euro.
What did our traders think after reviewing the key criteria?
Fees
There are no costs when signing up for an account. A lot of competitors have high fees in place for allowing you to trade through their platform. However, with Changelly, there is just a 0.25% exchange fee each time you make a trade. This fee was previously set at 0.5%, but the broker made the decision to cut it in half to further reward traders.
This fee is not dependent on volume or account size, it will always be set at 0.25%. Therefore, you can plan well in advance and not get pressured into increasing your trade volume to get your hands on lower commission rates.
There are fees associated when paying via debit or credit card. There is a 5% fee charged at checkout. The reason for this is because all bank card transactions have to be processed twice, first into Bitcoin and then from
Bitcoin into your desired cryptocurrency.
One thing to note is that there is no leverage available.
Finally, when you are using credit and debit cards to make a transaction, there is a fee of 5% for doing so.
Account Types
If you are looking to sign up for an account, there is only one type of account on offer. The process of registering is straightforward, and you can do so merely by using your email address or social media profile. You do not have to pay any sort of fee to create your account.
Platforms
There is no out and out trading platform when you are using Changelly. This is because it is not your typical type of exchange. As it is a custodial type of exchange, you will not be placing orders on an open market. Instead, you will be accepting the rates that are offered for the digital coin you choose.
It is straightforward to use, only needing you to enter in how much of a given coin it is that you want to buy. You can buy a given cryptocurrency by either using fiat currency or another type of digital coin.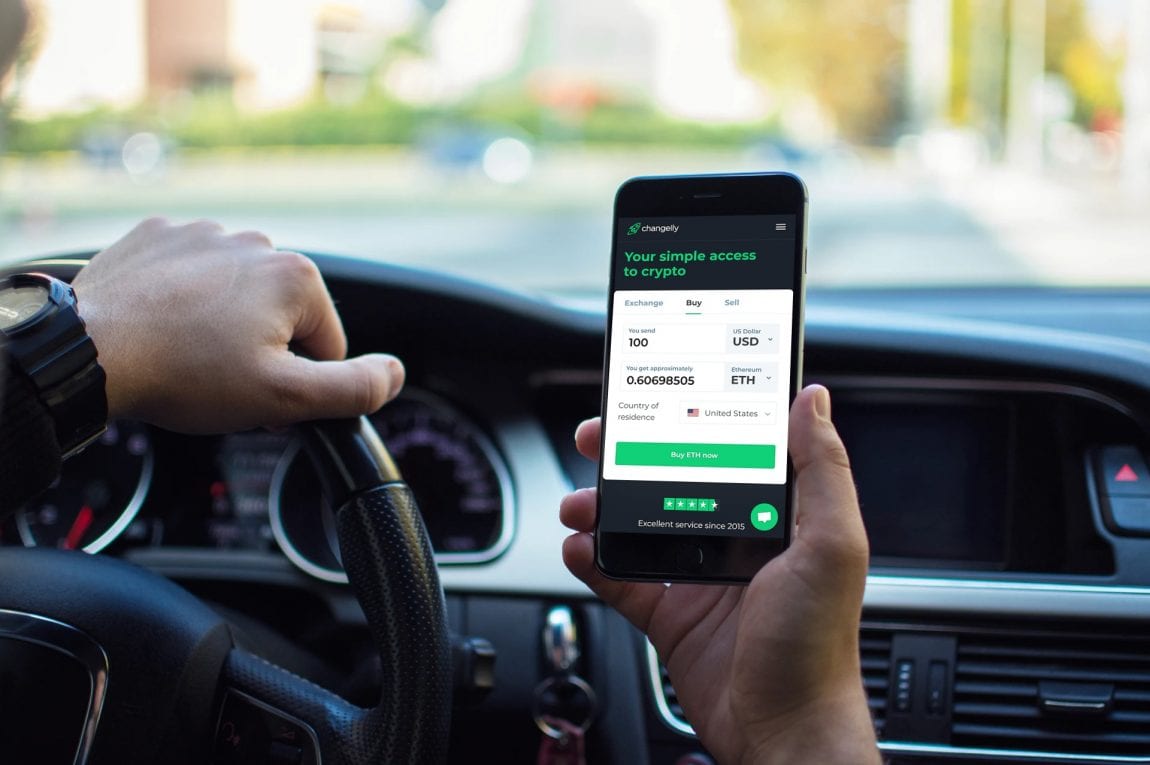 Naturally, the price of these different tokens is going to fluctuate in real-time, so some people may want to keep an eye on their trading platform to see when a price change presents an opportunity to buy at a lower price.
You will always see the current market price for a coin when using the platform as there, and there will not be any hidden fee added. When you place a trade, the displayed price and the actual price you pay may differ slightly, as the market rate could have changed somewhat since you started the transaction. Remember a 0.25% fee will also be added.
For those who like to place trades when they are on the go, the company also offers a mobile app for Android and iOS devices. The app works just as well as the desktop platform, and we recommend you download it if you sign-up to the broker. It allows you to see all the essential info needed to make a trade on the spot.
Usability
The Changelly platform is straightforward to use and is well-laid out, but you will need to be using an up to date web browser. A lot of older versions of web browsers will display errors when you try to access the webpage.
The green, grey and white colour scheme is smart, making the text pop out nicely. The pages are not inundated with too much text, and everything is kept in a minimalist style. You can quickly navigate through the handful of menu options, and the speed of the site is generally pretty good.
As mentioned previously, you don't need to add any funds to your account, everything can be done in a single process when you make a trade. This takes a lot of the nitty-gritty of using a platform out of the equation, everything is done straight away for you in one transaction.
Customer Support
If you have an issue when you are using the Changelly platform, the first place you should go to is the FAQ section. Often people will find the answers to their questions in this section.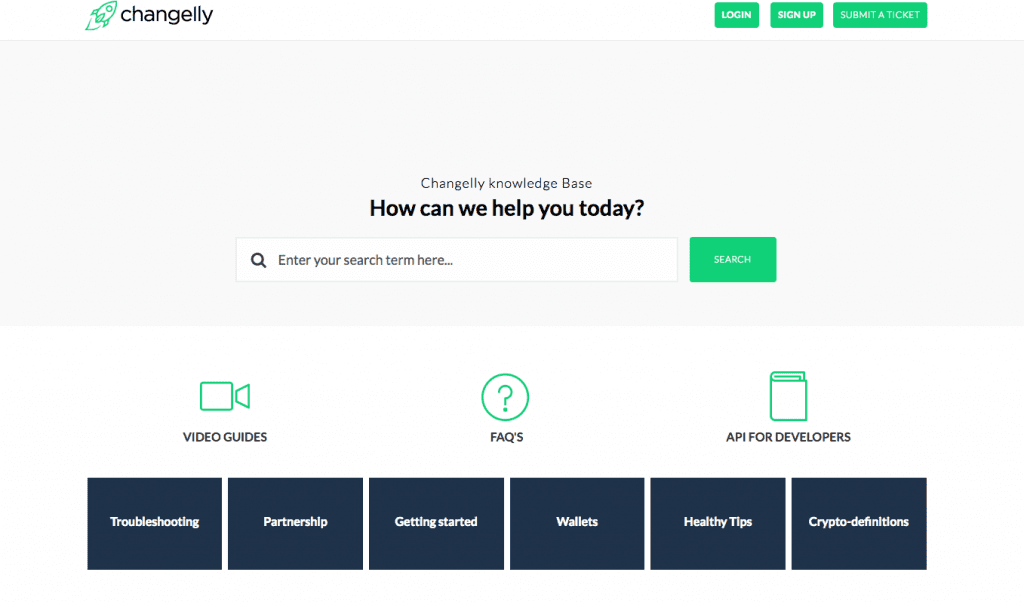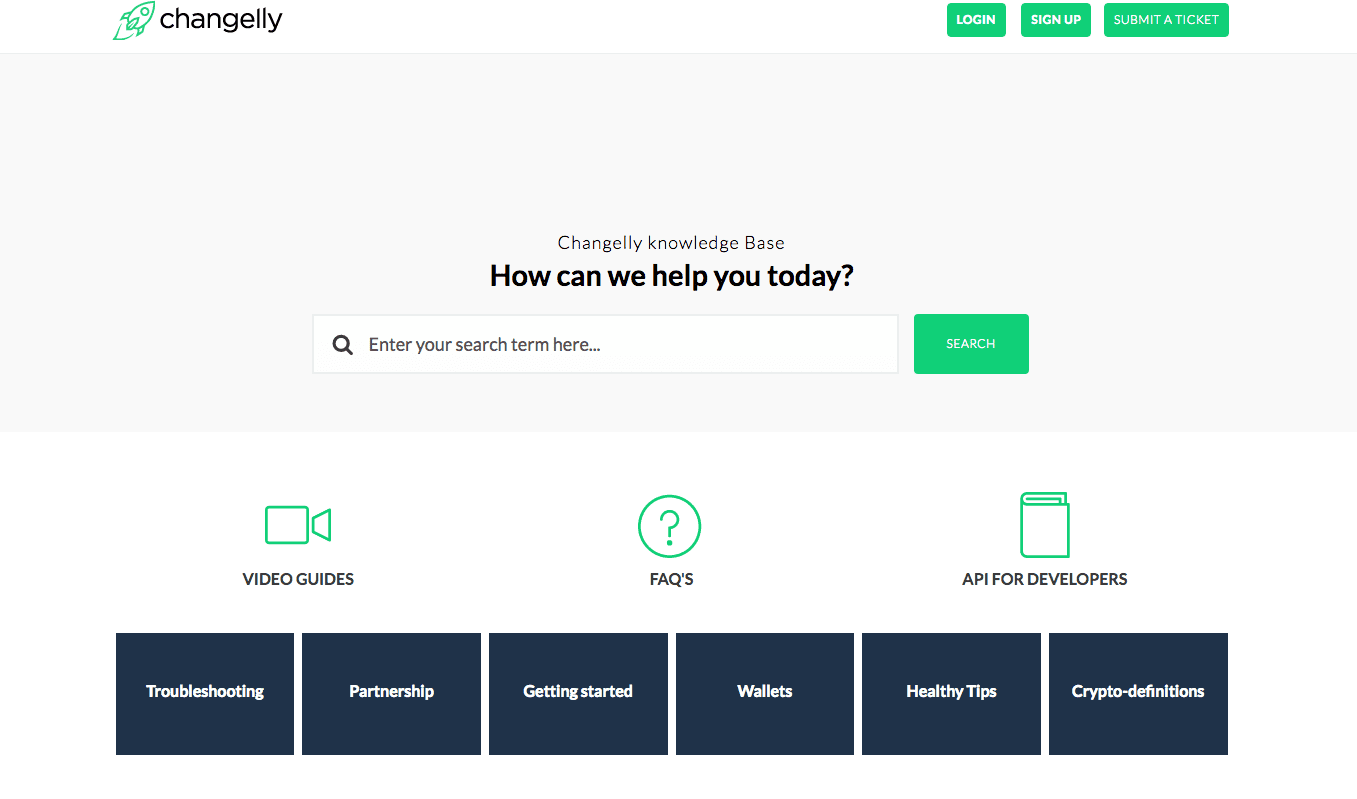 If you still are dealing with an issue that needs to be resolved, then there are a couple of different ways that you can talk with the support team. If you scroll down their homepage, you will find a box that allows you to connect via live web chat to their support team. This will enable you to speak directly to them and get help with your queries.
For more complex situations, can also email them or give them a call. The team can also be contacted through a variety of social media channels.
Most issues will be resolved within 24 hours. If the member of the support team does not have the answers for a specific problem, they will escalate your ticket to the relevant party to hopefully get it resolved.
Payment Methods
The most cost-effective way of trading through Changelly is to use the accepted cryptocurrencies. This is pretty much all of the coins that they have on offer through the brokerage. Otherwise, you can use a couple of the more common types of payment methods.
You can pay using Visa and MasterCard debit and credit cards. Your first transaction will need to be at least $50 and be a maximum of $10,000. There is a daily transaction limit in place, which is $20,000, with the monthly limit being $50,000.
Also please remember there is a 5% fee when paying via credit or debit card.
The payment process itself is rapid and only takes a matter of a couple of minutes to complete. The transactions themselves will take between 10 and 30 minutes to process. If you have any issues during the transaction process, then it is a good idea to contact a member of the customer support team.
Best Offers
Naturally, in the cryptocurrency space, everything is kept in a very minimalist style. The exchanges and brokers will generally not be very forthcoming with advice. At Changelly, there is a basic educational centre that will walk you through the basics when it comes to trading. There are video guides on how to use the platform, a list of definitions and troubleshooting advice.
In terms of research options, the same is also true. You do not really have any access to research materials, analysis or opinion pieces. You are left to your own devices. The broker has one main focus, to offer a simple yet powerful way to buy more than 140 different digital coins using fiat currencies.
There is an affiliate program, which can be a useful way to earn a commission for yourself. You can gain a commission when you refer a peer to the platform, and they start making trades.
Regulation & Deposit Protection
As the cryptocurrency sector is still in its infancy, there are no well-respected regulators in the space. A lot of governments and regulatory bodies are very wary about getting involved. This means that there is always going to be some form of risk when trading.
That is why it is essential to do your own due diligence when trading crypto assets. You should check out different reviews, comments on social media and forums to see what people really think about a platform. Make sure that a site has the experience and an established customer base.
Changelly itself has a significant base of clients, and it has been on the scene for a few years. It also takes the security of its client's data and transactions very seriously. That is why the latest in encryption technology is utilised on the site. One of the leading security features is that your funds are not directly sitting in your account. All transactions go through your digital wallet.
There is also not a lot of personal information required, which can be considered a benefit of trading digital currencies. Finally, you can beef up the security on your account by setting up two-factor authentication. This means that you can guard against unwarranted attempts to access your account.
Awards
As the industry is so young, there is not any form of industry awards or recognition. It means that a lot more research is required on the different options. In other industries, awards can be a useful indicator as to what the best platform may be. One thing you can do is look at the various Changelly reviews at the different crypto brokerage platforms to determine if it is a good fit for you.